The Rundown: It's been almost 20 years since River ended its back-to-back-to-back run atop our rankings in 1999. But that doesn't mean the West Side burb of more than 20,000 had lost any luster. Sure, Avon is booming, Westlake glistens with the spit-shine of Crocker Park and Lakewood has refined its hipster vibes, but folks still clamor for that friendly Rocky River address. "When I walk around here, I can't go anywhere without seeing someone that I know," says Liz Manning, executive director of the Rocky River Chamber of Commerce. With great schools, a housing market hot enough to get that river water boiling — and oh yeah, have we mentioned the yoga-on-a-paddleboard place? — Rocky River is once again at the top of our list.
Neighborhood Profile:
2017 Total Home Sales: 316
2017 Median Home Sale Price: $264,000
Education Ranking: 3
Safety Ranking: 52
The Vitals: Rocky River wins big for two reasons — schools (No. 3) and the housing market. The consistently excellent Rocky River City School District has ranked among our top 3 in education since 2012. Good schools also make River a smart buy, with a median home sale price of $264,000, an increase of 33 percent from five years ago and about 29 percent from 10 years ago. This year shows no signs of cooling either, with average days on the market for new listings even down from last year. "Things are selling fast," says Sue Hustek, manager of the Rocky River Howard Hanna office.
What to Do: One waterway? Try two. With the Lake Erie shoreline and the Rocky River inside the city, locals go gaga over outdoor activities from fishing to boating. And these days, they're raving about the newest craze: "Paddleboarding is so big right now," says Hustek. In addition to lessons for beginners, Nalu Standup Paddle & Surf offers paddleboard yoga classes on the Rocky River and Lake Erie. For a little less intensity, every warm Thursday during summer, Nalu also organizes Paddles & Pints, an evening of paddleboarding with, you guessed it, a tipple at a River watering hole afterward. "[Rocky River] is vibrant in the spring and summer and people don't stop until snow starts flying," says Hustek.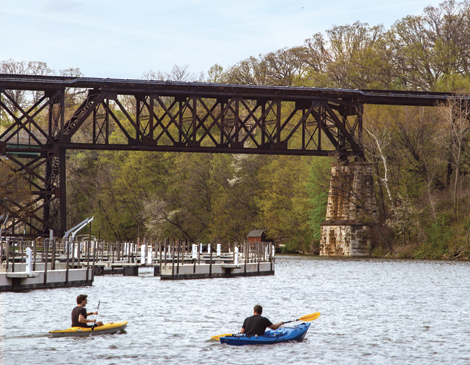 The Hangout: Established by Herb Brugh in 1963, Herb's Tavern cuts across generations. When Kim Berry, Brugh's daughter, took over the business four years ago, she emphasized a more farm-to-table approach, using about 80 percent local ingredients including Lake Erie perch. Long-timers swear by Herb's secret recipe burgers, made with a house-made bloody mary mix. It's so good a husband and wife, who had just been discharged from Fairview Hospital with their newborn, stopped on the way home for a Herb Burger with peanut butter. "We've got newborns," says Berry, "and my oldest client is 105 years old."
Secret Find: Residents call it Tangle Town for a reason. Branching off from Beach Cliff Boulevard in the northern part of town, the streets jumble like a pair of knotted headphone cords. If you get lost, don't worry, that's kind of the point. You can peep some of Rocky River's most gorgeous homes, perched on the cliff over Lake Erie or the Rocky River basin, such as a five-bedroom brick colonial listed for $999,000. And if you tire of craning your neck around those million-dollar mansions, stop by Rocky River Park and head down the staircase to watch the sun set over the lake for yourself.
Talk of the Town: Bradstreet's Landing, with its 590-foot pier jutting into the lake and a creek teeming with fish nearby, is already bait for Rocky River fishermen. But due to the constant crashing of Lake Erie waves, the lure has taken a beating. So the city is embarking on a $2.4 million renovation to spruce it up, including repairing a 290-foot section of the pier with $350,000 of state funds. More improvements are expected to come later, such as a pavilion with seating, and a cleaned-up creek bed.
Signature Event: A Rocky River summer festival had better deliver on the small-town feels, and the annual Rocky River Days in mid-July does so like crazy, from a fire truck show and bands to bike parades and pony rides. Plus, the Rocky River Chamber of Commerce puts on Taste of River/Buy River at the same time, which brings together 25 to 30 of Rocky River's area restaurants — think the Woods, Salmon Dave's Pacific Grille and Bearden's — for a noshtacular local feast. "It's just Americana, I really enjoy it," says Hustek. "Everybody is in the summer vibe."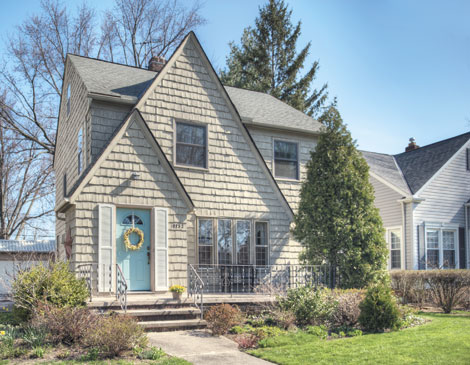 Buy It Now: There's no chance of missing this Rocky River home on a casual drive-by. Built in 1929 with a twin-gabled front and aqua door that instantly catches the eye, it has the feel of a small-town classic outside. It delivers quaintness inside too, with 1,400 square feet of space, hardwood floors and dining room built-ins. Plus, the location is in a hot neighborhood, with the Rocky River Public Library just a block down Riverview Avenue and downtown's shopping and food around the corner. Listed at $269,900, it has three bedrooms and a low-maintenance lawn. A bedroom tucked into the top floor could be easily transformed into a work-from-home office — perfect for those just starting out or looking to downsize.