At Community of Faith Assembly in Slavic Village, Constance Dunson, known as Miss Ann, helps run a parent-child reading program and oversees several academic learning pods. It's part of a cooperative among Greater Cleveland nonprofits such as United Way of Greater Cleveland and the Cleveland Foundation, in partnership with the Cleveland Metropolitan School District.
Every school day, students in kindergarten through eighth grade, along with some high school siblings, arrive at the church, ready to learn with their school-issued Chromebooks, masks to prevent disease spread and a desire for social interaction beyond playing with brothers and sisters at home.
There are usually nine students per pod, and always the same names and faces to create safe social groups amid the pandemic. Currently, about 800 students are enrolled in CMSD academic learning pods at 26 sites throughout Cleveland that are operated or supported by out-of-schooltime providers such as Cleveland Play House and various churches. Since these providers were already connected to the founding organizations and schools, a quick start-up was possible to launch pods by Sept. 14.
"We set up a school setting in our fellowship hall and one classroom in the church," says Dunson.
Students eat breakfast and lunch there while getting academic and social-emotional support. Dunson takes students temperatures when they arrive by 8:30 a.m. Because of the Montessori-style mixed-age pods, lessons occur at different times. So, she juggles, moving about with other pod managers in the building, and serving as a consistent, supportive and caring adult. Teachers text her throughout the day to check in. Parents, many of them essential workers, are grateful to know their children are in a place where they can learn and grow.
"One of my students today had to group animals and paste them on a chart with her teachers, and she was so happy she finally figured out how to copy and paste," Dunson says. "You really get to know the kids."
The relationships born from the learning pods are giving students and families a desperately needed network to deal with hybrid and online school during the pandemic.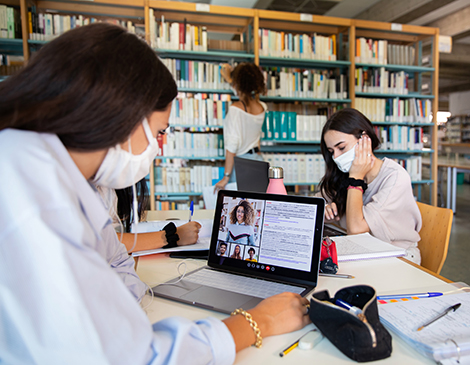 Strengthening Connections
A retired teacher of 31 years, Dunson is no stranger to the classroom. But virtual learning is a whole different ballgame.
"I know a pod couldn't replace a school building or a teacher and live classrooms, classmates, bells ringing and changing classes, but I think we do a pretty good job," Dunson says.
Students with perfect attendance or team players are entered into weekly drawings for a $5 McDonald's gift card, and parents such as Kenisha Myers, whose four children ages 6, 7, 9 and 10 are in the pod, can rest easy knowing there's additional support available.
"They are getting all of their work done," says Myers. "They have more time with someone to sit and help."
Myers also has two high schoolers e-learning at home.
"It takes a lot of weight off me, and now when they come home, they know how to get on to their classes and do their work."
Academic learning pods are even helping level the digital divide while allowing essential workers to remain employed as students continue hybrid learning or e-school. The pods connect schools, students and families, says Kara Porter, director of education and workforce readiness for The United Way of Greater Cleveland.
"We knew we needed neighborhood sites where kids could go to trusted, community-based organizations and access the internet, access meals and have a caring adult to help them navigate and provide support," Porter says.
Academic learning pods foster a newfound collaboration that is helping students stay on track. And, just because young students are social media savvy and well-versed in TikTok doesn't mean they can easily navigate the online classroom, as was the case with Caiyli Moore.
"At the beginning of the year, I was home with my sisters, and it was hard because we didn't know how to sign on to the class, and when we came to the pod, they showed us and we got the hang of it," Moore says.
Porter knows there are plenty of students who were absent from school for months because they couldn't get online or complete their schoolwork. The program has provided professional development to out-of-schooltime providers so they can learn classroom management programs such as Seesaw and Google Classroom. Even parents have received education on how to support their young students, how to log on, check for assignments and upload homework.
According to Darlene Toney, program officer for youth and human services at the Cleveland Foundation, academic learning pod programs are serving as a model for other Northeast Ohio school systems. One of the program partners, MyCom, is helping outer-ring suburbs adopt learning pods. Communities such as Euclid, Bedford and Shaker Heights are up and running.
"In most cities, the schools are hosting the pods, so they have a small number of students coming into the actual school building," she says.

Filling The Gaps
There are benefits of holding learning pods in a community setting for families who would already be caring for their children between 3 and 7 p.m. Students are getting more than academic and tech support. Additional programming fills a gap for recreation, mental health services, social skills and the arts.
"They need socialization," Dunson says, relating that one of the ministers at the church would play football outside with the students and teach them baseball. On Wednesdays, her pod students join a Zoom meeting with a motivational speaker who promotes positive behaviors. "They love going on with him."
Meditation and calming exercises are included between classes every Wednesday.
"A lot of pressure is going on at this time, and you can feel like this is never going to end or, 'Are we ever going to go back to school?' " Dunson relates. "They learn while they're at the pod to take care of business."
Structure, consistency, support, socialization — the learning pods provide all of this. Out-of-schooltime providers are also getting the recognition they deserve.
"They are unsung heroes and saints," says Toney. "They are frontline workers because they are risking going into the learning pods every day to work. They want to impact the lives of our young people, so they have stepped up and learned classroom management and how to support young people in academic subject areas, some of them stepping out of their comfort zones."
According to Toney, the pods are here to stay and will continue throughout the school year in some fashion. During summer, the pods can offer further academic enrichment through engaging activities.
"We are looking to actually make our out-of-schooltime programs extended learning," she says. "We know that 80% of kids' time is out of the school building, so they are learning everywhere. We want to create space for them to actively engage in learning wherever they are and make it fun."