Can you relate?
In a few words, this is what educators and support staff in today's schools are focused on as connections, mental health and social emotional learning (SEL) — now a buzzword — are at the forefront after two years of pandemic "normal."
Schools that provided peer and advisory groups, robust counseling and parent resources have ramped up efforts to make sure services are accessible. Districts that had a social emotional foundation in place expanded their capabilities. In short, a broad understanding that learning goes way beyond books is informing curriculum, clubs and counseling. "In order for students to learn, other needs have to be addressed first," says Lisa Bruening, director of student services for Lakewood City School District.
She lists mental health, clean clothes and an overarching feel that school is a safe space for every child as foundational elements for success in school. "We recognize that when we say, 'whole child,' you can't separate those needs from academic needs, and just as you have levels of support for academics, the same is true for social, emotional and mental health," Bruening says.
The "soft stuff" is hard. And certainly, there is plenty of lingo embedded in the world of SEL. So, what does it really mean to address the whole child and approach school from a social emotional learning lens? What does SEL actually look like?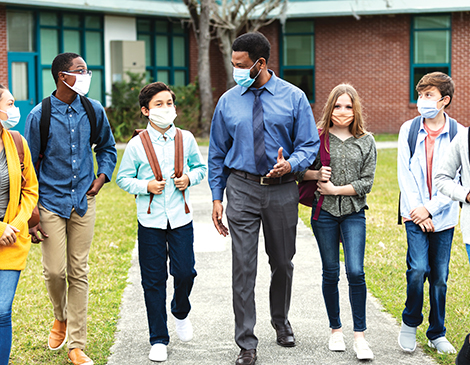 "It's really looking at the whole student as far as how they develop a healthy identity, how they manage their emotions, reach their goals, maintain healthy relationships, and how they are able to be empathetic and make decisions," says Erica Evert, University Schools' psychologist and student services department chair.
The pandemic has elevated the need for social emotional support in school settings across the board. For instance, Lakewood has two full-time student wellness coordinators, a licensed independent social worker available five days a week in its on-site Cleveland Clinic medical office in the high school and family resource coordinators in elementary buildings.
Bruening says, "The pandemic only brought out the need for families and children to have more mental health and other services to support them."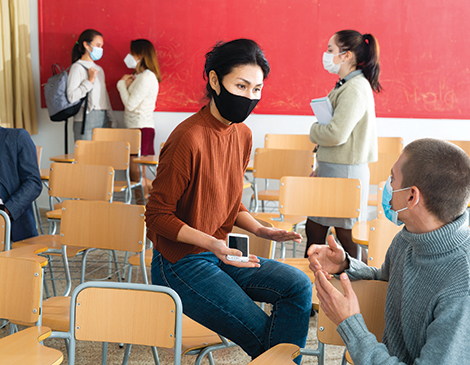 Guiding Open-Minded Conversation.
Once a week for 40 minutes, Christy Salata takes over the theology lesson at Beaumont School for the freshmen and sophomore girls she advises and leads a discussion about the stuff students won't see on their next test. Group Guidance covers topics to build skills in self-awareness, self-management — like reducing stress and controlling impulses — and responsible decision-making.
From a unit on weekly planning to help the girls learn to prioritize not just academics but activities that give them joy and keep them balanced to dealing with social media, the conversations build social emotional aptitude.
"One of the highest predictors of success across the board, in every career, every field and every walk of life is high social and emotional intelligence, not necessarily academics, getting straight A's or IQ," Salata says."Then, we talk about what social emotional intelligence is — and, since we can learn and improve upon it, it'san exciting thing because we can practice those skills," she says.
Salata, who has two daughters at Beaumont, says the girls look forward to their Group Guidance time — where they grow in ways that can't be measured by standardized testing.
"It helps them feel connected — they're not alone," she says.
As students progress through high school, Group Guidance sessions evolve into talks about what's next, preparing for college and life beyond their current safety net. The point is, they're being challenged and engaged to think about life in a big-picture way. And, because of the relationships that grow during this time, they know the counselors' doors are always open. At University School, students drill down to real-life issues, and teacher "sponsors" lead discussions during "Circles" of six to eight students.
"They are a way to build rapport and trust and create a safe emotional space for our students," Evert says.
They're called Circles because that's how the boys gather. The sponsors are teachers and staff. At the beginning of the year, each Circle decides on ground rules, such as no interrupting and respecting others' opinions.
"They come together to form these common ground rules, and that helps them learn to listen and be empathetic and sensitive toward others," Evert relates.
Involving students in the rule-making also helps them own those guidelines. Generally, Circles meet at the beginning of the day for a 10-minute organized touch-base. "But they also can be used as a 'reset' if we notice that students' behaviors are off," Evert says.
Basically, Circles are home base. "It's a group of kids who see each other every day," Evert says.
Hawken's advisory groups work in a similar way with weekly sessions of eight to 12 students of the same grade. Advisors go in with guiding questions — with the freedom to go off-road. And sometimes, they just gather and do something together. Director of college counseling Renee Bischoff relates it to "the times, as parents, you need to say, 'We are having ice cream for dinner.'"
Once, her advisory group went fishing in the pond in front of campus. Because one student in the group was a fishing club member, he rounded up rods and reels for everyone.
"When you develop that trust, they can open up and share what they are really feeling," Bischoff says, adding that one-on-one regular check-ins to gauge mental health, stress levels and academic performance are also advisory responsibilities.
When students have these connections, they are more likely to ask for help when they really need it, she adds. And that's especially important during a time when we're being encouraged to distance.
"There are students I'm workingwith and I've never seen their (full) faces because of masking — not once," Bischoff relates.
Lakewood's teachers focus on the four R's: regulate, relate, restore, respond. Regulate can mean calming down or taking an activity break to engage in movement, says Merritt Waters, a teaching and learning coordinator for Lakewood City School District. Relate is taking time to see others as humans with different perspectives. Restore is a level-setting point in which there might be an apology or discussion. "And respond is when we make decisions,"
she says, adding that the district uses the Positive Behavior Intervention and Supports (PBIS) philosophy to social and emotional learning.
"We fold in the importance of belonging, and it stems from diversity, equity and inclusion — everyone needs to belong."
And to foster this, the Lakewood staff is focused on enhancing the way students think critically and creatively, communicate, collaborate, show empathy, and live with a growth mindset and social awareness.
Sometimes, these complex emotions can be teased out, nurtured and built up with activities like yoga. In fact, the district is in a partnership with Youth Yoga and offers "mindfulness and movement." This is the second year of the program, and last year Lakewood Schools trained 50 staff members to guide breathing and movement exercises.
"We're not just looking at consequences like detention and Saturday school, but taking part in after-school mindfulness activities where students can have some real reflection and think about what they could do differently the next time they are in a situation," Bruening says.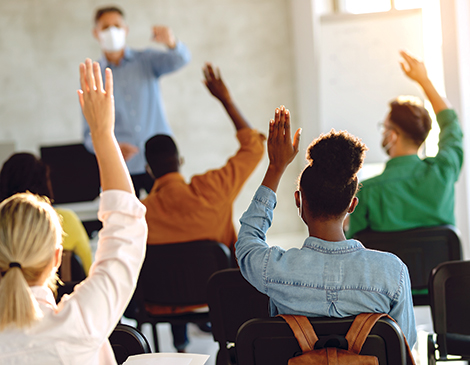 Something for Everyone.
A key piece of social emotional learning — perhaps the foundation — is inviting everyone to the table, no matter what.
"SEL means when your child comes to school, their identity and potential and talents are valued," Bischoff says. "So, if you have a student who brings a rich cultural history — maybe they are from a family of immigrants — that can be shared in the classroom.

"And this idea of valuing perspectives is important as we think of what books we are choosing. It's back to saying, 'How do we incorporate that into what we are bringing into the classroom?' Sometimes it involves group work, or it involves choice projects within a defined rubric, but still a choice. And it involves listening to what kinds of things kids want to do with their free time."
For example, Hawken added an Asian American Literature Studies course that has been "wildly popular," Bischoff says. And in an effort to create safe spaces for self-expression, the school created affinity groups — such as a group for African-American students, and a group for nontraditional families where students who are adopted or in a blended family can share what's going on in their lives.
"Those groups have been important to the kids," Bischoff says. Edward Ross joined the Jewish affinity group this year as a senior and has attended several meetings. During one, they talked about favorite holiday traditions.
"I just felt very connected to the people in the room, and even though I had known a bunch of them, we immediately were comfortable because we all have something in common," he says, adding that the group is a good place to meet new friends, too.
Affinity groups meet during an allotted flex-time block built into the school day — rather than after school — so that students can attend without having to worry about transportation or after-school activities. Meanwhile, maintaining his lacrosse and basketball practices were a bright spot.
"That was the most 'normal' thing throughout the whole pandemic, so it helped me get through it," he says. The close relationships with teammates filled a social bucket that might have been missing with virtual learning, social distancing and masking, Ross explains.
As for building time during the day to build social-emotional skills and encourage positive relationships, University School has expanded electives to include options like yoga, dance — and even board games. "It builds community and resilience like winning and losing, and mindfulness," Evert says.
Twice-weekly assemblies focused on character development — a values pillar at the school — include discussions about kindness and belonging.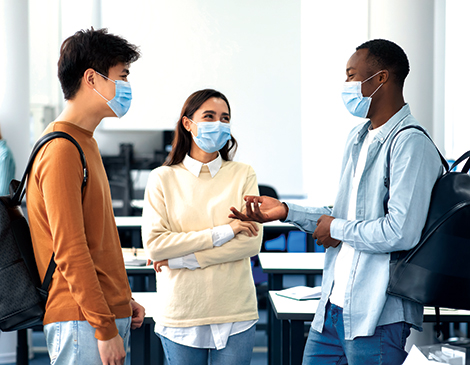 "Talking to colleagues all over the country, there is a need for that everywhere, and it has been magnified since the pandemic," Evert says. "People were isolated for so long, and there is also a sense of anger, so we teach that it's OK to be angry and to find ways to manage that."
Parent coffees at the middle school level provide guidance on what to expect developmentally.
"And as faculty, we do personal and professional development, which helps with our own SEL learning and so we can pass that down to the kids," Evert says, relating that teachers are also in dire need of socialemotional connections. "We're looking for recommendations not only for the kids but also how to put supports in place for staff."
Evert relates it to the instructions pilots give to passengers to put on your oxygen mask before helping a child.
"The idea is, if you are not in a healthy place, it will be much harder to take care of your child."
Lakewood offers the research-based Nurturing Parent education series free of charge, and it addresses issues including depression and anxiety. A grant through the Lakewood Foundation allows the schools' social workers and resource coordinators to identify families who have needs.
For example, a family dealing with a basement flood and broken washing machine didn't have clean clothing in which to send children to school, so the grant helped purchase gift cards to the laundromat.
"Sometimes, just a little extra can make a huge difference for families," Waters says.
Bruening emphasizes, "Sometimes, mental health comes with a stigma — and families might not want to say something about what's happening at home for fear that it will be looked down upon, but that certainly isn't the case. We are partners. Not one of us has the answers, but together we can figure out what is needed and surround our families with supports." Bischoff adds,
"People have always talked about how we are going to do everything we can to support the kids — and the focus has really been on the children, and that's a good thing."