At home, Callie Frimel and Lexi Donato are always on the go. The competitive figure skaters train daily at the rink and travel on the weekends to competitions. Like most eighth-graders, they also deal with the pressure of schoolwork and challenges of middle school friendships. They're plugged into the noise of social media and live a busy life.
But that all quiets when the Mentor residents press pause on their lives and head to Camp Fitch, a sleep-away camp for ages 6 to 16 in North Springfield, Pennsylvania.
"If I didn't have camp, I wouldn't be so independent," says Callie.
Nestled along Lake Erie, Camp Fitch is designed for campers to take on more active roles and rely on their resources through activities such as kayaking, horseback riding, archery, hiking, painting and swimming.
While international campers take up residence at Camp Fitch for the summer, campers like Callie and Lexi usually stay for a week or more.
"The hardest thing is to go and put yourself out there," says Lexi. "You have to go out of your comfort zone and meet new people and try new things. I'd honestly say camp is the best thing I have."
This self-discovery can be an important foundation for learning independence and preparing for life after high school.
"There is much awaiting for them after they graduate from high school," says Callie's mother, Jennifer Frimel. "This teaches them to be serene and to rely on themselves and to understand what is really important in life."
Summer camp can offer kids a clean slate for creativity and challenges them to build leadership skills. They can explore career paths at Cuyahoga Community College's weeklong Little Veterinarian School or build confidence by making fire with flint and metal at Cleveland Metroparks' Primitive Skills Camp. They can challenge their thinking skills by solving puzzles at Great Lakes Science Center's Escape Room Camp or they can pick up new instruments in the School of Rock.
Ultimately, they can come to realize first-hand — while creek-walking, playing with water balloons or working on a craft together — that kids are kids, differences evaporating in the hot, summer sun as new friendships emerge.
Before you dive into prepping for this summer's great escape, we offer a guide to making the most of a camp experience this year.
Be a Good Friend
As Lee Harms, 17, writes his college scholarship essays and answers those big questions about life experiences and his interest in the field of environmental science, the Bay High School senior can sum it up in two words: Game On.
"Going to Game On camp in the summers and being a counselor, I saw the joy on kids' faces when we'd go hiking or find crayfish and minnows in the creeks," he recalls.
Lee also appreciated the camp as a participant, but got a new perspective as a counselor witnessing how kids initially struggling with social skills often naturally developed relationships with their peers. There's something about being outdoors, just playing together, that forms powerful lasting bonds.
Lee's mom, Julie Lipka Harms, got him involved in Game On as a third-grader. To Lee, it was all about the fun and games. But there's much more under the surface of Game On's activities.
What started out as a grassroots nonprofit geared toward kids struggling with social skills and high-functioning autism now draws from more than 10 school districts across three counties.
"We want to help kids understand how we all need to work with a variety of individuals in life — and we're more alike than we are different," says co-director Shawn Stansbury. "Game On is hands-on experiential learning for kids' social resume."
Campers meet at various Cleveland Metroparks reservations for outdoor activities, including structured camp games and exploration through hiking, creek-walking, slip-and-sliding and canoeing. Kids also participate in plenty of classic school camp activities such as singing, playing circle games and exploring the woods.
Through all this, the camp fosters an understanding of teamwork, diversity and friendship through simple exploration.
"There is a camaraderie that forms — an accepting of every player on the Game On team," says Stansbury, "because we all have enormous gifts to give."
Camp Take-Away: What's beautiful is how those camp connections carry into the school year and beyond. "At Game On, everyone is equal," says Lee. "It makes you a better person."
Make Something
According to a study by the World Economic Forum, 65 percent of kids currently in primary school will work in jobs that don't exist today. So what can parents do to prepare kids for these jobs of the future?
"You have to be a critical thinker," says Bill Champ, University School's middle school dean of students and director of summer programs. "You have to learn to problem-solve."
The key, he says, is to be a maker.
"Engineering is one of the many 21st century skills we need to grow as kids and adults," Champ says.
The school's Mission to Mars summer program, for example, centers around a two-story space shuttle model housed in the library. Kids use plastic sheathing, duct tape and fans to create lunar modules large enough for the whole group to simulate being in a space station.
They find out how gravity works, learn about force and energy by making rockets and even do an egg-drop project. They also get outside to swim and build rafts using items such as foam noodles.
"It's hands-on, great for building fine motor skills in young kids," Champ says. "As they get older, they become mentors, so it provides leadership opportunities."
Opportunities for maker experiences are available through camps throughout Northeast Ohio. Cheryl Green has enrolled her fifth-grade son, Jack, in Camp Invention since he's been in kindergarten.
"What he likes about it is there are no wrong answers," the Tallmadge mother says. "You get to use your imagination to come up with ideas."
At the beginning of camp, kids bring in an object of their choice to dismantle such as a DVD player or a typewriter. Once they disassemble it, they use the parts to make something new. During the course of the weeklong camp, kids also invent other machines.
"One year, Jack and his friends made a pinball machine out of a cardboard box," she says. "Another year, they had races with solar cars they made."
Camp Take-Away: "Even if you don't think your kid is that creative, you put them in that environment and the teachers coax that out of your kids," Green says.
Embrace Your Imagination
A 1,600-square-foot tree house — accessible with a winding ramp — looms overhead in the 140-acre forest of wooded trails, creeks and wildlife at Laurel School's Butler campus. Based on Mary Pope Osborne's children's book series, The Magic Tree House Camp invites first- and second-graders to step into the books through creative play, scavenger hunts, hikes, history experience and adventure.
Each summer, Laurel selects eight Magic Tree House books as a theme, such as Mummies in the Morning, for each week of camp. An imaginative curriculum draws campers into the story.
"We tie in different activities and challenges," says Karen Edwards, director of Summer at Laurel. Last year, campers created pharaoh headdresses and took a field trip to the Cleveland Museum of Art to look at ancient Egyptian art.
One of nearly 70 programs offered through Summer at Laurel, Magic Tree House was the perfect pairing for Christine Wolken's 7-year-old son, Edward.
"The connection between the book series and activities makes this camp different than others," she says. "My son wanted to experience his own Magic Tree House adventure, and he especially liked the creative arts projects that aligned with the book theme."
Camp Take-Away: Bring that imagination home by asking your child about camp, Edwards advises. "Camp allows your child to learn new things — but it also opens up a dialogue with parents that is very special," she says. "If you can seize that — learn about what your child likes and dislikes — it's a great way to get important conversations started."
Explore Career Paths
Parents, your kindergartener is never too young to go to Cuyahoga Community College. "We are the door of possibilities," says Suzanne Ortiz, program manager at Tri-C.
Campers can choose from 31 summer youth programs designed to introduce kids to different career paths and try something new. "We want them to learn and have fun and get them to the point where they can figure out what they want to do when they grow up," she says.
In Little Veterinarian Camp, children ages 4 to 18 learn to care for a dog by gaining knowledge about the animal's anatomy and nutrition habits. They also are trained on how to assess wounds and administer first aid.
In the Culinary Academy, held at both Tri-C's downtown Hospitality Management Center and Eastern Campus, high schoolers design and organize a menu and learn about food safety and how to read recipes. They also measure ingredients and prepare dishes from scratch.
"At the very end, the chef has a food challenge," Ortiz says. "They have to use up whatever food is left in the kitchen and make a dish that everyone tastes."
Other programs, such as the Public Safety Summer Academy for high school sophomores, juniors and seniors, puts teens in real-life situations with police, fire, emergency medical services, Homeland Security and 911 dispatch.
"They dabble in the life of every possible aspect of public safety," Ortiz says. "Kids go through real-life scenarios — they're not watching simulations or videos."
Camp Take-Away: The three-week-long session allows kids 15 to 18 years old to explore many different topics, Ortiz says. "It's an opportunity to test the job market or potential of their future," she says.
Rock Out
Leave the hard rock to the kids.
With locations in Westlake, Strongsville and Highland Heights, School of Rock takes a hardcore approach to a performance-based program where 45-minute private lessons are paired with weekly 1 1/2- to 3-hour group rehearsals.
"In sports, you don't take a basketball lesson and never play in a game," says Louie Novotny, School of Rock general manager. "It's a total crash course where the kids come in for five hours a day, and they get to experiment and learn how to play the different instruments of rock 'n' roll."
Summer camps are a weeklong, condensed version of what happens at School of Rock the rest of the year. A beginner camp for 7- to 12-year-olds introduces even those who have never touched an instrument to rock-band basics. They try guitar, drums, bass, keyboard and vocals all while gearing up for a semipublic performance.
"They learn some rock history and get a basic foundation of music theory," says Novotny. "At the end of the week, they play a mini concert in our rehearsal space."
The intermediate camp for ages 9 to 18 includes learning up to 20 songs to prepare for a show at a local rock venue, such as Brothers Lounge in Cleveland.
"They are so proud at the end of the week to perform that show," says Novotny. "It's super charismatic."
Camp Take-Away: Beyond learning music and rocking with a group, kids find out how to work collaboratively and master challenges. The experience often piques campers' interest in continuing to play instruments. "We have kids who come in and are a little nervous at first," says Novotny. "It lasts about an hour before they are sucked in."
Get Social With Science
In order to overcome a problem, you need to build the solution from the ground up. That's the concept behind the Escape Room Camp, one of several summer programs at Great Lakes Science Center.
"You can't do Escape Room by yourself, so it promotes teamwork and an engineering sense," says Scott Vollmer, vice president of STEM learning at the Great Lakes Science Center.
Fourth- and fifth-grade campers begin by building actual escape rooms using switches and buttons. They create puzzles to present to other campers, who try to solve them in order to exit the room under time constraints.
"They learn that failure can lead to breakthroughs," Vollmer says. "This enables children to be better prepared for the future."
By combining practical problem-solving skills with social and emotional achievements, the program is designed to prep kids for more workforce development-focused camps such as CEO in Training, Vollmer says.
"We are trying to build up a community in Northeast Ohio, keep our kids here and get them enticed in STEM fields in hopes they'll find a job here," says Vollmer.
Eight-year-old Casey Higgins has been attending camps at the Great Lakes Science Center since she was 3 and has built her own rockets, played Pokemon Go and participated in a spy camp that included fingerprint analysis and an adventure on the William G. Mather steamship.
"At home, I go through the science kits too fast and then I have nothing to do," she says. "At summer camp, I started learning more science. I love it."
Camp Take-Away: Science wrapped in fun exposes kids to career opportunities and prevents backsliding. "Children can get complacent hanging out at home or even hanging out with the same kids every day," Volmer says. "It's worth the effort to take your child out of their comfort zone and bring them into an environment that is enriching and will open their eyes."
Get Back to the Basics
Buckle up and leave your cellphones, iPads and other technology at home.
The Primitive Skills Camp in the Cleveland Metroparks teaches first-timers ages 9 to 12 how to spark a fire with flint and steel, to navigate the woods with a map and compass, and to build a debris shelter from the ground up.
"This is almost a reaction to screen time, where parents are wanting camps where no devices are allowed," says Wendy Weirich, Cleveland Metroparks director of outdoor experiences. "We see really positive results from that."
An advanced camp for ages 10 to 14 starts with the basics, then adds instruction on tying knots, archery and plant identification. Campers also learn to craft a hiking stick and prepare lunch over a campfire.
Even if kids never need the skills in the real world, themes of survival and self-sufficiency are prevalent in much of what they're reading from My Side of the Mountain and Hatchet to The Hunger Games.
"So many kids' stories and literature today give a nod to these primitive skills," Weirich says.
Camp Take-Away: A lack of tech doesn't mean there is a loss of innovative tools. "The kids walk away with a level of confidence in something their peers may not be getting," says Weirich. "They learn new skills."
Sharpen Academic Skills
Summer is an opportunity to build academic skills in all areas to set your child up for success in the school year ahead.
At Lawrence School, two camps geared toward academic enrichment focus on giving kids a headstart.
Lion's Leap at the lower school in Broadview Heights is a half-day, four-week program for students entering first through sixth grades who are struggling with their studies. Forty-five minute classes in language, reading, writing and math are interspersed with outdoor play.
Children are assessed prior to camp, so instructors meet them where they are.
"In addition to academics, we teach children how to use and embed organizational skills and strategies into their learning process," says Vanessa Diffenbacher, head of the lower school and associate head of Lawrence School.
Jump Start is a program offered at Lawrence's Sagamore Hills upper school for kids with learning differences entering sixth through eighth grades.
It focuses on studying and test-taking skills and is geared toward students with attention deficit hyperactivity disorder and dyslexia.
Camp Take-Away: Programs enhance visual learning skills and organizational tools to help students find purpose in the lessons while increasing self-esteem in a fun-based learning environment. "It's an excellent time to provide kids with enrichment and support to help jumpstart into the next school year," says Diffenbacher.
Dig Summer
There's no time during the school day — let alone a single science class — to actually go on an archaeological dig. But during summer, those time constraints and logistical concerns melt away.
"Because of the free-form nature of summer, we can do longer field trips and really dig deep on a topic for an extended period," says Jason Habig, director of summer programming at Hathaway Brown School.
Through a partnership with the Shaker Historical Society, the school's weeklong Archaeology Camp invites middle-schoolers to explore sites in Shaker Heights where artifacts such as pottery pieces and roofing tile are known to be buried. Campers go through a theoretical process with an archaeologist using skills they learn to find artifacts, recover and clean them.
"It's important for them to understand that archaeology isn't just dinosaur bones," says Habig.
Camp Take-Away: "It's important to use your time in the summer to explore new ideas," says Habig. "Maybe it changes the trajectory of what they're going to do with their life moving forward and into the next school year."
Embrace Cleveland's Diversity
Wherever you go in our city, there's a plethora of lessons that can be learned from our vastly diverse cultural backgrounds.
Discovering Global Cleveland is a week of cultural emersion through Hathaway Brown, where kids experience firsthand various cultures thriving in Cleveland. On-campus activities such as cooking pierogies and painting with fish scales are combined with field trips to the West Side Market and AsiaTown.
"These kids are becoming increasingly curious about the world around them," says Habig. "This exposes them to the world that they live in and how diverse that world is."
Other institutions, such as the Great Lakes Science Center, offer similar programming such as Explore Cleveland. "We get the kids out into the community — take them to museums, the aquarium [and] make the city more accessible," says Vollmer.
Camp Take-Away: Show kids what rich resources are available in the region, and they'll entice you to return and explore with them. "It's about looking at opportunities for exciting new things to re-energize yourself and embracing the diversity of your community," says Habig.

Game Time
Never underestimate athletic camps. They're far more involved than a simple catch-and-release experience. For many students, the focus remains on the end goal, but Bill Champ, University School's middle school dean of students and director of summer programs, suggests the heart of sports lies in conditioning, teamwork and good sportsmanship. Here's three things to look out for when considering a camp for your kids.

Prevent burn-out. Enrolling your child in a four-day sports camp allows for much-needed flexibility on the fifth day. "Our instructors and coaches found that on that fifth day, kids are fried," says Champ, "especially on a hot week when they're going three to six hours a day."

Mix it up. The focus on team building and socializing is just as important as training."These kids are still kids," says Champ. "They still just want to be able to just play sometimes."

Tap into team spirit. A sport can bring kids with a shared interest together. So even if your student is a sports beginner or simply curious, this is a great way to show them what's out there and try out new territory. "The special aspect of a sports camp is seeing students push each other and build lifelong friendships," says Summer at Laurel director Karen Edwards. "It should go beyond the skills and techniques and create an environment where your kid can grow."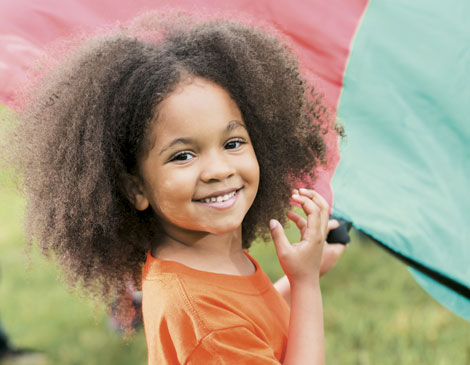 Rest Easy
The first time away at overnight camp can be overwhelming for kids and parents. Will your child be safe? Can you call him? What if she wants to come home? In a world where we're always in touch, the thought of detaching and disconnecting for any period can be unnerving. Here's how to tackle that pit-of-your-stomach anxiety.
Let go. "There is a growth that happens at sleepaway camp that might not happen at home," says Jennifer Frimel, whose 13-year-old daughter, Callie, attended Camp Fitch for two weeks. "That growth is what you want to see happen in your kids before they leave the nest. She takes what she learns from home with her — the loving, the caring, the nurturing — and develops life skills at camp."
Resist the urge to visit. It's really best if your child spends the overnight experience alone, because it provides a much-needed sense of independence not found elsewhere. Frimel relates how she stopped at camp to bring Callie some extra socks and blankets because the temperatures had dropped and it was really cold. "They really wanted to see me go," she laughs, proud of Callie and her friend, Lexi Donato. "They loved being on their own and learning about themselves and how they can cope."
Remind yourself: "This is camp." It's meant to be different than your home environment, and the opportunities for kids to explore that at camp are there for the taking. Lexi, 14, shares how she and Callie did not want to go down the slip-and-slide covered with shaving cream and flour on the first week of camp because it wasn't their norm. "We don't really like to be messy," recalls Lexi. "But then the second week, we couldn't wait. Just try everything you can because once you go home, you'll wish you would have gone back."
Homesickness is normal. And this, too, shall pass. According to the American Camp Association, it's a good idea to prep your children throughout the year by allowing them to have small overnights away from home with friends or relatives they trust. Once they acclimate to the idea, freedom becomes empowering both for the children and the adults.