When Vince Rizzo walks across campus at John Carroll University, he might take longer than he plans to get from one building to the next. He runs into friends he has met in athletics, the campus ministry, classes and various
advocacy projects.
"The other day I saw a professor who had me my freshman year — it's that personal feeling and overarching sense of home," says Rizzo, 22, a senior. When Rizzo first landed on campus, he was a "business undecided" major. "After four weeks, I was like, 'I cannot do this for four years,' and it was really cool because I had a professor who on day one did what we call the John Carroll standard. He gave us his cell number and said, 'Call if you need anything. Shoot me a text. We'll find a time.'"
So that's what Rizzo did.
As a liberal arts college, the first two years would mostly be core classes. "Take any unique class that you can and find what you are passionate about, then go from there," was his professor's advice. Rizzo did this academically and out of the classroom. "I tried different organizations and clubs," he relates, adding that the size of John Carroll's 2,700-student campus made getting
involved easier.
Rizzo is majoring in Political Science and Peace, Justice and Human Rights. He has studied abroad and gives campus tours to prospective students, too, remembering the feeling he experienced when he visited with his parents several years ago. "I felt valued and heard as a student during the simple tour. I was hooked."
Connections, a sense of belonging and
accountability with smaller class sizes — these are a few reasons families appreciate a smaller school.
"If you know you will be supported and you feel comfortable so you can be yourself without fear of judgment, you have a sense of belonging, then you will develop the confidence to take advantage of academic and co-curricular opportunities," says Scott Schulz, vice president for enrollment management at Baldwin Wallace University.
Ahead in Class
A "circle of care" at Hiram College means faculty and staff who know students personally communicate with each other to provide layers of
support. "If a student is not showing up for class or having a difficult time, we have a system where everyone involved in that student's life here on campus from the residence hall staff to coaches gather around to help," says David Haney,
president.
Haney spent 12 years in leadership at Auburn University in Alabama with 27,000 students
before landing at Hiram, where there are 800 students.
Certainly, the faculty-student ratio is something small schools talk about a lot. But Haney suggests asking schools how many students a professor teaches at one time. "It's not only about class size," he explains. "Our faculty teach two classes during a 12-week semester so they are never teaching more than 30 or 40 kids at once. They get to know students really well."
Students get to know professors personally and can get help "in the moment," explains
Naomi Sigg, John Carroll University's vice president for diversity equity inclusion and belonging. "I had a student say to me, 'I was really struggling and I emailed my professor, and he said, 'Here is my Zoom link. Let's walk through it now,'" she relates.
Coursework can be more easily adapted to suit the learning styles of students, Schulz adds. "You might have a class of students that is more visual in nature," he says, calling this ability to be personal and nimble a "hallmark of smaller environments." Students can also get involved in professors' research, while this might be reserved for graduate students only at large universities.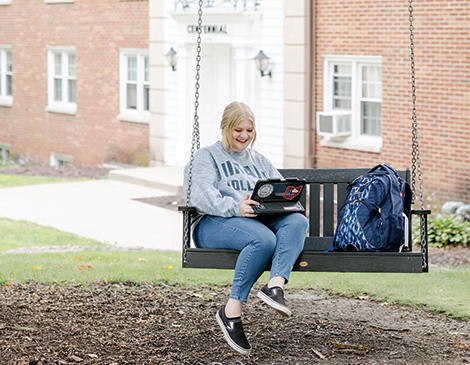 Getting Involved
While schools of all sizes offer resources ranging from athletics to community service opportunities to Greek life and rigorous academics, there are benefits to accessing these experiences in a smaller environment.
"They have a way of bringing out qualities in you that you didn't know existed," says Gregory King, president of Mount Union and an alumnus who was initially drawn to Division III athletics as a basketball player.
Then he discovered the Black Student Union on campus — and eventually took on leadership roles in this and another diversity group that organized retreats, fostering close-knit relationships. "It helps you gain confidence knowing you can serve in that capacity," he says, dispelling a myth that there's not enough to do at a small school. Mount Union has more than 90 student organizations and 80% of students are involved in community service.
Students at Baldwin Wallace get involved sooner with opportunities like writing or the student newspaper, which could be roles reserved for upperclassmen at larger institutions.
A holistic approach is one aspect of a liberal arts college that takes place inside and outside of the classroom. "When you have that deep sense of belonging, you have freedom to explore and find your passions and purpose," Sigg says.
Connectivity opens up opportunities. "There are faculty and alumni who want to help you further your goals and careers," she adds.
King shares how during his time at Mount Union as a student, a professor who became a mentor helped him land an internship with the Cavs. "Being in a smaller school helps facilitate that relationship," he says.
And speaking of sports, "Some folks feel like you have to be at a Big Ten school to get that pride and spirit, but I can assure you that small schools have just as much pride, spirit and heart in their communities," Sigg says.
Division III athletics opens the doors to more students who might not play first string at a major university.

What's the Cost?
Think beyond the sticker price. More than 95% of Mount Union students receive some sort of aid.
Bucking another misconception about small schools, one in three students are the first in their families to earn a college degree and 27% qualified for Pell Grants, says Schulz.
Small colleges tend to have more robust grant and scholarship programs that can accompany student loans or other aid to create a financial package that is comparable to a public state school. Rizzo says about 2% of students at John Carroll pay sticker price. "It's not as daunting as it may seem, and I'm grateful for our really outgoing financial aid office that was there during orientation and offered one-on-one meetings with every student. That was really personal and really cool."
Get ahead of the weekend by signing up for our free weekly "In the CLE" newsletter — your guide to fun throughout The Land. Arriving in your inbox every Wednesday, this weekend to-do list fills you in on everything from concerts to museum exhibits — and more. Click here to subscribe.