In the dead of winter, around February, you will find Wonderland in the cold, dreary Cleveland Flats.
A giant slot machine, bright and whirring, beckons you to play. Then, you stumble onto a train through time, hunting for clues as you make your way out. From there, you find yourself in an odd recreation of your grandfather's basement bar, settings changing like a scene from the movie Everything Everywhere All at Once.
That magic all around you is Brite Winter — an annual festival dedicated to music, arts and community for the past 14 years. The celebration returns Feb. 25 at the West Bank of the Flats.
"We were just looking for a way to get involved in the community and looked around and said, 'Like, what's Cleveland need?'" says founder Emily Hornack. "At the time, there was very, very little going on between New Year's and St. Patrick's Day. Winter in those really, really cold climates — like Minnesota and North Dakota, Canada — it's something to be celebrated and people look forward to it. We thought, well, let's see if we can figure out how to do that for Cleveland."
Brite Winter became just the cold-season activity Hornack dreamed of — dozens of local bands and artists like Grumpy Plum or Oregon Space Trail of Doom coming together for a cold, crisp Cleveland bash. Music stages weave between towering sculptures and interactive art.
But, the real magic sparked when the event partnered with Ingenuity Cleveland around the 2016-17 season.
That pivotal collaboration introduced community workshops into the planning and construction phases of the festival, effectively turning Brite Winter into weeks of interaction for interested Clevelanders.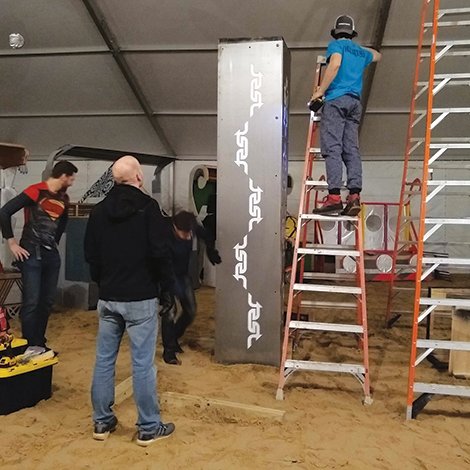 "Those workshops are open to anybody, any skill level — the opportunity to walk right in, learn a new technique, be handed a tool that maybe you've never used before and help create a tiny piece of a great big vision," says Ingenuity's artistic director Emily Appelbaum. "[That's] something that's really attractive to Cleveland artists, especially in those cold, dark months, where maybe people are longing for a little bit of community and warmth."
Event themes since Ingenuity came on board have included last year's slot machine-spinning "Lucky 13," or the industrious "By Land, By Sea, By Air." Starting in late fall, the team brings the themes to life bit by bit before constructing the pieces at the Flats — rain or shine. A core team of around 20 people returns every year, and that number can double or triple when workshops begin in late January and February.
For local artist Amanda Nyx, who assisted projects like the train through time (led by Eugene Zbarash) and grandpa's basement bar (led by Michael McFarland), volunteering for Brite Winter felt life-changing. She's been back most years since 2019 and created pieces like Dream Gate, Crystal Cave and Syncretism."
"The more I did with art, the more I loved it — the more I realized I'm very capable," she says. "Ingenuity really helped show me that anybody can show up and learn. There's nobody out there that I don't think can be an artist of some kind. And that really inspired me to keep trying to do more stuff, and to keep coming back."
A health condition prevents Nyx from attending the event in person every year, but the stories she hears lets her know that their work has an impact. Clevelanders "ooh" and "aah" as they find clues on time-traveling locomotives or meander through Crystal Cave.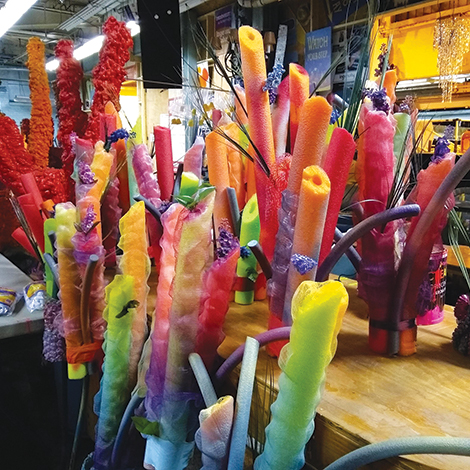 When people wander into Brite Winter this February, Hornack will look for those faces of recognition, joy and intrigue as Cleveland comes together to celebrate the cold.
"Those moments where you have people who don't know each other, who are constructing something together and are proud of it afterward," she says. "I think those moments are really powerful for creating connections to each other and to our community that have nothing to do with, you know, our family of origin or politics or what street we live on."
Tickets available here. Feb. 25, 3 p.m.-midnight, 2014 Sycamore St., Cleveland, britewinter.com
Get ahead of the weekend by signing up for our free weekly "In the CLE" newsletter — your guide to fun throughout The Land. Arriving in your inbox every Wednesday, this weekend to-do list fills you in on everything from concerts to museum exhibits — and more. Click here to subscribe.