Hip-hop beats bounce off the walls of Dakarai Akil's loft space at Lake Affect Studios in MidTown as he applies neat white strokes to the back of a shiny new jacket. He's painting T-H-I-S — an abbreviation of his ThisBrandUSA — across a half-dozen bomber jackets he hopes to sell for $120 apiece.
The limited-edition collection hints at the growing stature of Akil, a 26-year-old Cleveland artist for whom seemingly everything is a canvas. Launched earlier this year, ThisBrandUSA expands his art to "usable objects." Tables, chairs, even welcome mats now capture his imagination, expanding his portfolio and audience beyond his traditional art.
Popular among young urban gallery-goers and poetry slammers, his vibrant murals adorn the walls in Twelve Literary and Performance Arts Incubator in the Waterloo Arts District and the former Guide to Kulchur bookstore in the Gordon Square Arts District.
But lately, Akil is starting to enjoy trappings of mainstream success with a giant collage spanning the back wall of Rebol cafe in Public Square. Debuting in early April, the mural layers images of the Founding Fathers, a red muscle car, bare-chested men in turbans, and a large hand and spoon.
"His work tells great stories," says Erin Guido, who is coordinating the changing exhibit for Land Studio.
Using a patchwork of striking images with a retro feel, Akil builds his collages from old magazines and photo books, cutting and pasting like a scrapbooker. "I like the old print," he says. "It's more gritty, aged. I prefer that over the new, clean, crispy look."
But if the medium is vintage, the message is on time. A trim, soft-spoken man with the quiet gaze of a poet, he possesses a restless energy that powers his work.
Lately, he's been dismayed by the anti-immigrant rhetoric of President Donald Trump, what he sees as the demonizing of Muslims.
Men in turbans, evoking Islam, are central to the Public Square mural. But the story begins to their left, where the swatch of a car rests above a cutout of the Founding Fathers. Look right, and that car has flipped.
The damage from the car crash ripples far, as illustrated by the giant hand spooning soup toward the globe. It at once symbolizes how democracy and freedom once served as nourishment but now seem thin and tainted. "This is what we're dishing out to the world — this madness," Akil explains.
He learned to love art from his father, multimedia artist, Tim Ashby. His studies at the Art Institute of Pittsburgh almost led him to a career in fashion. But when he began collaging a few years ago, Akil discovered a passion, one that fits his impatience.
"I rush through projects," he says. "I can be working on a painting for two weeks. I just want to see the end. I'll do a collage in 30 minutes."
For a collage, he usually has the dominant image in mind before he punches up a playlist — jazz, soul, old-school hip-hop — and starts flipping through magazines, X-Acto blade in hand. He's looking to create something striking, something fresh, something someone can get lost in.
"I just lead the way," he says. "What does it mean to you? I guess it's really the viewer collaging the meaning for themselves."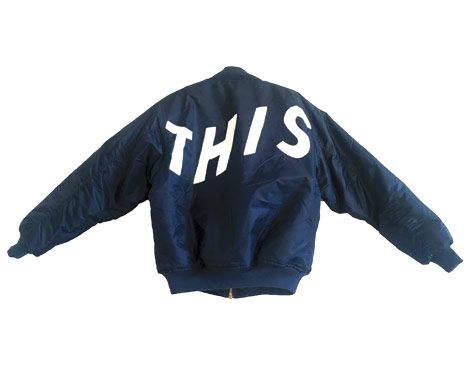 Shopping List
Dakarai Akil's ThisBrandUSA product line expands his canvas to household goods. "I always wanted to see my art on every kind of product," he says. "It's just another canvas for me." The artist picked three of his favorites.
Table: A hand-painted table ($425) is affixed with a collage of '60s-era images, lending irony to its title "This Table Was Made In The Future."
Doormat: Akil's collages now welcome guests. One doormat ($100) portrays sojourners walking across a desert landscape beneath a giant chocolate doughnut. "To me, it's a mirage in the background, that giant doughnut," he says.
This Jacket: Akil reconnects with his fashion background by hand-painting his trademark across bomber jackets and windbreakers ($120) using durable airbrush paint.