Now that's a great moving bonus. When Lakewood couple Oliver Palmer and Jaclyn Bradley Palmer got the call to go to Groningen, Netherlands, they also landed star advice: the experts at HGTV's House Hunters International. TV crews followed the couple as they left their Brickhaus ecohome in Lakewood and found a new rental in the Old World. Oliver, an engineer for Rovisys Building Technologies, based in Aurora and Europe, is managing a yearslong project in the Netherlands, and Jaclyn, one of Cleveland Magazine's Most Interesting People in 2016, is a music therapist and singer. The two have a three-year-old daughter, Roma. Ahead of their HGTV episode at 10:30 p.m. Jan. 24, we talked to Jaclyn about her music, life abroad and what they miss about Cleveland.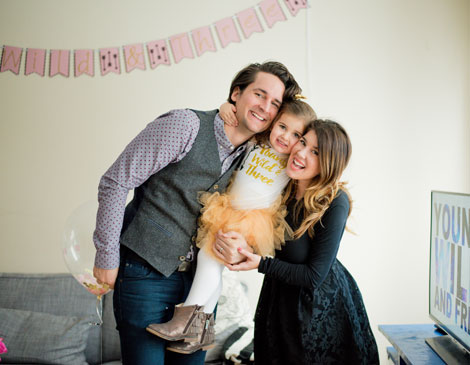 Q: Is there something about Cleveland that you can't find in the Netherlands?
A: Sorry but to us the food is bland! It doesn't have a lot of the spices that we're used to. We miss the Mexican food. Cleveland, Lakewood, Tremont — we miss all the restaurants. And here? We do a lot more dining in, because eating out isn't that big of a deal as it is in America.

Q: What's been the reception to your music overseas?
A: In general Europeans work to make a living; it's not the epicenter of their lives. But still, everyone here really taps into their passion. So it was really exciting to get back into my own. I'm a music therapist in the Cleveland Clinic and was a songwriter in Los Angeles. Being here, I was just inspired to create. I wrote The Dutch Sessions and recorded it here, and performed it at a festival in the Netherlands. Honestly, I feel like I'm the fullest extension of myself here.

Q: What can people take away from the episode?
A: To maybe have other people follow their dreams or their heart, especially when it's a bit scary. I'll be honest. Leaving my job, my family, my grandparents — I was nervous. But when a great opportunity comes you need to embrace your courage and trust that everything will fall into place.