Jack Mueller wants your attention.

That was the plan when he commissioned British muralist Camille Walala to paint the kaleidoscopic pop art spectacular that now covers the two-story former Key Bank building he bought in Collinwood in 2016.

"You turn on the news today, and it can be so dark," says Mueller. "I just want to inspire people with brightness and fun."

Mueller found a natural partner in Walala, a London-based artist known for a pattern-mixing style she calls "Tribal POP."

This summer, she spent two weeks painting the 1920s building with the help of about 10 Cleveland artists. The stately cornice and ionic columns of the once-abandoned building were reborn in hip hues that reflect Waterloo's rising profile as a hub of public art.

Mueller hopes the space inside will soon be as vibrant as the exterior. In March, he plans to open Pop Life Headquarters, home to an art gallery, yoga studio and Daily Press organic juicery.

"Our aim is to be a community-centered place in Cleveland where yogis, wellness enthusiasts and creatives can gather to share ideas and be inspired," says Mueller, a Shaker Heights native and certified yoga instructor.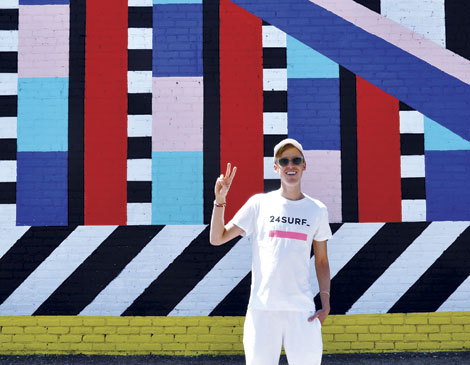 Since beginning renovations, Mueller has added a kitchen and juice bar, as well as two yoga studios, two massage rooms and two efficiency apartments. He's made sure to preserve a number of historic elements too, including original doors, crown molding and the former Key Bank vault.

Mueller, who lived in San Francisco for eight years, drew inspiration from the vibrant public art of the Clarion Alley Mural Project in the Mission District. Yet he's also conscious of the potential pratfalls redevelopment poses in historic neighborhoods. "I've seen the negative side of what gentrification can do," says Mueller. "I had many friends who had to move out of San Francisco because they couldn't afford it anymore."

Mueller has some safeguards, including free art exhibitions and a low-cost menu for Daily Press, including simple smoothies and fresh juices. The yoga classes have no set prices. Patrons pay what they can afford, with a recommended $10 donation. No one will be turned away for lack of funds.

"We can work together to create a different model," he says.

The first gallery exhibition, slated for March, features the collected works of So Fun Studios, the interactive design collaborative between artists Erin Guido and John Paul Costello. Mueller is also brainstorming ideas to collaborate on projects with various local artists and has his sights set on opening a number of pop-up shops. Through it all, a spirit of inclusiveness will be key.

"This idea of art as a commodity and the art world seeming so exclusive has always turned me off," says Mueller. "I do really feel like art is for everyone."