Ditch the balloons. Delete the tired playlist. At event planner Haley Morris' parties, nothing less than total transformation will do.
"My goal is to create a fully detailed atmosphere," says Morris. "I want guests to feel transported and immersed in a whole different environment than the familiar space they thought they knew."
Whether partygoers are marveling at a functional red windmill or standing under a shower of bubbles generated from a human-sized, art deco champagne bottle, Morris' dedication to detail can be found in every corner of her lavish parties. Designing primarily for Mahall's 20 Lanes in Lakewood, Morris has built a reputation for throwing some of Cleveland's most inventive themed celebrations by drawing inspiration from film, art and her own memories.
"I always wanted to be a filmmaker and am obsessed with the props, set design and overall feel of movies," says Morris. "These events are my way of channeling that energy."


To give her events depth and authenticity, the 28-year-old owner of Memorabilia Productions conducts exhaustive research by poring through period films, immersing herself in the era's songs and scouring the internet for fashion, architecture and aesthetic details.
Morris then combs Northeast Ohio for materials she can repurpose. She has collected enormous branches so guests can stroll through a wooded wonderland and secured kiosk roofs from Euclid Square Mall before it was demolished to create '80s dance gazebos. As a result, her events evoke a full cinematic experience.
Morris first got a taste for event planning while sharing an Ohio City house in 2009. The space soon became known for elaborately detailed parties she threw with her roommate. Their most popular event was Cafe Boo, an annual Valentine's Day shindig. Even then, every facet was coordinated. When the party planners screened Sleepless in Seattle, for example, they created a customized menu full of puns based on the film and a playlist that referenced scenes from the movie.
"We wanted to provide our guests with more than just a house party," she says. "If our friends had a memorable experience, then we felt proud."
Yet, Morris continues to dream bigger. Since 2014, she has taken charge of Mahall's New Year's Eve celebrations to fantastical effect. Highlights include transporting guests into the sparkling, David Bowie-inhabited realm of 1986's Labyrinth, complete with puppets, gauze-draped chandeliers and a gurgling Bog of Eternal Stench. Another year brought a Baz Luhrmann-themed extravaganza with burlesque dancers and the "Elephant Love Medley" canopy from Moulin Rouge, which Morris constructed from her childhood bed.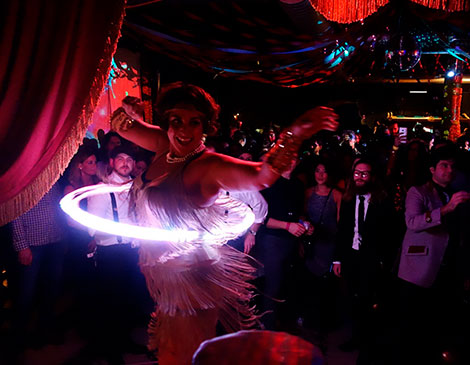 Although Memorabilia Productions is technically a one-woman shop, her side gigs as a DJ, mixed media artist and singer for punk group Pleasure Leftists have helped Morris build a creative community. Her crew helps bring her visions to life, from era-specific soundtracks to interactive puppeteers.
"I'm always looking for an element of whimsy and playfulness," says Morris. "It's the narrative thread you can find in all of my events."
For her next immersive experience, she plans to transform Mahall's for "Mugendai '89," a party delving into the world of Japanese New Wave. The June 8 lineup includes airbrush art, a cabaret catwalk with lip-syncing performers and Japanese-inspired fashion.
"I'm always looking to challenge myself and re-create a sense of community that sometimes feels lost," says Morris. "This is all my way of paying tribute to spaces that may be underused or forgotten."