In advance of the upcoming presidential election, David Giffels, Akron native and author of four nonfiction books, found himself mulling over the saying, "As Ohio goes, so goes the nation," a reference to the fact that Ohio has voted for the winning presidential candidate in every election since 1964.
The bestselling writer, who The New York Times once dubbed "the bard of Akron," embarked on a year-and-a-half-long project to visit the far corners of the state in an effort to learn as much as possible about Ohio as a microcosm of the United States. The result is Barnstorming Ohio: To Understand America ($28, Hatchette Books) a look at what makes Ohio such a political predictor and whether it can foretell what's to come in November. Giffels offers his takes on what he learned while driving 4,000 miles to interview more than 100 people and write his book.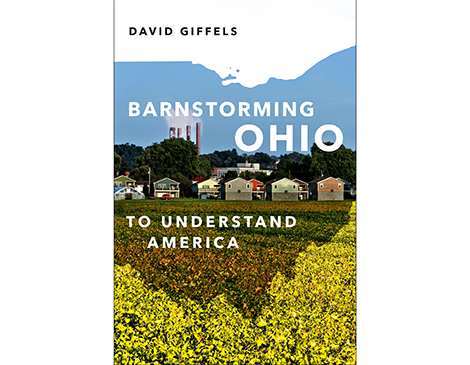 On Developing An Idea: When I finished my last book and thought about what I wanted to do next, my agent said, "Everyone's talking about Ohio. It's at the center of the conversation about this moment we're in as a nation," in terms of division. I did a project in 2004 for the Akron Beacon Journal, traveling the state for several weeks and telling the national story through Ohio's eyes. That's where the seed of this book began: I thought, I should do this on a bigger scale at a time when this feels really urgent.
On Ohio's Five Identities: There's a quantifiable reason Ohio is such a reliable bellwether of the nation. We have five regions that are distinct from one another and each reflects cultural and political patterns of the country as a whole. Northeast Ohio is post-industrial and feels like the American Northeast; Southwest Ohio is conservative with a southern flavor; Northwest Ohio is a rural farming region that feels like the American West; Southeast Ohio is Appalachia, which is very different culturally and even geographically; and Central Ohio is modern, with a suburban feel. Each region is different and reflects other parts of the country.
On Ohio's Political Impact: We're not homogenous in the way we vote; the voting patterns in conservative southern Ohio are very different than those in more liberal Northeast Ohio. Every four years, journalists, politicians and pollsters come here to try to understand the nation because we've been such a remarkably reliable indicator of the country.
On Predicting Ohio's Vote: The longer I did this project, the less willing I was to extrapolate anyone's story to anyone other than themselves because I thought the people I met deserved the dignity of representing the complexity of one individual, not the complexity of a vote. That said, an August poll unintentionally reflected the five Ohios, with the northwest and southeast in red and the others blue. At least at that snapshot moment, the five Ohios were telling us that we're leaning blue.
On Lessons Learned From Ohio: If you want to know how to get through a recession, look at the Rust Belt. We've been through hard times, and we've been through things other regions haven't. The best thing Ohio can teach is that rebound is a false narrative. Ohio isn't "back," economically, but we've learned how to grind, how to make small steps forward and how to prepare for setbacks. We do this all the time.