It didn't take long for Jesse and Kathryn McKendry to fall in love. In 1992, the two met at the campus ice rink at Michigan State University a spot where Jesse worked and Kathryn skated.

"We didn't have much money," Kathryn recalls. "So most of our dates consisted of attending free events at the university's museum and going out to eat at Burger King."
That changed on Nov. 25, 1992, when Jesse procured two tickets to Once on This Island, one of the hottest musicals on the Broadway touring circuit. Written by Lynn Ahrens and Stephen Flaherty, the play is the colorful tale of love, loss and redemption portrayed by Caribbean peasants as they wait out a violent storm and rely on a young girl to bring social classes together.
"We both enjoy singing along to Broadway CDs, but this show was different," Kathryn says. "Unlike Phantom of the Opera, there were no falling chandeliers and large ensemble cast. It was the emotional music and the simple staging that transported the audience to the island. It was truly an immersive experience. "
And so began the journey that culminated in the Chagrin Falls residents signing on as co-producers of the 2017 Broadway revival of Once on this Island. Premiering on Dec. 3, 2017, at New York's Circle in the Square Theatre, it would go on to win the 2018 Tony Award for Best Revival of a Musical before closing on Jan. 6, 2019. An avid journaler who kept copious notes, Kathryn recounts the experience of helping bring the show to life once more in her new book, One Year on Broadway: Finding Ourselves Between the Sand and the Sea.
"I felt such a sense of loss after the show closed," Kathryn says. "I had to process all the feelings I had and say something about them."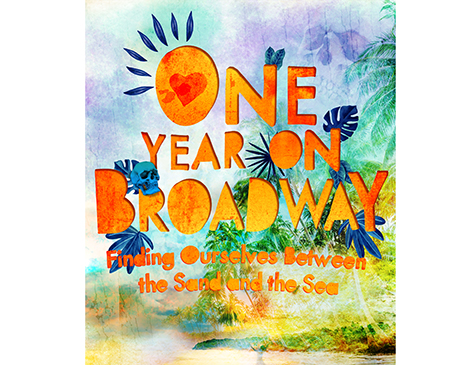 Upon graduating from MSU in 1994, the couple married, had three children and eventually settled down to life in Chagrin Falls, where Kathryn is a skating coach at the Pond Ice Rink & Sports Complex and Jesse is vice president of insurance at Metromile. But even as the couple settled into the suburbs, they never forgot their introduction to Once on This Island while in college. Over the years, they played the cast recording numerous times and reminisced about what Kathryn calls "their first real date."
Although the McKendrys can cite a litany of Broadway musicals they've grown to love, the couple never dreamed they'd ever invest in one. In fact, Kathryn describes the family budget as bordering on frugal.
But in 2017, Jesse spied an article on playbill.com seeking producers for a revival of Once on This Island. The financial investment was no small drop in the bucket — Kathryn likens it to the price of a modest three-bedroom, three-bathroom house — but the McKendrys knew it was an offer they couldn't refuse.
"We were young kids when we got married, started out with nothing and worked our way up," Kathryn says. "As our children grew, we saved for trips and experiences we could share, and kept putting money away. When the opportunity to invest in Once on This Island came up, we suddenly said, 'What are we saving all this money for?' We realized what we really wanted to do was help make something great in this world by doing our part to bring the show that meant so much to us back to Broadway."
Unlike the duo in the zany Mel Brooks' musical The Producers, the McKendrys did not oversee script development, casting or set design. But their names were listed in the playbill as co-producers and they were invited to attend opening night and the 2018 Tony Awards at Radio City Music Hall. Over the course of the year, the family made frequent trips to Manhattan and, all told, saw the show 27 times. The Tony Award the couple received is tucked away among vases and wineglasses in their china cabinet, along with several props from the production.
Kathryn admits the statistics on investing in a Broadway show are not encouraging: Only one in five recoup their initial investment, and only a handful go on to earn large returns. Once on This Island was not one of them.
But to the McKendrys, the gains far outweigh the returns.
"It was a crazy year," Kathryn says, "and financially, we didn't even come close to recouping our investment. But that doesn't matter. We gained so much in friendships and got a behind-the-scenes look at what the business is all about."
Their lullaby of Broadway plays on. The couple has invested in the Broadway musicals Hadestown and Moulin Rouge, and look forward to becoming involved with the Broadway production of Goddess and off-Broadway show Syncing Ink.
"We encourage anyone who can take the risk to invest in things they really believe in," Kathryn says. "For us, that's live theater. Jesse and I feel it provides an important space where people can see things in a new light which may help us move forward as a human race."