Earlier this month, state legislators approved sub-House Bill 33 in a big win for regional theater and film productions. A senate revision in June nearly capped the tax credit at the $50 million mark but that did not go through.

The increase is set for two waves, a rise from $40 million to $50 million for the current fiscal year, which began this July, with an added $25 million in infrastructure and production tax incentives set for the 2024 fiscal year. At least $5 million will be allotted to Playhouse Square.

Bringing the total to $75 million meets the goal expressed by Greater Cleveland Film Commission President Bill Garvey, who expects the increase will bolster production and relevant jobs within the state.

More than 300 projects have been filmed in Ohio since the state's film tax credit began in 2009, and Garvey sees the region as an increasingly attractive location for major film studios.

"The great thing about this region is it's such a chameleon to be a filming destination for many, if not most stories to be told," he says. "And that's a great advantage that we have over other regions. We have been so versatile in telling stories over the last 14 years of the tax incentive program. That's why 145 movies have been filmed here. And that's why over 300 projects total, films and documentaries and other projects, have filmed in the state of Ohio."
The Greater Cleveland Film Commission itself handles the courting process when big studios and filmmakers enter the early stages of planning.

GCFC pitches Ohio for its eclectic locations and works with local industry professionals ranging from necessary prop departments, stagehands, etc., keeping many jobs within the local community. This partnership brings more jobs to Ohio while taking some of the burden from the studios, a mutually beneficial agreement.

Major motion pictures filmed in Ohio include the recent LeBron James biopic Shooting Stars, last year's White Noise starring Adam Driver and hits like Judas and the Black Messiah and an entry in The Avengers franchise.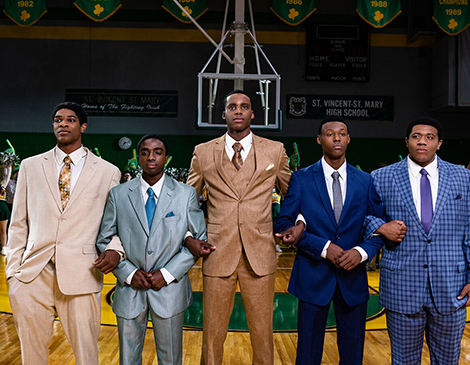 According to the organization's website, the Ohio Film industry has provided more than 7,000 jobs and more than $1.2 billion in economic impact since the tax credit passed in 2009 — a number Garvey sees rising with the recent increase.

"The more production you can bring, the more stability you bring, the more jobs you bring, the more crew base grows, the more you stop brain drain, the more crew returns from having moved elsewhere," he says. "It's a self-feeding prospect; It snowballs into more success."

Major studio productions halted recently due to ongoing SAG-AFTRA and WAG strikes, affecting the film industry across the United States. However, Garvey says Ohio feels ready to hit the ground running when the turbulence subsides.
"Just like coming out of COVID, the demand for content will be great," he says. "It will be this time around, too. We have to pitch Ohio as a filming destination months, if not years out before projects come. And we're never without work to do. So now is not necessarily a quiet time for us — we're pitching new bids. And we want to make sure that there are jobs when things are resolved in the strike for our local crew."
Get ahead of the weekend by signing up for our free weekly "In the CLE" newsletter — your guide to fun throughout The Land. Arriving in your inbox every Wednesday, this weekend to-do list fills you in on everything from concerts to museum exhibits — and more. Click here to subscribe.