In the past 40 years, Cleveland has experienced extensive change and growth. With the opening of the Rock & Roll Hall of Fame in 1995, the Cavs bringing home an NBA Championship in 2016, even watching the Browns move to Baltimore and then return in the late 1990s.
Yet, through all these changes, Wayne Dawson has been here the entire time.
The Fox 8 newscaster is celebrating his 40th anniversary with the station as well as his biography titled, The Seeds of Greatness are Within You. Written by author Deante Young, the book details Dawson's journey to becoming one of the most well-known news anchors in Cleveland. The Seeds of Greatness are Within You aims to inspire people, young and old, that no matter how far off the path in life you get, it's possible to find your way back. Filled with interviews and quotes from close friends, family and coworkers, it was released on Nov. 29.

"No matter where you start in your life, you can turn everything around because it's not where you start it's where you're going," Young says. "Wayne is the quintessential example of that."

We caught up with Dawson to talk about his legendary career as an anchorman and his love of Cleveland, ahead of the release of his upcoming biography.

Cleveland Magazine: You grew up in the Cleveland area and have been working here for 40-plus years. What made you want to stick around?
Wayne Dawson: It was interesting when I first graduated, you know, I was enamored with working in Washington, D.C., I never wanted to work network, but I wanted to work in Washington local, because I had relatives there. So, I used to go there. Back then, we had tapes, and I used to take my tapes to the different TV stations, and they would say 'stay in touch.' Then after a while, I started talking to my relatives, and they were explaining the cost of living and all of that. In the meantime, I kept getting promoted at Fox 8. I just decided to stay here because my family was here. Everybody's close to me is here. I just got comfortable at channel eight, and the doors kept opening for me.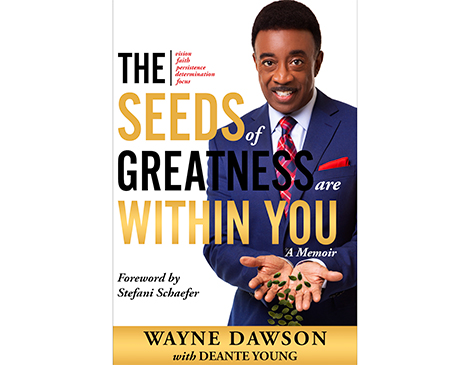 CM: Well we are glad you did. What was it like starting as an intern and working your way up?
WD: When I first walked in, I ran into people like Dick Goddard and Dave Buckle — God, rest his soul — who I grew up watching. It's so funny growing up here. I walked in, and I'm like, 'Hey, I grew up watching you on TV.' So that was kind of an out-of-body experience. And the crazy thing is now, over 40 years later, people come into Fox 8 now, the new employees, the younger employees, and they tell me the same thing. 'Hey, I grew up watching you on TV.' So, it's funny how over the years the tables have turned.
CM: That's probably awesome to hear though, right? Knowing that you're sort of an inspiration for the younger generation of journalists?
WD: I just tried to live my life as an inspiration to others. That's always been my goal. Since I've even started at Fox 8 many, many years ago, I knew that I was a role model just because of the position. So because of that, I've tried to speak life into people, especially young kids, young students and stuff. For many, many years, that was my thing, calling to schools, talking to kids, trying to inspire them. And we still do that today. My family, we have a foundation called the Dawson Foundation. We started the Foundation in honor of our mother. And one of the aspects of that foundation is we have something we call the Cycle Breakers Conference, and we bring kids in and we bring speakers in and try to motivate kids to be the best that they can be.
CM: I know Deante would agree that you're an inspiration. When the book you both worked on comes out, what are you hoping others take away from it?
WD: I want people to read the book and understand that if a kid who grew up in East Cleveland, a kid who had a turbulent life as a young person, a kid who was a teenage parent, a kid who did drugs and even sold drugs, a kid who was on the wrong path in life, can make it, can find the seeds of greatness within himself, then anybody can do it — anyone. And that's my message.
I'm no better. I'm no different than anybody else, especially individuals who live in the inner city. We think living in the city that we're destined to do nothing and be nothing. And that's my thing. You can do and be whatever you put your mind to, especially if you're willing to work hard. That's the first part. The second part is how important spirituality is in your life, believing in a higher power. That I think has guided me as well, especially in my later years that has guided me and given me purpose.
But the key is this: if I can do it, you can do it. That's the bottom line.
Get ahead of the weekend by signing up for our free weekly "In the CLE" newsletter — your guide to fun throughout The Land. Arriving in your inbox every Wednesday, this weekend to-do list fills you in on everything from concerts to museum exhibits — and more. Click here to subscribe.