For the 50th anniversary of the Cuyahoga River fire, the Cleveland Foundation's Cuyahoga50 goes big, with an expansive roster of reflective events including a Bill Nye keynote speech, concerts and beach clean-ups. But Cai Guo-Qiang does big with a bang — literally. In his Cleveland Museum of Art exhibit Cuyahoga River Lightning, open through Sept. 22, Cai uses gunpowder to create large-scale works capturing his reflections on the changing environmental state of our planet. "He uses his own language in art to bring awareness, or bring back a memory," says Clarissa von Spee, curator of Chinese art at the Cleveland Museum of Art. "But it's also [meant] to go one step forward and bring awareness to our endangered environment." The show includes one piece created in 2018 specifically for Cuyahoga50. We break down the fiery process behind the work.

First, Cai sketched the Cuyahoga River's flow from an aerial view, which was then transmitted large-scale onto cardboard and placed on a wide canvas. "He even extended the meandering and the loops beyond the canvas, so you really get a sense of the real Cuyahoga River," says von Spee. Cai then cut out the shape of the river and applied pure gunpowder to the exposed canvas beneath.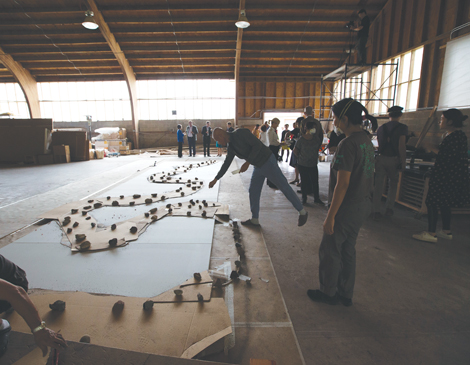 Next, Cai removed the remaining cardboard and placed fuses in specific, geographically significant spots on the canvas. "For example, for the area where the real historic river fire [ignited], he put a lot of firecrackers," says von Spee. To ensure the explosions touch the canvas instead of spraying outward, Cai then covered the fuses and gunpowder with cardboard and weights.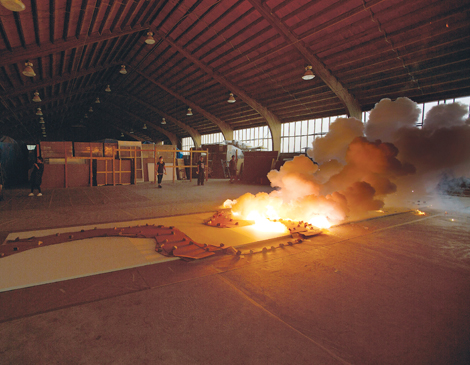 Finally, the Chinese artist stood at one end of his gunpowder arrangement and lit the fuse, sparking a river of bright explosions and sparks that flew across the wide canvas as every accelerant lit. "It will just rip over the canvas or paper in a very forceful ignition," von Spee says.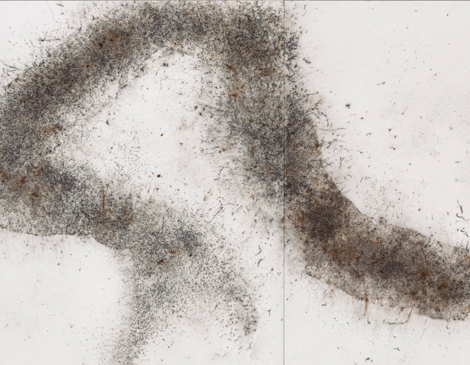 The weighted cardboard kept the flame tempered enough that the gunpowder and fuses didn't burn through the canvas. The resulting "Cuyahoga River Lightning: Drawing for the Cleveland Museum of Art" is a hazy, haunting shadow of our river, a piece where smoke appears almost captured on the canvas.