Before Twitter, there was canvas. In Eyewitness Views: Making History in Eighteenth-Century Europe, which runs through May 20, the Cleveland Museum of Art examines a time when paintings were among the only means to document important historical moments. Works such as Giovanni Paolo Panini's Preparations to Celebrate the Birth of the Dauphin of France in the Piazza Navona were often commissioned by rulers, ambassadors and church officials as a way to underscore their significance. "On a daily basis, we're being asked to judge what is truth," says Betsy Wieseman, the museum's curator of European paintings and sculpture, 1500-1800. "These paintings are in many instances the only visual record we have of a historical event." Here's three key features in Panini's painting.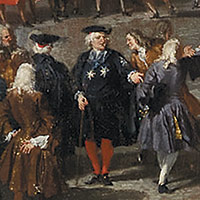 Cardinal Melchior de Polignac
To celebrate the birth of King Louis XV's heir, Cardinal Melchior de Polignac, the French ambassador to the Vatican, organized and paid for this grand 10-day celebration and commissioned Panini's painting. "Right in the front and center of the composition is Polignac," says Wieseman. "He is the kingpin that set all this into motion."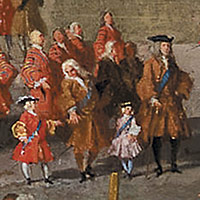 The Royal Stuarts
The exiled King James III of England is seen strolling through the crowd with his sons. Although raised in exile, the boys were considered rightful heirs to England's throne and are identified by the blue sashes from the Order of the Garter. "It gave an added layer of legitimacy," says Wieseman. "[It's] Polignac saying, 'Look, I planned this great party in your honor. All these important people showed up.'"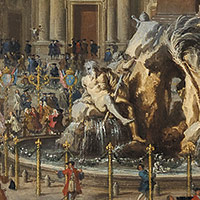 Fontana dei Quattro Fiumi
Gian Lorenzo Bernini's Fontana dei Quattro Fiumi is the only permanent structure depicted in the painting. Other triumphal arches and ephemeral statues shown were made from wood, canvas, stucco and paper mache. "It was a kind of a package that Polignac commissioned, the decorations for the festivities but also the painted record of it," says Wieseman.