Despite a chill in the air and the telltale signs of winter, it feels like the season of Wildflowers at the Rock & Roll Hall of Fame. On Friday, the Rock & Roll Hall of Fame opened their newest exhibit dedicated to Tom Petty's album of the same name – just a week after the release of related documentary, Somewhere You Feel Free: The Making of Wildflowers. The album celebrated its 27th anniversary on Nov. 1.

The exhibit, titled You Don't Know How It Feels - Tom Petty and The Heartbreakers Wildflowers Exhibit, showcases select treasures straight from the years Tom Petty worked on the album, including guitars and handwritten manuscripts from the writing process. The rock icon's estate and members of The Heartbreakers provided most of the pieces. "When we were working with Tom Petty's estate, we specifically collected artifacts in mind, you know, in a laser-like way that were used to create the record and then show the creative process," says exhibit curator Craig Inciardi.
Here are three things to know before you rock your way down to a collection of rock 'n' roll history.
The exhibit will help you find a friend. While most Rock Hall exhibits provide a motley glimpse into the lives of its featured artists, this exhibit utilizes a more focused approach. "A lot of our exhibits are retrospective and include a wide breadth of an artist's or band's career," Inciardi says. "So, whenever we can focus on a specific period of an artist's work, it's always great because you can get a deeper understanding of that specific work." The approach harkens back to the Hall of Fame's dedication to Tommy by The Who in 2005 — the first time they focused on one specific work from an artist for an exhibit.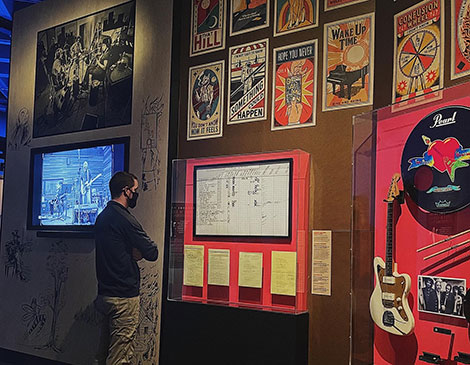 You won't want to move on. The exhibit sits front and center when visitors arrive. "It's on the ground floor of the museum, in the main exhibit hall in that first gallery that you'll encounter," Inciardi says. To honor the Wildflowers anniversary and coinciding documentary, the Rock & Roll Hall of Fame declared the weekend of Nov. 26 as "Tom Petty and The Heartbreakers Fan Weekend." The event includes the viewing of vault footage of Petty playing with Prince, and the group's iconic halftime show from Super Bowl XLII. As a part of the celebration, the Rock Hall placed speakers around the city that will play classic Tom Petty and The Heartbreakers songs at the top of every hour.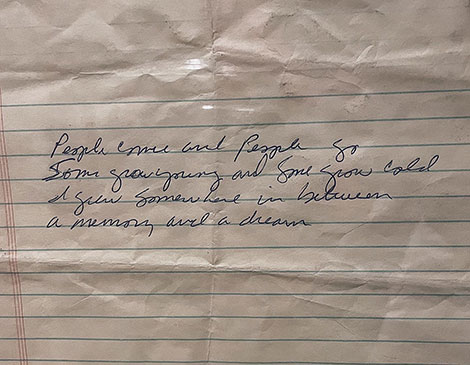 It'll take you to a higher place. The album marked a transitional time in Petty's career, as it was his first album with Warner Records. Inciardi describes the album as "a very human record," and explains that the album gave listeners a glimpse into the life of the rock icon. Petty himself viewed the album as the next step in his career. "He felt he was just hitting his stride and that it was like he was hitting a new high point; a new peak," says Inciardi. "To be able to feel that way after you've already been successful for 20 years is an amazing feat in the entertainment business."