It's a month before Greta Van Fleet is scheduled to kick off a world tour with a July 24 date in Nashville, Tennessee, and bassist/keyboardist Sam Kiszka is ready to hit the road. The 24-year-old Frankenmuth, Michigan, native excitedly describes the new stage he, his fraternal twin brothers, lead singer Josh and guitarist Jake, and their childhood friend, drummer Danny Wagner will use to take their "theatrical," "grand" show to 33 U.S and European cities, including Cleveland on Sept. 23. The open concept, he says, allows the foursome to move around more freely and really interact with the audience.
"We're trying to make this entire arena experience like you're in Greta Van Fleet's universe — we really wanted it to feel like you are part of the world that we live in, pretty much," he says. "So that's a start. There's going to be more fire, more explosions. We're going to continue that trend until we can't anymore, until the fire marshal tells us to stop!"
The set list, as fans might expect, is heavy on cuts from Greta Van Fleet's recent release, Starcatcher, songs such as "Sacred is the Thread," a clothes-make-the-man ode to Josh's trademark jumpsuits. ("You are the music rather than playing the music," Kiszka says of the band's penchant for flamboyant stage ensembles.) He acknowledges the tracks represent a range of influences, from Led Zeppelin — the group Greta Van Fleet has been compared to, sometimes disparagingly, ever since Josh's Robert Plant-like howl announced the arrival of the band's first single, "Highway Tune," in 2017 — to fast, raw punk.
"There's a huge breadth of variety to what we're listening to at any given moment," Kiszka says. "We could be listening to anything from John Denver to Adele and everything in between and beyond and before. We could be listening to some Gershwin, or we could be listening to the MC5."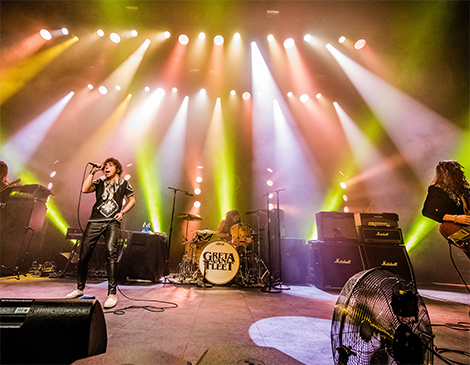 (Photo Shutterstock Images/Ben Houdijk)
Thematically, Starcatcher is what Kiszka calls "higher-power oriented." The most extreme example is "Meeting the Master," presented in the voice of a young, impressionable cult follower. "They're convinced that the leader is a master that's God-like in many ways," Kiszka explains. The music — not the lyrics — ended up in a Dodge Ram truck TV commercial. "We really don't do ads, commercials, historically," Kiszka acknowledges. But the band watched the proposed spot at their management team's urging and actually liked what they saw.
"Automotive has always been a big part of our culture, being from Michigan — our family, all across the board, is pretty much involved in the automotive scene," the son of a science-teacher mother and chemist father adds. "So it made sense."
The comment is representative of a grounded guy who lives what he describes as a down-to-earth life offstage. He, along with his brothers and Wagner, now live in Nashville, "a really magical town" filled with musicians and all kinds of other artists that's surrounded by nature. "There's a lot of woods, a lot of trees, which we grew up with and I can't live without," he says. "Whenever I go out on a canoe, whenever I'm in my forest in my yard, I feel really connected to the earth, and I feel really connected to the universe." Working with his brothers keeps them all humble. As siblings, they're able to state creative opinions bluntly without offending one another.
"It's always about compromising," Kiszka says. "That's kind of what makes the music really interesting. It doesn't sound like any one of our music necessarily because there's a series of compromises when we're recording and when we're writing. That's kind of what makes Greta Van Fleet Greta Van Fleet."
Start your day the best way by signing up for our free daily newsletter. Arriving in your inbox every morning to keep you in the loop on the best guides, home and style tips, and news briefs for all things Cleveland. Click here to subscribe.