When promoter Mark Rasmussen moved back to Cleveland, he wasn't sure he'd find the same level of creative talent he'd seen in California. But in this past year, after hosting the inaugural Cleveland Music Awards and local music zine No Cover, Rasmussen is free of doubt.
"The Cleveland Music Awards was a big eye opener for me, just to see all the talent," says Rasmussen, who hosted last year's event at Welcome to the Farm in September in the Flats. "There's so much talent in Cleveland, and I might have never come across it in that quick manner."
Now, the Lakewood native is investing even deeper in his vision for a unified network of musicians, performers, promoters and event professionals.
"All these pieces of the puzzle are just me trying to build this network within Cleveland and a synergy of everything," he says.
The largest and newest piece of the puzzle is the Space, a new 20,000-square-foot event venue at 2500 Brook Park Road in Cleveland's Old Brooklyn neighborhood, near the border of Parma. Formerly a warehouse for drapery, the gritty warehouse is set to become home to concerts, MMA fights, professional wrestling performances, food and wine events, weddings and more.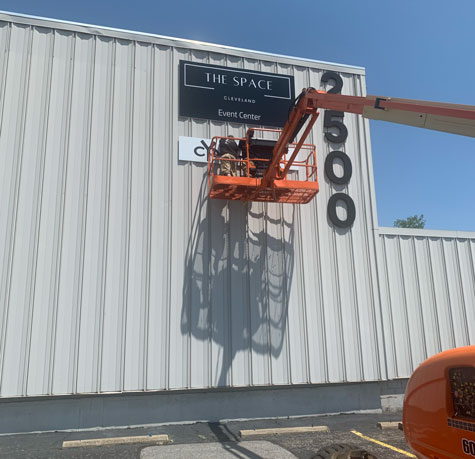 Rasmussen hopes the venue, which is still awaiting inspections and approval from the city, can host between 700 and 1,000 guests. He was also hoping to host the second-annual Cleveland Music Awards there on Aug. 26 but moved that event to TempleLive at the Masonic. Next year, he says, Cleveland Music Awards at the Space is a lock.
While music is at the center of Rasmussen's journey so far, the Space is much more than just a concert venue.
Last year, Rasmussen and business partners Tim Bishop and Adrian Ortega, owner of La Plaza Supermarket and Taqueria, purchased the Honor Fighting Championship. The mixed martial arts league previously hosted events at Jacob's Pavilion and plans to use The Space, which is equipped with a boxing license from the Ohio Athletic Commission and an octagon-caged ring, as its home base. The Space will also become home to a wrestling school with Willoughby-native Ethan Carter III, aka EC3, is involved in bringing the school to Cleveland, and Rasmussen hopes to bring some of those events to Northeast Ohio, as well.
In addition to stages and rings, the Old Brooklyn event venue features a full bar, office space for creative collaborators and a podcast recording studio, in which were Rasmussen hopes to interview bands coming through town. While many events will be produced in-house, the Space will also be rentable.
"I'm a promoter," says Rasmussen. "So I'm looking forward to being able to elevate the events I've always wanted to create without the constraints of how much is this going to cost me or is this facility too small — all the different factors."
For daily updates and news briefs to start your day, sign up for our Cleveland Magazine Daily newsletter, arriving in your inbox six days a week.