In my opinion, there may be nothing in the universe more boring and stale than an award show — even one about rock 'n' roll.
But because of its Cleveland connection, every year I put myself or one of our staffers through a marathon viewing of the Rock & Roll Hall of Fame Induction. This year, the show, which aired on HBO Max on Nov. 19, was recorded on Nov. 5 at Los Angeles' Microsoft Theater.
Maybe that's why I'm in a slightly bad mood. Here at Cleveland Magazine, we're firm believers that this event should take place in Cleveland every year. Before you even start thinking about the cultural significance, the economic impact — which in 2018 was $35 million and in 2021 was more than $50 million — means so much more to this community than Los Angeles.
And yet, had it not been for Cleveland-native Neil Giraldo, Pat Benetars guitarist who we'll get to later, the word "Cleveland" would have barely been mentioned. In addition to Benetar and Giraldo, the honorees included Duran Duran, Eminem, Eurythmics, Dolly Parton, Lionel Richie, Carly Simon, Judas Priest, Jimmy Jam & Terry Lewis, Harry Belafonte, Elizabeth Cotten, Allen Grubman, Jimmy Iovine and Sylvia Robinson.
But despite all my gripes, there are some truly cool moments that come out of every Rock Hall induction. The general format of the show goes introductory tribute speech, career highlight video, performance and then acceptance speech. The stories of humble beginnings, grit, determination and trailblazing artistry are enough to … at least watch some YouTube clips after this recap.
So without further ado or complaints, here are our 14 favorite moments and biggest takeaways from this year's Rock Hall Induction ceremony.
Alanis Morissette's No Show
Before it even got started, the ceremony began making news when the "Ironic" singer backed out of a performance with Olivia Rodrigo at the last second. Morissette cited sexism in the industry. "I have spent decades in an industry that is rife with an overarching, anti-woman sentiment," she wrote in an Instagram post.
"You're So Vain"
Rodrigo sang the famed Carly Simon song without Morissette in a great performance that showed the timelessness of that song. Fun fact: The 1972 hit features the Rolling Stones' Mick Jagger on backing vocals. A clip of Jaggers' isolated vocals was a quick moment of delight.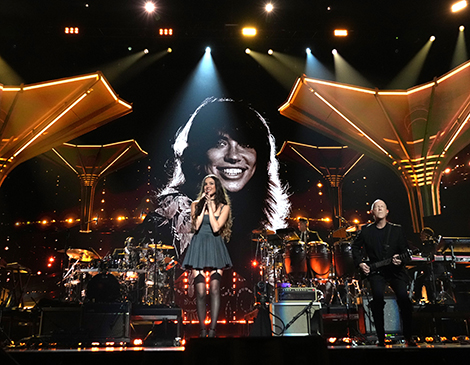 The MTV Era Shines
It seems the Rock Hall's spotlight has moved on from rock's '70s heyday and is now shining on the '80s. Duran Duran, Pat Benetar, Lionel Richie and the Eurythmics each performed songs that defined the decade, and their tributes explored just how large a role the moon man played in their careers, especially Benetar, whose "You Better Run" was the second video ever played on the network. "We realized we were also image makers," says Annie Lennox of the Eurythmics during the duo's tribute video.
The Fan Vote
Sans intro, the show starts with a bald Robert Downey Jr. in a neon green suit, one '80s icon professing his love for another: Duran Duran. The band behind "Hungry Like a Wolf" won this year's fan vote with just fewer than 1 million votes. We're convinced they have Cleveland writer Annie Zaleski, whose 2021 book Rio put the band's prolific career in a new light, to thank for that.
Star-Studded Event
Does the Rock Hall Induction land Bruce Springsteen (who inducted Jimmy Iovine), Gwen Stefani (who also spoke about Jimmy Iovine), Olivia Rodrigo, Ed Sheeran (who performed with Eminem), Janet Jackson (who inducted Jimmy Jam & Terry Lewis), Pink, Bono and the Edge if the event is in Cleveland? Probably not, and that's probably a big reason the organization wants to bring the off years in New York, Los Angeles and possibly even Europe.
A New Appreciation
Duran Duran, with it's dooka dooka doo '80s drums, has always been a little polished for my taste. But man do they have some hits: "Ordinary World," "Hungry Like the Wolf." In fact, '80s pop — not the emerging alt-music of the time — has always kinda driven me nuts. But the Induction Ceremony gave me a new appreciation for a lot of the tunes, especially in the performances when the dated production was scrubbed off. And I think gaining a new appreciation for groups you either didn't like or didn't know much about is what makes the show worth watching.
Behind the Scenes
Speaking of gaining a new appreciation, the inclusion of producers, lawyers and industry professionals like Jimmy Iovine, Allen Grubman, Sylvia Robinson and Jimmy Jam & Terry Lewis bring a historical significance to the Induction Ceremony that I never would have expected. Grubman, the first lawyer to be inducted, worked with everyone from Springsteen to Bono and helped start the Rock Hall. Jimmy Iovine's production and business sense defined about five genres and the way we listen to music with Beats and Apple Music. Robinson basically invented rap by bringing us Sugarhill Gang.
John Mellencamp's Stance
Mellencamp gave the speech to induct Grubman, and in it, he threw some Kanye West shade while making an important point. "I'm an artist and a gentile whose life has been enriched by my friendship and association with countless Jewish people," said the "Little Pink Houses" singer. "Guys, I cannot tell you how f—ing important it is to speak out if you're an artist against antisemitism and all forms of hatred. Silence is complicity."
Judas Priest is Metal AF
My favorite performance of the night came from Judas Priest, whose twin-guitar attack still absolutely slays. Singer Rob Halford can still absolutely belt it, hitting every single note. In their speech, the band doubled down on its loyalty to "the metal." But nothing is more metal than acceptance, says Halford, who introduced himself as "the gay guy." "You see, that there is what heavy metal is all about," said the "Breaking the Law" singer. "We call ourselves the heavy metal community, which is all-inclusive. It doesn't matter what your sexual identity is, what you look like, the color of your skin, the faith that you believe in or don't believe in. Everybody is welcome."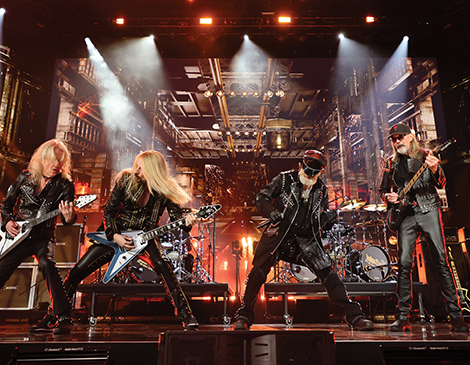 All Hail Clevelander Neil Giraldo
The lone mention of "Cleveland" — ya know, the place with the museum these artists are being inducted into — came from Pat Benetar's guitarist, who mentioned growing up here and beginning to play guitar as a 7 year old. He also shouted out the Museum's dedication to bringing more music education into classrooms. Bravo, Neil.
Course Correction
No one is more rock 'n' roll than Elizabeth Cotton. Born in 1893, she wrote "Freight Train" as a teenager, but she didn't get to perform on her upside-down acoustic guitar until her 70s. Still, she was an absolute pioneer, and it's great to see these trailblazers finally get their due.
Rap God
While this year's showing will definitely make '80s babies feel old, those of us born in the '90s are next. Eminem, the best-selling hip-hop artist of all time, accepted his induction as only Eminem could: talking about illicit sex, his love of drugs and other nefarious topics. He joins just a handful of rappers in the museum, including Jay-Z and Notorious B.I.G., though we should expect many, many more to come.
Revisionist History
My beloved Springsteen joined Mellencamp to perform a "Great Balls of Fire" tribute to the late Jerry Lee Lewis. But I guess we're just going to continue to ignore that whole thing where the Killer married his 13-year-old cousin.
"9 to 5"
Dolly Parton, who made news by first turning down the nomination before eventually accepting it, served as the caboose to the Rock Hall Induction Ceremony's "Train, Train." She referenced this almost-refusal by saying, "I figure if I'm going to be in the Rock 'n' Roll Hall of Fame I'm going to have to earn it." With a bejeweled Telecaster slung around her shoulders, she performed a newly written song called "Rockin'" about growing up on the farm; being influenced by Elvis, Chuck Berry and Jerry Lee Lewis; and her path to the Rock 'n' Roll Hall of Fame. Capped off with a group jam on "Jolene," we think she earned it.
Stay up to date with everything Cleveland with our free weekly "In the CLE" newsletter — your guide to fun throughout The Land. Click here to subscribe.