"Weird Al" Yankovic and his band have played in Northeast Ohio dozens of times over the years since first forming out of Dr. Demento's backing band in the late '70s.
In the decades that have followed, the parody polka-pop band has brought hilarity to multiple iterations of the Agora, along with Playhouse Square stages, the Front Row Theater, Jacobs Pavilion and Tower City (not to mention a handful of venues in Akron and Canton).
"We like Cleveland," says Weird Al's drummer Jon "Bermuda" Schwartz. "Audiences are great in Cleveland."
A few of those local memories are captured in Bermuda's latest book of photography, " Lights, Camera, Accordion!," set to arrive through Cleveland-based press 1984 Publishing. It follows his first book of photography, " Black and White and Weird All Over," released in 2020.
Beyond banging the drums on songs like "My Balogna" and "Eat It," Bermuda is also a skilled photographer, capturing moments of history on Yankovic's many tours. Photos of the band backstage at the Agora and at Cleveland Hopkins Airport are included in the 300 photo selections in the new book.
Those photos led Bermuda to connect with Matthew Chojnacki, the founder of 1984 Publishing and lifelong Weird Al fan. Chojnacki recalls that his first cassette was Weird Al's 1983 self-titled album, which he purchased at Parmatown Mall when he was just eight years old.
"I played the hell out of it. That got me on board with Al," Chojnacki says. "That's a typical young person's story. You go through these Al phases, and you like him when you're really young, but then as a teenager, you rediscover him again and he's funny again, and in your college years, he's still around and he's still funny."
Beyond the local publishing company, the book has another major Northeast Ohio connection: It features an introduction by Cleveland's own Drew Carey, the host of "The Price Is Right."
There's plenty of humor that takes place at a Weird Al concert, and plenty that takes place offstage, too, Bermuda says. He remembers a story of one of the band's early performances at the Agora:
"I remember we played in the evening, and that afternoon, Modern English had done a noontime concert. All their catering was left there — fried chicken, all sorts of stuff. We were a lot younger and more mischievous. I remember the heating ducts near the ceiling didn't have any grates across them; they were just these aluminum tubes that were open, and an easy target for all that chicken. Most, or perhaps all, of that leftover chicken wound up there."
Then, there was the time they all stayed at Swingos, a hotel known for hosting the likes of Elvis Presley, Frank Sinatra, Led Zeppelin and Kiss. Often, wild parties ensued — as captured in the 2000 fictional film "Almost Famous."
It was not quite the same raucous experience for Yankovic and Bermuda.
"All I can remember about Swingos is it was kind of dark and kind of dank, and I remember on cable TV, I saw 'Howard the Duck,'" Bermuda says. "That's forever tied to Swingos for me. It was a notoriously cheesy hotel, and I can certainly vouch for that."
The band also played the Great American Rib Cook-Off at the Burke Lakefront Airport and the Taste of Cleveland. Bermuda also remembers playing the Front Row Theater with its in-the-round style rotating stage.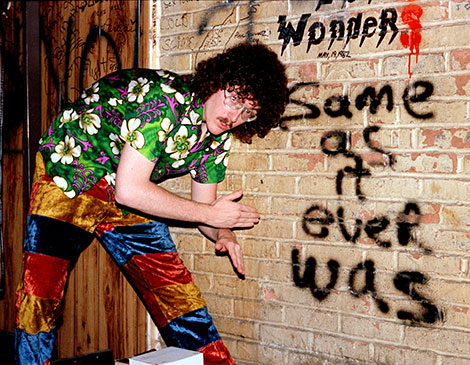 Once, when playing the Agora, Bermuda says Yankovic ran back onstage for an encore and accidentally knocked over all of his keyboards.
"For whatever reason, he missed his mark and he ran and hit the keyboards and knocked them down, and of course, they made this terrible sound," Bermuda says. "The lights come up and the keyboard is down and Al's just aghast, like, 'Oh, did I do that?'"
Yankovic, Bermuda, guitarist Jim "Kimo" West, bassist Steve Jay and keyboardist Rubén Valtierra recently returned from a massive 100-plus date U.S. tour — and the group is set to embark on a 2023 European tour next, including dates in Ireland, Germany, the U.K., France and Austria.
The band's receiving attention not only for Bermuda's new book but also for the 2022 biographical satire film "Weird: The Al Yankovic Story," starring Daniel Radcliffe as Yankovic.
The movie, co-written by Yankovic, is available to stream on Roku.
"The acting is really good. It's dramatic at times but mostly it's a comedy. Not a word of it is true," Bermuda says. "When you see it, and all the stuff in there — Al approved all of this, obviously, and there's just a bunch of stuff in there that's funny, but not true, and that's okay. It's not a documentary by any means."
Bermuda says he didn't time up his book's release with the movie, but that they pair well together.
"Everything's happening at once," Bermuda says. "This is really just the year of Al."
Find more details about the book, which is available for preorder, at 1984publishing.com.
Get ahead of the weekend by signing up for our free weekly "In the CLE" newsletter — your guide to fun throughout The Land. Arriving in your inbox every Wednesday, this weekend to-do list fills you in on everything from concerts to museum exhibits — and more. Click here to subscribe.