Michael Cavanaugh doesn't bill himself as a tribute act.
Those who buy a ticket to his show, The Music of Billy Joel and Elton John playing Feb. 11 at the KeyBank State Theatre, won't see a guy trying to impersonate the Piano Man or donning knockoffs of the Rocketman's flamboyant stage costumes.
But the 49-year-old Middleburg Heights native does sound an awful lot like Joel when he performs the pop-rock star's biggest hits, so much so that Joel suggested Cavanaugh play and sing his songs in the hit Broadway musical Movin' Out. Joel's own mother gave Cavanaugh what might be the biggest compliment he's ever received at an opening-night party in 2002.
"She said to Billy and I, 'I can't tell you two apart!'" Cavanaugh remembers. "I don't necessarily think I sound like Billy. But when I sing his songs, they kind of come out the way they went in."
The story of how Cavanaugh developed the two-hour-plus show, half of which is devoted to playing his musical hero's songs, is the you-can't-make-this-up stuff of which dreams are born. During a multi-year stint playing the New York-New York Hotel & Casino piano bar in Las Vegas, Cavanaugh met Joel's tour manager, Max Loubiere, and stayed in touch with him. On Valentine's Day 2001, Loubiere called Cavanaugh and announced he was bringing Joel to catch his act that night.
"Of course, I was completely freaking out, losing my mind," Cavanaugh admits. But he wowed Joel with an animated rendition of his request, Jerry Lee Lewis' "Whole Lotta Shakin' Goin' On."
"It came time for the piano solo, and I'm jumping on and off the piano, playing with my feet, playing with my butt. … He was loving it. He was fist-pumping and hooting and hollering," Cavanaugh recalls. By the end of the set Joel was at the bar's second dueling piano, joining Cavanaugh for the Beatles' "With a Little Help From My Friends" and Elvis Presley's "Don't Be Cruel."
"He ran up to me, and he gave me a hug and said, 'Great to meet you, kid. I gotta go,'" Cavanaugh says of Joel's hasty exit from the rapidly filling little bar. "I wasn't sure I'd ever see him again. I just thought, This is the coolest thing that's ever happened to me."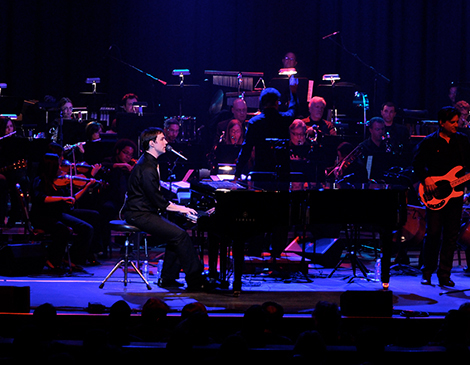 Joel surprised Cavanaugh by inviting him to dinner and both of his concerts with John the following weekend. In June 2001 Cavanaugh flew to New York City to successfully audition for the part of the Piano Man in Movin' Out — a role for which he would receive Tony and Grammy nominations. When the musical closed in late 2005 after a three-year run, Cavanaugh returned to Las Vegas and developed a performance of Joel's music with various symphonies.
Joel had made the show possible by generously removing the standard Broadway contract stipulation that cast members refrain from performing a production's music anywhere else.
Cavanaugh slips one or two original songs from his 2009 release In Color and 2017 effort The Way I Hear It in a set list that includes Joel's "Piano Man" and "It's Still Rock and Roll to Me" as well as John's "Bennie and the Jets," "Crocodile Rock" and "I'm Still Standing." (His personal favorites are Joel's "Scenes From an Italian Restaurant" and John's "Honky Cat.") During the pandemic, he began livestreaming performances of original material on Facebook and YouTube.
"It's very satisfying for me to do that," he says. "[But] I never get frustrated that I perform these songs by other artists. When I'm onstage, I'm really an entertainer first. And I want to do anything I can to get that audience excited so they have the time of their lives."