Michael Busch isn't joking when he says he wants to change Cleveland's comedy scene.
Armed with metal-framed glasses, a soft voice and welcoming smile, the 43-year-old Busch looks like a combination of your cool English teacher and the guy who fixes your laptop at Best Buy. His everyman presence combined with his comedic chops landed him appearances on several big television shows, with roles as diverse as a puzzled student (Community, season one, episode 24), the clapper on a fake television show (Key & Peele, season four, episode 11) and an angsty nerd (Pretty Little Liars, season four, episode five).
But when Busch returned to Cleveland nearly five years ago, after spending 15 years entrenched in Los Angeles' vibrant comedy scene, he felt like a man without a country.
So he came up with a plan: Head to an improv comedy theater, join one of the groups and go from there.
The only problem? There was no such theater. For two years, Busch existed in a comedy wilderness, teaching classes in people's basements and the backrooms of bars while also doing sketch and stand-up comedy at venues across the city.
But even as Busch trudged across Cuyahoga County without a permanent comedic home, he felt compelled to help the place that developed him.
Busch began his comedic journey while growing up in Mentor. As a kid he spent hours consuming reruns of Kids in the Hall on Comedy Central, where he was drawn to Dave Foley, who was able to steal a scene with a single word or facial expression. After graduating from high school, Busch attended Ohio University, where he helped start the sketch improv group Four Funny Guys and Matt. He spent four years in charming Southeast Ohio before heading to Los Angeles. "We didn't have any other marketable skills," Busch jokes.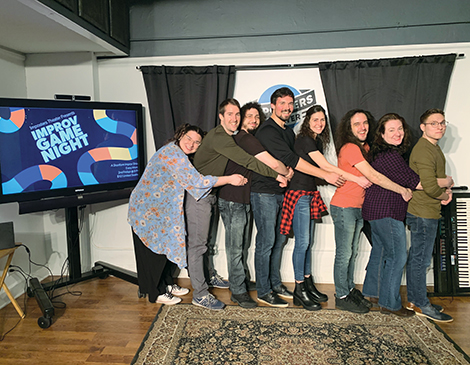 This past year, he's been the catalyst for the kind of change he'd like to see in Cleveland as the founder of Imposters Theater, a group that focuses on improv, sketch and alternative comedy in a storefront on Professor Avenue in Tremont.
But he's about to do a whole lot more.
As Busch has been teaching and cultivating Cleveland's theater scene, he's also been working on opening a new, professional theater space for comedy in Cleveland. This fall, that dream comes true at the new Imposters Theater on Lorain Avenue, a 1,200-square-foot space that is primed to become the epicenter of the Cleveland sketch and improv scene. With a small stage, inviting windows and an intimate atmosphere, Busch sees the place as much more than a theater.
"Not only will it be a place for improv, sketch and alternative comedy but also a place where people have fun," he says.
In many ways, Busch seems like the perfect person to lead Cleveland's comedy scene to its next chapter. He's a veteran of the major comedy scene and still holds connections (he flew out to Los Angeles last summer to shoot a few scenes for Nope, director Jordan Peele's new film), but he's also a Northeast Ohio native who understands Cleveland and what the city needs.
"Most midsized cities have at least one place dedicated to
improv comedy," he says. "Cleveland has zero."
The bones of Busch's improv training are on display on a warm July night in Ohio City's Forest City Brewery.
Since June, Busch has performed at and hosted Imposters' weekly comedy night at Forest City Brewery every Sunday. This particular evening kicks off with graduation performances from Imposters' level-two and -three improv classes.
A pack of groundhogs, a bonobo monkey running a nightclub and the 'Juicy Fruit killer,' stole the scenes. One group went so far as to dub themselves 'Anime Michael Busch' — performing their set while sporting shirts with Busch's face on it.
"I had no clue they were going to do that," Busch says with an ear-to-ear grin.
When Busch takes the stage, one of his group's scenes has evolved into him role-playing as a son who brought home a seven-foot-tall statue of Scooby-Doo — much to the chagrin of his dinner-party hosting mother. As Busch continually tries (and fails) to hide the "statue" (played by fellow performer Jamie Holloman), laughter echoes throughout the brewery.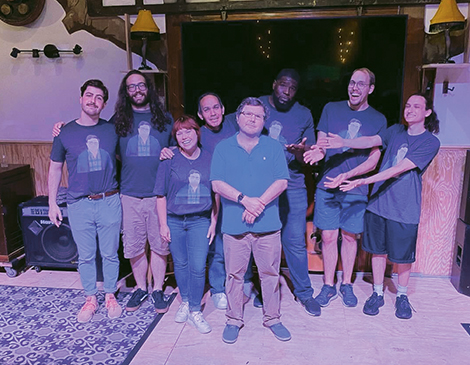 It's all laughs now, but the improv comedy scene in Cleveland has had its ups and downs.
In 2002, Second City opened an outpost at the 13th Street Theatre in Playhouse Square. The opening created an initial buzz but didn't last long. The Chicago-based comedy-troupe closed its Cleveland location in 2003, leaving local sketch performers reeling without a place to call their own.
"It left a bunch of performers in the city with no theater to perform at," says Deena Nyer Mendlowitz, an instructor at Imposters Theater who got her start at Cleveland's Second City.
With no Second City, the community started improv jams at pop-up locations across Tremont. One popular location for performances was Visible Voice Books. The independent Tremont bookstore is where Dionne Atchison got her improv start.
"I saw them performing improv and was like, I miss it," says Atchison, who also did sketch comedy at Ohio University and now performs in Busch's improv group. "I joined, and I've been doing it ever since."
Despite not having a dedicated space, Cleveland's improv scene continued to grow thanks to comics like Mendlowitz and Atchison putting on shows of their own while still performing in groups. The city's comic heartbeat wasn't in a specific place; it throbbed throughout the community. Performances were often held in bars, studios and nontraditional spaces like "the apartment" stage at Mahall's 20 Lanes in Lakewood.
As Busch became more and more involved in that community, he kept going back to the same thought: "There should be a venue dedicated to this."
In March 2020, he took tangible steps towards making his dream of establishing a comedy venue in Cleveland a reality. He registered the business name "Imposters LTD" just weeks before the COVID-19 pandemic disrupted the world. Luckily for Busch, a limited number of Imposters' classes and production could be managed virtually, meaning he was still able to teach comedy even as the world shut down.
Then, in August 2021, Busch and Imposters earned the Tremont West Development Corp.'s Small Business Incubator Program. The prize? Three months of free rent and seven months of below-market rent at a 400-square-foot space on Professor Avenue in Tremont.
With that, Imposters gained a physical home. While it wasn't the biggest space, it had just enough room for Busch and his fellow instructors to teach comedy classes in a safe, secure and judgment-free environment. As Imposters' numbers began to grow, so did Busch's dreams. Not long after opening the teaching space, he began to put his mind toward a permanent space. He leased the new theater on Lorain Avenue in the spring. Renovations began soon after.
In June, Busch initiated a Kickstarter to raise money for the startup and build-out costs, with pledge prizes ranging from t-shirts to naming a toilet. In a month, the campaign raised more than $22,000, beating its set goal of $20,000.
"The biggest thing about having a dedicated space is that you're getting students to come in, which means you're building a community," Mendlowitz says. "We've been craving that."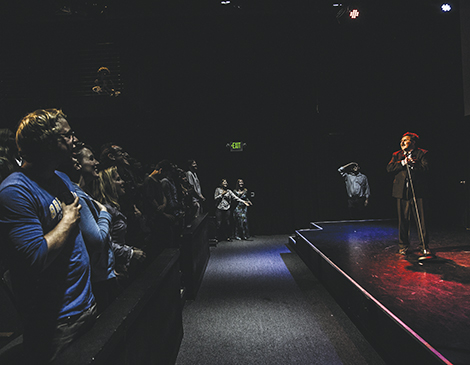 While Imposters may be a full-fledged comedy theater soon, it's still a construction site when I visit in July. Despite paint cans and hammers, Busch's enthusiasm is palpable, pointing out where things would go as we tour the one-story space.
The corner covered in dust and paint cans is the stage, he says, before motioning to the future location of about 50 seats. The bar, which is currently covered in clutter, is at the front of the venue. One can imagine patrons sitting and drinking in the area by the front-facing windows.
As he bounces around the room, Busch marvels at the opportunities this new venue will bring, ranging from more intimate comedy shows to the chance for touring comics to host local workshops. Behind those glasses, his eyes light up as if he's already envisioning the scenes.
When Imposters instructor Ryan Santa graduated from Case Western Reserve University in 2008, he immediately moved to Chicago and joined the Second City outpost there because there was no comedy scene in Cleveland at the time. Santa wonders whether he would've made the move if Northeast Ohio had a space like Imposters.
"People go to Chicago because that's where the stages are," Santa says. "Giving Cleveland a theater for comedy will give people a reason to stay."
And while this new theater won't put Cleveland on the same level as Chicago or Los Angeles, it's a step in the right direction toward growing our own scene.
"Cleveland has the opportunity to be a mid-sized Midwest city with a solid, well-rounded comedy scene," says Busch, who believes his house of improv is a missing piece to a comedy scene rich with stand-ups like Mary Santora and Mike Polk. "It'll be great to have our own place where people can congregate after a show and allow for the community to grow."
When Busch arrived back in Cleveland, he wasn't sure how long he'd stay or how much comedy he'd be able to do. Now, four years later, he's turned into Cleveland's king of comedy
after opening up the first space dedicated to sketch comedy in the city since Second City closed 20 years ago.
"When I came back, I didn't know if I'd be here for two weeks or two years. I just kind of came back with an open mind," he says. "But it's turned into an incredible experience, and I've loved being able to build something here in Cleveland."
Get ahead of the weekend by signing up for our free weekly "In the CLE" newsletter — your guide to fun throughout The Land. Arriving in your inbox every Wednesday, this weekend to-do list fills you in on everything from concerts to museum exhibits — and more. Click here to subscribe.