Talking to Tom Hanks is just like you think it would be. He is on from the start, telling stories and lapsing into that wheezy laugh of his that reminds you more of a boy than a box-office icon. You've seen his movies — everyone has — you know what we mean. It's not just that Hanks is a nice guy, it's that he likes us, specifically. He got his start at the Great Lakes Theater Festival with its then-artistic director Vincent Dowling, working for three humid summers of his youth and having the time of his life. And, nice guy that he is, he hasn't forgotten it. Hanks is the honorary chair of the campaign to raise $19 million for the renovation of the Hanna Theatre, and he'll return to town this month for a fundraiser, the third he's done for the Great Lakes Theater Festival since leaving Cleveland in 1979.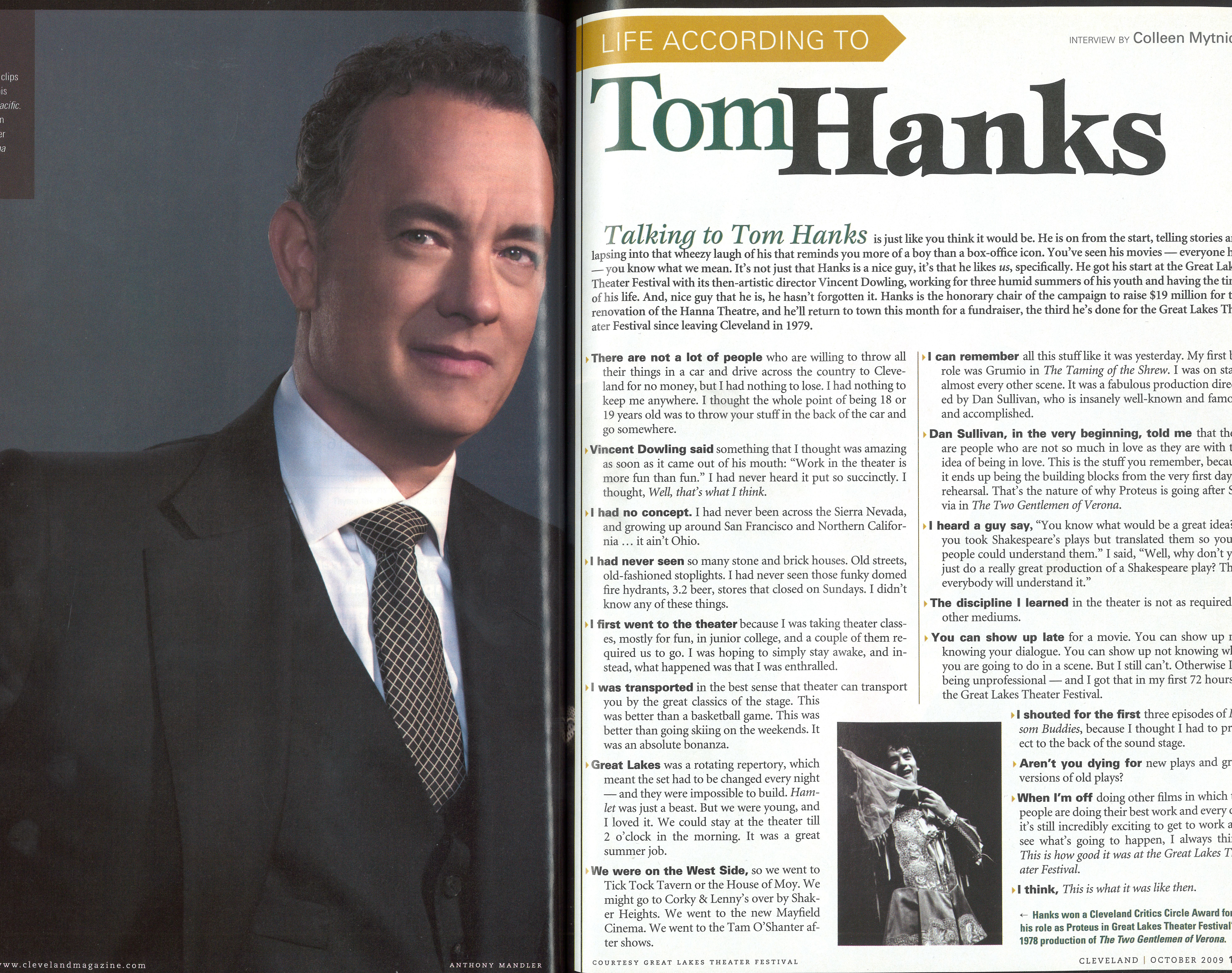 There are not a lot of people who are willing to throw all their things in a car and drive across the country to Cleveland for no money, but I had nothing to lose. I had nothing to keep me anywhere. I thought the whole point of being 18 or 19 years old was to throw your stuff in the back of the car and go somewhere.

Vincent Dowling said something that I thought was amazing as soon as it came out of his mouth: "Work in the theater is more fun than fun." I had never heard it put so succinctly. I thought, Well, that's what I think.

I had no concept. I had never been across the Sierra Nevada, and growing up around San Francisco and Northern California ... it ain't Ohio.

I had never seen so many stone and brick houses. Old streets, old-fashioned stoplights. I had never seen those funky domed fire hydrants, 3.2 beer, stores that closed on Sundays. I didn't know any of these things.

I first went to the theater because I was taking theater classes, mostly for fun, in junior college, and a couple of them required us to go. I was hoping to simply stay awake, and instead, what happened was that I was enthralled.

I was transported in the best sense that theater can transport you by the great classics of the stage. This was better than a basketball game. This was better than going skiing on the weekends. It was an absolute bonanza.

Great Lakes was a rotating repertory, which meant the set had to be changed every night — and they were impossible to build. was just a beast. But we were young, and I loved it. We could stay at the theater till 2 o'clock in the morning. It was a great summer job.

We were on the West Side, so we went to Tick Tock Tavern or the House of Moy. We might go to Corky & Lenny's over by Shaker Heights. We went to the new Mayfield Cinema. We went to the Tam O'Shanter after shows.

I can remember all this stuff like it was yesterday. My first big role was Grumio in The Taming of the Shrew. I was on stage almost every other scene. It was a fabulous production directed by Dan Sullivan, who is insanely well-known and famous and accomplished. Hanks won a Cleveland Critics Circle Award for his role as Proteus in Great Lakes Theater Festival's 1978 production of The Two Gentlemen of Verona.

Dan Sullivan, in the very beginning, told me that these are people who are not so much in love as they are with the idea of being in love. This is the stuff you remember, because it ends up being the building blocks from the very first day of rehearsal. That's the nature of why Proteus is going after Silvia in The Two Gentlemen of Verona.

I heard a guy say, "You know what would be a great idea? If you took Shakespeare's plays but translated them so young people could understand them." I said, "Well, why don't you just do a really great production of a Shakespeare play? Then everybody will understand it."

The discipline I learned in the theater is not as required in other mediums.

You can show up late for a movie. You can show up not knowing your dialogue. You can show up not knowing what you are going to do in a scene. But I still can't. Otherwise I'm being unprofessional — and I got that in my first 72 hours at the Great Lakes Theater Festival.

I shouted for the first three episodes of Bosom Buddies, because I thought I had to project to the back of the sound stage.Aren't you dying for new plays and great versions of old plays?When I'm off doing other films in which the people are doing their best work and every day it's still incredibly exciting to get to work and see what's going to happen, I always think, This is how good it was at the Great Lakes Theater Festival.

I think, This is what it was like then.