On March 2, 2020, Playhouse Square announced it hit a massive milestone: With a whopping 48,629 season ticketholders, it had amassed the largest touring Broadway subscription base in North America. Just 10 days later, though, COVID-19 guidelines shut Cleveland down, darkening the theater district for the foreseeable future.
"It was one tidal wave of performance cancellations and uncertainty after another," says Playhouse Square president and CEO Gina Vernaci. "The waves just kept hitting the shore."
The theaters, which hosted more than 1,000 performances per year, stood empty, and the company took a major financial hit, even after laying off or furloughing more than 200 employees in May 2020.
Now facing a $7 million deficit, the team behind Playhouse Square is quite literally staging its comeback, hoping to recoup some of its pandemic-related losses and eventually build the theater district back up to its prepandemic glory.
"The entire live entertainment world has been shut down for a year, so to put all of that back together is a massively complicated process," Vernaci says.
That means rehiring some staff — though she's not yet sure to what extent — and starting with a limited capacity of 25% that will expand to full capacity after July 11. Audiences will also experience enhancements to each theater's HVAC systems, increased use of digital ticketing systems and improved practices for cleaning and disinfecting between shows.
Playhouse Square will formally reopen June 11 with the debut of Choir of Man, playing at the Mimi Ohio Theatre through July 11.
At just 90 minutes with no intermission, Vernaci calls it the "absolute perfect show to open with," featuring a cast of 15 men who play instruments, sing and dance in an Irish pub setting.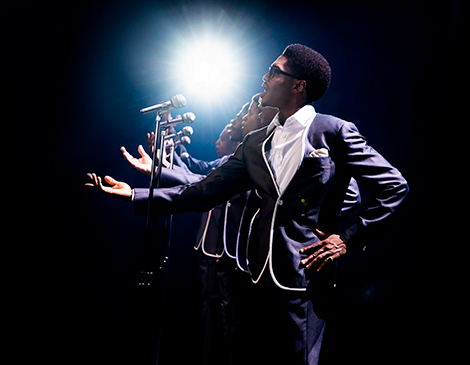 The theater has also announced the much-anticipated return of its marquee KeyBank Broadway Series, featuring five must-see shows: The Prom, a singing, tap-dancing extravaganza opening its national tour in Cleveland; Pretty Woman, a musical riff on the classic Julia Roberts film; To Kill a Mockingbird, adapted for the stage by The West Wing's Aaron Sorkin; Ain't Too Proud, which explores the backstory of the hit musical sensation The Temptations; and Frozen, the enchanted stage version of Disney's magical animated movie.
"There's something for absolutely everyone, and there's more news to come," Vernaci says. "The past year has been very difficult, but it is all coming together."