This December, Playhouse Square welcomes the iconic Hamilton: An American Musical to KeyBank State Theatre.
The musical gained unrelenting viral traction following its release in 2015 and displays the iconic lives of historical figure Alexander Hamilton and his contemporaries. The musical exposes flaws and celebrates victories and trials, all while entertaining and educating audiences of all ages.
Originally written for Broadway by Lin-Manuel Miranda, Hamilton is split into two acts. Part one is a musical biography recounting the founding father's difficult beginnings and his rise to political prowess. From there, the story confronts the tumultuous beginnings of America with a boisterous mix of humor, R&B music and witty repartee.
Tiffany Nichole Greene, resident director for the musical, took a moment away from the production to explain the inner workings of the show and discuss what makes Hamilton: An American Musical a smash hit around the world.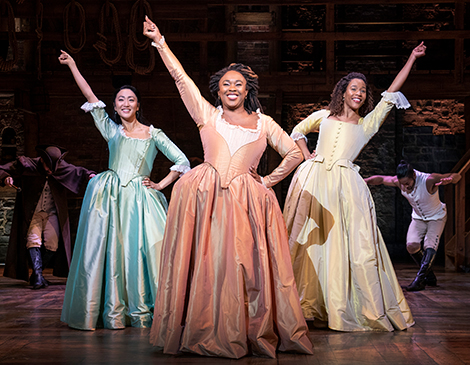 Cleveland Magazine: What makes Hamilton such a culturally important show?
Tiffany Nichole Greene: The show really brings people to history. It informs them of history they may not know. The show teaches people without talking down to them and gives them a reason to evaluate their own perspective on the history of America — the way we talk about history brings it into a whole new light.
CM: What are some of the impacts on people who attend?
TNG: As humans, it's therapeutic to watch a different view of what people expect this person [Hamilton] to be. It exposes a different side of humanity. Witnessing the greatness of a historical figure while also witnessing his flaws in his everyday life is something that makes a connection to attenders — sometimes it's the hypocrisy of America through a joke or the greatness through epic moments in a respectful way. The greatness of the complication of humanities is exposed in unique way.
CM: What sets Hamilton apart from other productions?
TNG: The show provides opportunities for actors of color and embraces many of the things we set aside in our usual teaching of history. It embraces how the country looks now in terms of race, especially, and how it presses forward with amazing power and grit. It's relentless in a beautiful way.
CM: What is the production like behind the curtain?
TNG: People think we just show up and put on the show. That couldn't be further from the truth. We get to the location and work six days a week. We get to the theater and work all day, managing the crew and assigning rooms. Curtain closes for a show on Sunday, we travel Monday; if that's your day off, that's too bad. We travel with multiple large wardrobe boxes, 100 people to every city. That includes an on-stage cast and an off-stage cast that are both working just as hard as each other. The show has sold out, been selling out, so I expect it will in Cleveland, as well.
$39-$259, Dec. 6-Jan. 15, various times, 1519 Euclid Ave., Cleveland, playhousesquare.org
Get ahead of the weekend by signing up for our free weekly "In the CLE" newsletter — your guide to fun throughout The Land. Arriving in your inbox every Wednesday, this weekend to-do list fills you in on everything from concerts to museum exhibits — and more. Click here to subscribe.