The theater rehearsal begins like any other. Two actors move to center stage, a small space cleared in the middle of a converted retail store in an Akron strip mall. The director, perched before them on a desk chair, calls "Action."
Launching into "I've Got A Golden Ticket" from Willy Wonka and the Chocolate Factory, Grandpa Joe and Charlie fumble the exchange of Grandpa's cane during their routine. The director calls out stage directions, suggesting they amp up the emotion behind their lines.
This could be any rehearsal, but many of these actors share a unique trait that underscores their experience: autism.
Theatre on the Spectrum, first launched in 2016, was created to give Akron-area youth with autism the opportunity to express their passion through acting.
Wendy Duke and Laura Valendza founded the program under the umbrella of the Center for Applied Drama and Autism, and currently co-direct its operations. With the support of disability services nonprofit Ardmore Inc., they dramatically expanded in the summer of 2017 to introduce an opportunity for adults with autism to take the stage.
"[Theater] teaches them eye contact, confidence, sense of self, projection and allows them to become someone else in a society where their voice is not always heard," says Duke, who has been teaching drama for more than 40 years. "We knew that the effective method of using theater with youth would work just as well with adults on the spectrum who need the same outlets and skill development as our younger actors."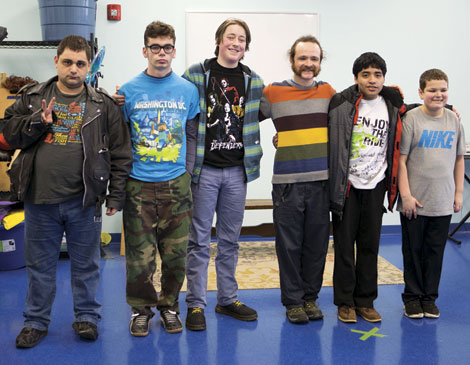 For five hours a day, Monday through Friday, a group of five to seven adults gather for song rehearsals, physical training exercises and individual projects. Through theater, they learn to amplify their voice as well as advocate for their needs.
Samir Hammoud employs a variety of character voices to his stage work. The 24-year-old adds daily to the list of hundreds of character names he's created to use in future playwriting. Sean Giannetti, 26, is working on his directing skills and regularly acts out scenes from Friends on his YouTube channel. JT Tommer, 49, is a podcaster, musician and a comedian.
"In high school, my teacher said I would be living with my mom and dad for the rest of my life," says Tommer. "My goal is to prove her wrong, make something out of myself, and be a big success in Hollywood so that everyone can see that people with disabilities have dreams too. This theater group is helping me make that happen."
The adult students are currently touring local high schools, colleges and community centers with a cabaret show. They're also working on a piece that explores the history of disabilities in Summit County with narratives from the actors.
"All of our participants have a story to tell," says Duke. "It is empowering for actors and audiences alike to be a part of these performances."