Live performances have been canceled for months now, but theater groups across the city are finding new ways to connect with their audiences. Whether it's through a live Zoom performance or a prerecorded show, theater is determined to stay alive through the pandemic. Three local artists share their triumphs and challenges as they continue to perform in a virtual setting.
Jamie Satterfield
Jamie Satterfield faced 64 empty seats at River Street Playhouse when she performed as the Governess in Chagrin Valley Little Theatre's prerecorded two-person performance of The Turn of the Screw. Originally intended as a community theater production, it was the first of hopefully many virtual performances this year.
[My co-star] Steven and I live together, and then the director just sat in the back of the theater while we were on the stage. The most we had in the theater at a time was four people. It ended up being very safe. When you have a live audience there is room for error. It's more intimate. [Steven and I] are already a team in real life, so we could maintain that team energy of building each other up on stage. Now that we're learning how to create theater and stay safe, I'm feeling a lot more confident about it. I hope there is a way for other groups to do the same thing. I remember in college, I had a mentor in our theater department, and she used to talk about how she could see theater becoming virtual one day. I'm kind of thinking, Why not now? Maybe it's a way to make theater more accessible to more people so they can get bit with the theater bug and it can go beyond the coronavirus.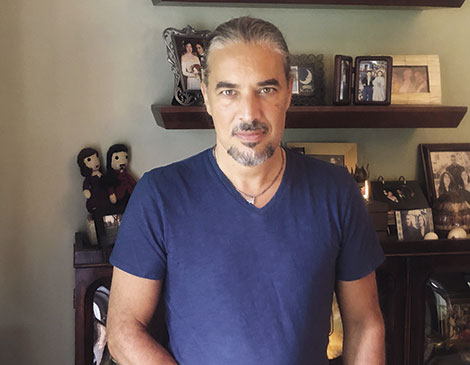 Raymond Bobgan
The executive artistic director at Cleveland Public Theatre acted in a live Zoom performance of Dragon Hypothesis on July 24 and 25. The play, which Bobgan wrote and directed, was originally intended to be a longer narrative. But to make it more cohesive for online consumption, Bobgan altered the script so that it became a series of individual narratives woven together by a cast of four performers.

When you go into that Zoom performance, you don't see your fellow actors or directors. You're completely disconnected from your team, and then you just turn on your camera and you're going. Something about that for me is heavier than walking on stage. The things we are emphasizing online, we wouldn't emphasize for a live performance. Actors are now isolated, which creates a kind of vulnerability that wouldn't be the case otherwise. It's different performing on film because there's this moment right before you perform that happens in any play where you know that anything could go wrong, but you're in a theater. But I think in this time, I feel more calm to be a performer with the actors I'm working with, and it's really gratifying to get to perform with them.

Tess Burgler
The managing director of the Ohio Shakespeare Festival performed as the leading heroine in a prerecorded Zoom performance of Romeo and Juliet. The production, which cast more than 15 performers from across Northeast Ohio, inspired the crew to take a new approach to the production by modernizing it for a remote audience.

It's true with Shakespeare in any performance, but it is multiplied like crazy when it comes to a Zoom performance: You need each scene to be tight. You have to keep the pacing. We had to tell the actors to talk to the characters over Zoom and respond to them as if they are speaking to you through your Zoom camera. It's all happening on the screen, so translating moments like that were interesting sometimes, especially when things like fighting or brawls happen, or [characters] kiss. We found that instead of putting in a bunch of narration with the scene and just saying what happens, moving on with a brief narration or written text was the best when you couldn't avoid action happening. Theaters need to stay alive in the minds of their patrons. Are there a million Romeo and Juliets out there on Zoom? At this point, absolutely. But just going dark and into hibernation entirely until the pandemic is over could be really detrimental to any theater group. So, I think it's a necessary thing for theaters to be exploring.