You want sushi, but your dinner companion craves a burger. 811 Kitchen Bar Lounge has a solution to your culinary dilemma. The new downtown Cleveland restaurant makes it easy for varying tastes by offering an adventurous and globally diverse menu of Asian, Middle Eastern, Mexican and American eats. The Prospect Avenue spot easily navigates from Korean short ribs to grilled cheese — and yes, sushi and burgers. "People can say, 'I can get this and you'll get that, and we'll both be happy,' " says executive chef Andrew Bower. Start your foodie world tour with these three dishes.

Indian


Sure, salmon can seem a little bland. But Bower gives this entree a cultural spin by placing a seared salmon fillet ($22) on top of a curry chickpea masala stew. Paired with a cold cucumber and mint yogurt, sauteed squash and an herb salad, the elegant dish rouses the senses. "You have cold mixing with hot, and the acid cuts through the heat and heaviness of the masala," he says. "Your bite is going to have a lot of bold flavors."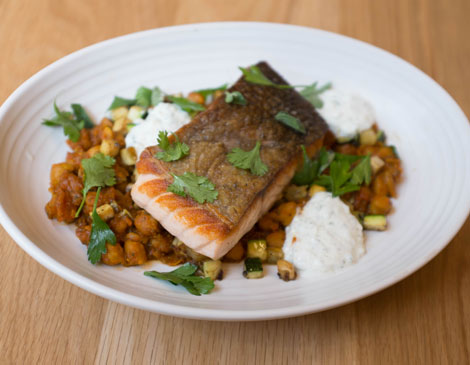 Japanese


Inspired by Japanese yakitori — skewered pieces of grilled and marinated chicken — the chicken and scallion robata ($3) is cooked on a custom-made infrared grill. "It allows for a nice caramelization on the outside, while still leaving it nice and juicy on the inside," says Bower. The tare and mirin sauce, similar to teriyaki sauce, is brushed onto the chicken thigh pieces before grilling. "It is the best part of the chicken because it's so juicy," says Bower.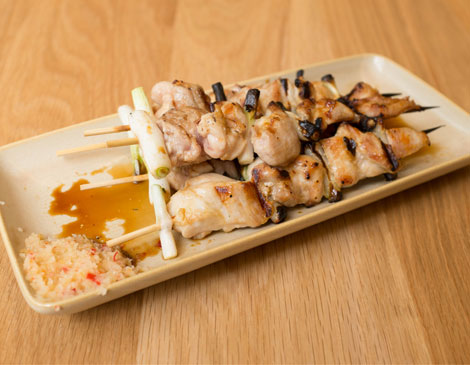 Mexican


As a lover of taco salad, Bower ditched the traditional hard shell bowl and upped the sophistication of his Mexicali salad ($10). Layered with romaine, freeze-dried corn, tortilla crisps, pico de gallo and cotija cheese, it gets a kick from an infused cumin oil that resembles the taste of taco seasoning. But the best part may be the lime tomato vinaigrette. "You know when you're eating a taco, and you just squeeze a little bit of lime on there?" Bower asks. "It picks everything up a little bit in the salad."