Update: Twin Palms reopens on Wednesday with a lineup of four cocktails ($10), highballs ($14) and beer and wine ($3.50-$12). First impressions from the menu, which will rotate throughout the summer and is only available from the patio bar, have us excited about the Royal Hawaiian Mai Tai, a Trader Vic classic with Jamaican rum, Curacao, pineapple, orange juice, lime and... wait... corn?! Snacks are available inside, and outside food is welcome on the patio. spottedowlbar.com/twinpalms
Original Story
After 15 months and one week of being closed, the Spotted Owl is reopening its doors, albeit under an entirely new concept. Twin Palms takes over the all new patio spaces at both Spotted Owl locations in Tremont and Akron with a Palm Springs-old Las Vegas vibe and branding that begs for summer love.
"That's the feeling we're trying to capture, that feeling of hanging out in a cabana by the casino pool on a big expansive patio in the desert of Palm Springs drinking a drink, relaxing and enjoying the sunshine," says owner Will Hollingsworth.
Picking up where they left off, Twin Palms builds on the renewed energy bars and restaurants created with to-go cocktails in response to COVID-19. Each patio table is outfitted with buckets of ice for an assortment of drinks that range from eight different cocktails to highballs, seltzers and buckets of beer. Before taking advantage of this summer-only concept, here are three things to know.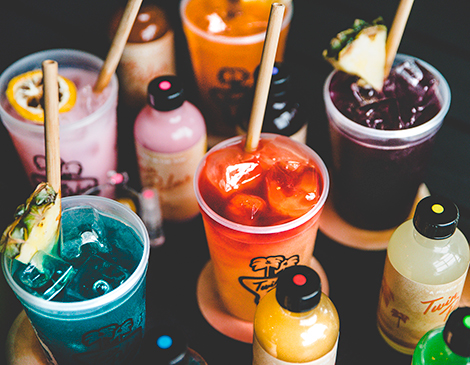 The cocktails are the star of the show. In true Spotted Owl fashion, Hollingsworth built the Twin Palms concept around creating a cocktail experience. Each of the eight cocktails on the menu are delivered tableside in ready-made kits for guests to experiment with. From the rosewater julep, which comes with a bottled cocktail, an atomizer of rosewater and a dehydrated lemon for garnish, to the bright green signature margarita with lime wedges, a bottled cocktail, can of Champagne and a salt water spritz bottle, each drink is designed for guests to take ownership over cocktail creation. "We've always been really interested in the concentration of flavor and elevation of experience, and I think this is a different way of thinking about cocktails than we've ever done," says Hollingsworth.
All things are better under the sun. Hollingsworth imagined Twin Palms as a daylight destination where friends and co-workers could gather at the end of a long, hard day and kick back and relax in a warm, summer setting. So don't expect to stick around much longer after dark: Twin Palms is open from 4-10 p.m. Wednesdays through Saturdays only. "The Spotted Owl is really kind of a nighttime place that's open late," says Hollingsworth. "Twin Palms isn't going to be open late because we have neighbors. Twin Palms is going to close at 10 p.m. It's really a way for us to bring our notion of cocktails out into the daylight."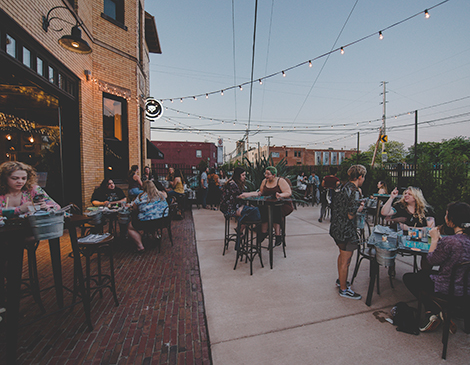 You'll want to visit Twin Palms before it's gone. Hollingsworth expects Twin Palms to be open for only 15 weeks, closing sometime in September ahead of reopening The Spotted Owl in October. Hollingsworth says the two concepts are independent of each other and there are no plans to operate them both simultaneously. Depending on how Twin Palms performs this summer, it may be a concept that's brought back annually, with the Spotted Owl only open in the fall and winter. "When I reopen the Spotted Owl, I want to reopen it exactly the way we closed it," says Hollingsworth.
When You Go: 710 Jefferson Ave., Cleveland, 216-795-5595; 60 S. Maple St., Akron, 330-252-9099,
spottedowlbar.com/twinpalms