Pardon his French, but Brandon Chrostowski is effing fed up.

The founder and CEO of Edwins Leadership & Restaurant Institute has seen it too many times: one of his students stretched out in a coffin after losing a battle with addiction.
He estimates about 30 percent of his students — former inmates seeking a reformed life by learning culinary skills — deal with a substance addiction. Since he started Edwins in 2013, Chrostowski has attended six student funerals.
"I'm sick of dealing with bodies. I'm sick of having to deal with that," he says. "The whole circle of it, I'm tired of it."
So Chrostowski is attempting to break the cycle. In March, he helped open Serenite Restaurant & Culinary Institute, a French brasserie in downtown Medina. With a $300,000 state grant and the support of Medina County Common Pleas judges Christopher Collier and Joyce Kimbler, Serenite is both a restaurant and a place for people with drug or alcohol addiction to get clean. "It can provide a path to a career, something that's more fulfilling than a high," says Chrostowski.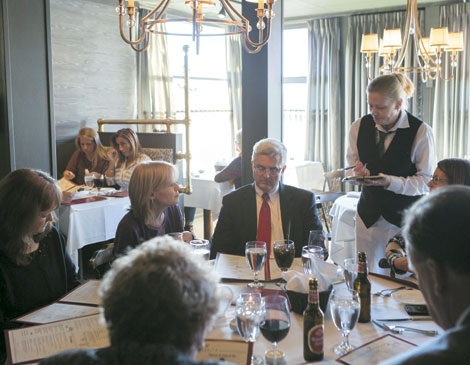 Over eight months, students learn the restaurant trade. On Serenite's second floor, they take classes and have access to counseling and peer support. Downstairs in the kitchen, bar and 65-seat dining room, they work to serve a French menu, studded with added steakhouse favorites such as oysters, crab and filet mignon.
"The price point is not like a destination restaurant where it's fine dining, a little more expensive," says Chrostowski. "I wanted to do a little lower-brow, less expensive, to get that repeat clientele, to get that local diner dining out once a week or twice a week."
But Chrostowski hasn't sacrificed his cuisine's traditional French roots. Take the earthy escargot ($9) baked with Parmesan, breadcrumbs, butter and garlic. Topped with chopped fennel, then fired for 15 minutes, the six shell-free snails are nested in an indented plate, each waiting to be plucked out with a handy snail fork.
"It's a real classic escargot, but [served] in a deeper dish," he says.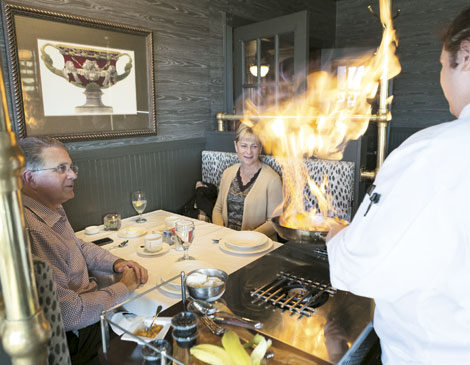 Fans of Edwins classics can find more approachable reinterpretations, such as the braised leg of rabbit ($25), a Briarwood Valley Farm rabbit haunch cooked with cream, chicken stock, and Dijon and whole grain mustard. The classic duck confit ($25) is cured in salt for a day, then slow-cooked to tenderness in its own fat and served with a rich wild mushroom risotto.
Serenite serves wine, beer and cocktails, but to accommodate those in recovery, an alcohol-free menu is also available. The decision to serve at a recovery center was initially controversial. But Chrostowski stands by his call.
"It teaches someone a life skill, and how to manage and cope with their triggers at the same time," he says.
After all, teaching is Serenite's raison d'être. From frog legs to coq au vin, Chrostowski conceived every plate so his students learn to prepare and serve them without him.
"I'm coming here, setting up the whole model, then my goal is to back out, like in six months," says Chrostowski. It's a step toward his dream of extending Edwins' mission of doing good deliciously to the entire region and maybe across the country.
"People will do anything to hope and believe that someone they love can be cured," says Chrostowski. "I truly believe this can cure them."