While many Americans think Cinco de Mayo is a celebration of Mexico's independence, the holiday really honors the anniversary of the Battle of Puebla on May 5, 1862. The residents of Puebla City celebrate with parades to commemorate the resistance against the French soldiers occupying the area, but in the United States, the real intent gets lost among margarita specials, tequila flights and half-priced tacos. "My best friend's family is from Durango, Mexico and she always cooked authentic Mexican dishes and invited folks over," says Jenice Contreras, executive director of the Northeast Ohio Hispanic Center for Economic Development. "Just like everyone's Irish on St. Patrick's Day, everyone's Mexican on Cinco de Mayo. We want folks to be educated on the significance of Cinco de Mayo for the Mexican community." Here are a few other ways to make your Cinco de Mayo experience more authentic.

True Bites
Serve up these authentic Mexican dishes.

White Bean Suave with Pico de Gallo & Flour Chips (photo above)
Beans are a mainstay in the Mexican diet, and in this recipe, they offer an alternative to the well-known chips and salsa. "Think Mexican hummus with a bang," says Michael Herschman, owner of Lopez. "Bean purees are very common throughout Latin America. Black, red, pinto, white, all these [types of bean] serve as a staple in the diet." Suave means "smooth" in Spanish, and these pureed white beans have a smooth, comforting profile. Top with fresh pico de gallo and serve with homemade flour chips. "They're crispy and strong enough to take the dip, but the texture is completely different," says Herschman. "They get kind of puffy."
To make the suave: In a heavy-bottom saucepot, combine 4 cups dry Great Northern white beans and 1 cup whole garlic cloves, peeled and with tips removed. In a small cheesecloth sachet, place 1 bay leaf, 1 teaspoon whole fennel seeds, 1 teaspoon whole cumin seeds and 1 tablespoon black peppercorns, then place sachet in pot. Cover with cold water with an extra 3 inches and bring to boil, then simmer until beans are very tender (about 1 to 2 hours). Drain off some water, leaving about 1 inch of liquid over beans and remove and discard sachet. To the pot, add 1/4 cup kosher salt, 1/4 cup dry jalapeno powder or 3 chopped whole jalapenos, 1/4 cup extra virgin olive oil and the juice of 2 lemons. Puree with immersion blender or pulse in food processor until smooth. Set aside. For the pico de gallo, in a stainless steel bowl, combine 1 finely diced English cucumber, seeded with peel on, 1 diced red onion, 2 seeded and minced jalapenos, 1 bunch finely chopped cilantro, 10 Roma tomatoes (split lengthwise, seeded and finely diced), juice of 2 limes and kosher salt and black pepper to taste. To make flour chips, preheat oven to 325 degrees. Cut 20 6-inch flour tortillas into sixths. Brush with canola oil and place on a sprayed baking sheet. Sprinkle with kosher salt, ground black pepper, and a little ground cumin seed. Bake until crisp and golden. Remove and lay out on paper towels to remove excess oil. To serve, place white bean suave in a large bowl. Place an even layer of drained pico de gallo over top and circle with flour chips.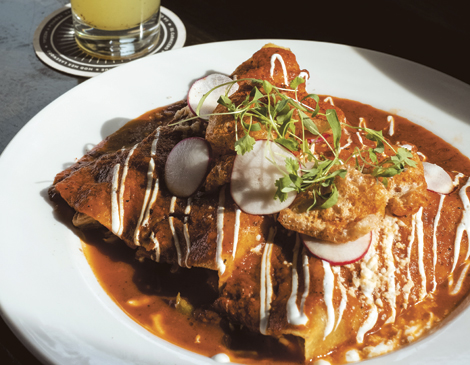 Enchiladas Rojas
This classic chicken dish filled with tomatoes and chiles makes use of two traditional Mexican cooking techniques: drying and blistering. "When these recipes were developed, before refrigeration or storage, they had to find techniques like sun-bleaching or dehydrating vegetables or meat," says Eric Williams, chef and owner of Momocho and El Carnicero. "[Dehydrating] draws out liquids and changes and intensifies the flavors. The classic technique is to take dried chiles, remove seeds and veins, where all the heat is, and soak until they become tender. It's a great way to add rich, earthy, complex heat to the dish."
To make the rojo sauce: Split 4 dried ancho chiles and 4 dried guajillo chiles, remove seeds and place in bowl. Cover with 2 cups boiling water and submerge for 30 to 40 minutes until soft. Place softened chiles in blender with liquid, 6 blistered beefsteak tomatoes, 1⁄2 blistered Spanish onion, 2 cloves minced garlic and 1/2 teaspoon kosher salt. Puree smooth and set aside. For chicken filling: Pull and shred the meat of 1 whole roasted chicken. Mince the skin. Discard bones or use to make stock for another purpose. In 2 tablespoons vegetable oil, saute 2 minced beefsteak tomatoes, 1 clove minced garlic, 1⁄2 minced Spanish onion and 1 teaspoon ground cumin. Add minced chicken skin and shredded chicken to pan. For enchiladas: Preheat oven to 400 degrees. Dip 10 to 12 corn enchilada shells individually in warmed rojo sauce to soften and place on cutting board. Fill each tortilla shell with chicken filling and 1 to 2 cups grated queso fresco or Monterey Jack. Roll each enchilada and place in rows into 8-by-10 baking pan. Cover the enchiladas with salsa rojo, more grated queso fresco and sliced red onions. Bake for 10 to 15 minutes until warmed through. Serve with sour cream, cilantro and diced avocado.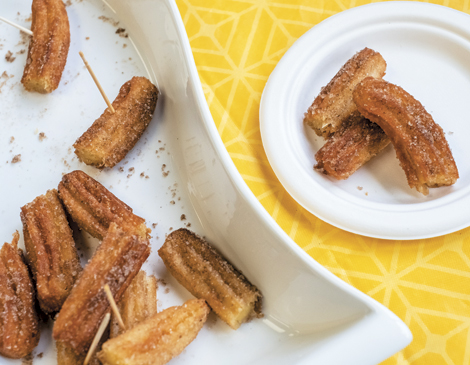 Churros
Churros are sweet, crunchy, fried-dough treats that are staples at carnivals and fiestas in Mexico. "But now they are also considered to be part of any morning breakfast because they are so easy to make," says Rey Esparza, owner of Ohio City's La Estrellita Specialty Grocer. "The whole family enjoys them with coffee or milk." The ease of preparation is a big part of their success. "Churros are an un-yeasted dessert and because of this, there is almost no waiting time for the dough to double in size or anything like that. I believe that churros became a favorite dessert because all ingredients are very common and most of them are already in your kitchen."
In a medium saucepan, heat 1 cup water, 4 tablespoons unsalted butter, 2 tablespoons brown sugar, 1 teaspoon vanilla extract and 1/4 teaspoon salt over medium-high heat until the edges of the liquid start to bubble. Add 1 cup all-purpose flour all at once and stir briskly with a wooden spoon until well mixed and no lumps of flour remain. Remove from the heat. Add 4 eggs, 1 at a time, beating well with a wooden spoon after each. The dough should look soft and glossy. If not, beat in one more egg. Scrape the dough into a pastry bag fitted with a star tip. Pour enough canola oil into a deep heavy skillet (cast iron is ideal) to fill 1-inch. Heat over medium heat until the tip of the handle of a wooden spoon gives off a slow steady stream of tiny bubbles. Carefully pipe the dough into the oil, forming 6-inch churros. Pipe only as many churros into the oil as fit comfortably (overcrowding the pan will result in soggy churros!). Fry, turning once, until golden brown on each side. Drain on paper towels. Repeat with the remaining dough. Put 1/2 cup sugar and 1/2 teaspoon ground cinnamon in a paper bag. Crimp the top and shake well to mix. Drop a few churros at a time into the bag and shake until coated. Best served as soon as possible.
Rethink The Drink
Put down the margarita and give these three drinks a try instead.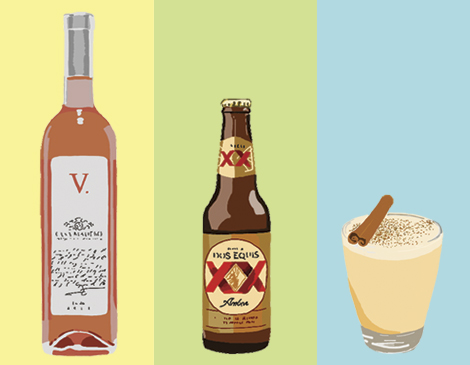 Casa Madero Rose
This Coahuila, Mexico, winery's rose has a bright touch of berry sweetness and a crisp melon finish making it ideal for fish dishes and light appetizers.

Dos Equis Ambar
Richer than a lager, this ale has a nice fruitiness and dry finish. It pairs well with meats and salty foods.

Horchata
This traditional, non-alcoholic Mexican beverage is made from rice water or oatmeal water. It's available in a host of flavors, so pair with food as you please.