Gathering with strangers in a wildly unfamiliar space has the power to change the way we approach the dinner table. By inviting guests to nomadic, outdoor settings, Kelli Hanley Potts, founder and head chef at Cleveland Field Kitchen, has created an experience that's as unique as it is wild.
When Potts started Cleveland Field Kitchen as a boutique catering business five years ago, she established Nomad Dinners as one-off pop-up experiences at local farms, fields and outdoor destinations across Ohio. But as popularity for the events bloomed, Potts turned them into a monthly series.
"The nomadic experience is about being out in the elements," says Potts. "It's about hearing the birds and watching us cook in front of you."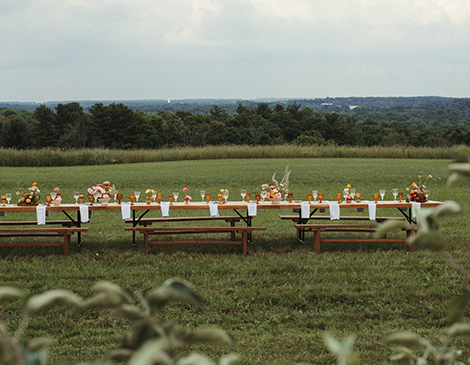 Relying on local farmers such as Harvest Bell in Newbury Township and Chander Hill Farm in Burton, Potts picks destinations in advance and invites guests to purchase tickets ($90-$120) sight-unseen without revealing much of anything about the five-course menu — except for directions on how to reach the destination. As 40-60 guests arrive, they're seated around a long table as the menu unfolds.
Often, the menus are designed to utilize seasonal ingredients, pulling directly from what's available at the location where guests are gathering. In June, the Nomad Dinner was held on a farm in Geauga County where guests enjoyed beet canape with whipped ricotta, sherry gastrique and toasted pistachios alongside a vegan cold asparagus soup, grilled thyme-stuffed quail, hay-smoked leg of lamb and a shaved Thai curry turnip salad.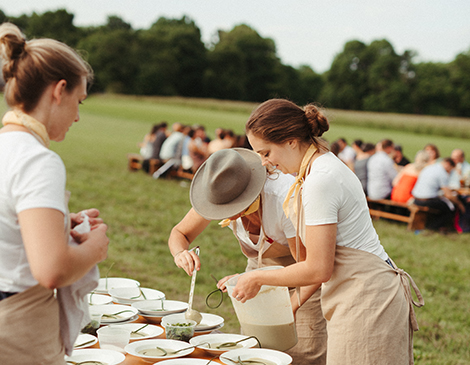 This month's sold-out event will take place in the middle of a blueberry patch in Auburn where Potts will use the farm's blueberries and cook rabbit over an open fire. The Sept. 11 event will take place at an apple orchard and the Oct. 2 event will be hosted at a flower farm. Potts plans to move the event indoors for December's winter solstice. But be forewarned: these events, which Potts advertises online and through social media, sell out quickly. Getting in on the action is all part of the magic.
"I've seen what it's done, the power of people gathering around a table, and what it can do to build connections," she says. "It's a way to build bridges between people and differences."