You've heard the story before.
During the pandemic, uncertain of their next step, service industry workers or restaurant owners start a pop-up in their garages. Thanks to Instagram DM orders, the business takes off, and now they're opening a brick-and-mortar spot.
Well, there are still a few left to take the leap into brick-and-mortar — and thank God Doinks Burger Joint is next.
"We were drinking beers and having a good time, but we were selling out every weekend," says co-owner Peter Brown. "So we were like, we have to do something."
Launching in mid June, the pop-up from Brown and Bonn Rassavong, formerly of Lola Bistro, is set to open on Waterloo Road and 156th Street. The 25-seat restaurant is opening across the street from Six Shooter Coffee, which Brown also owns, in the former "Gold Building."
Much like Brown did with Six Shooter, adding Doinks brings a much-needed evening gathering space to the Waterloo District. While Brown's coffee shop serves the daytime, Beachland is an event anchor and Millard Fillmore is a "phenomenal bar" with a great beer and high-end liquor selection, says Brown, Doinks adds a casual spot to grab a drink and a bite with friends or the family.
And after all, adding to this area, the one he cares so much about, and "keeping people on the street" is always part of Brown's mission.
"People are not selfish about wanting to make Collinwood better," he says. "You feel this brotherhood and sisterhood here, a sense of community. I think a lot of people today are missing that atmosphere where you regularly see people that uplift you and actually know your name. It feels really nice to be a part of that."
From house-made seltzers to next-level smash burgers, here's everything you need to know about the new restaurant coming to Cleveland's East Side.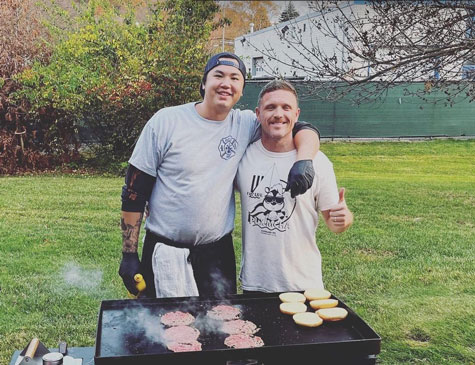 The Space
The cozy eatery carries a nostalgic theme that '90s kids will love. Think modern Pizza Hut-inspired cutlery, dishes and decor. There's even a real-life, vintage Taco Bell garbage can.
"We're basically doing a semi-throwback to the color scheme of those old-school Pizza Huts that we all know and love," says Brown, who plans to offer both dine-in and carry-out options.
The Drinks
While the beverage menu doesn't feature any Six Shooter Coffee collabs — "It's a nice transition from maybe late afternoon coffee to some early evening beverages," says Brown — get excited about the restaurant's in-house seltzer program.
In addition to a full-service bar and a list of mostly Masthead Brewing Co. beers, the biggest feature of Doink's beverage program is the four flavors of fizz, including raspberry and grape ginger seltzer.
"Basically, we do all of our syrups in-house and we combine that with vodka," says Browns. "Then, we throw it in a keg and carbonate it with beer gas. I don't know of too many other people doing seltzer on tap."
The Food
Of course, Doinks plans to offer the smash burger that made it famous. Visitors can also expect burger specials and a lineup of All-American sides, including a macaroni salad, a wedge salad and fries.
"Smash burgers are done a lot of places and so are burgers in general, but Bonn and I are always preoccupied — and kind of obsessed — with like, very recognizable things that are done extremely well. Things that are associated with being not high quality but elevating it to a really awesome level," says Brown. "So really it's just going to be our attention to detail that sets everything apart."
Bite into the Cleveland dining scene by signing up for our free weekly CLE Food & Drink newsletter — your guide to food and drink throughout The Land. Arriving in your inbox every week, this coverage fills you in on everything from mocktails to shareable plates — and more. Click here to subscribe.