We step past a pushed-aside metal grate and enter Pupuseria y Antojitos Guanaquitas for lunch, with a sign hanging above that features a pigtailed cartoon woman holding two pupusas.
It's a transportive experience. Inside the brightly painted restaurant, a world of Salvadoran bites awaits — most notable are the restaurant's locally famous pupusas ($4), served with a side of fermented curtido slaw in a massive glass jar. On our way to our table, we catch a glimpse of chefs, flattening pupusas in their palms and slapping them into neat rows on a griddle, through an open window to the kitchen.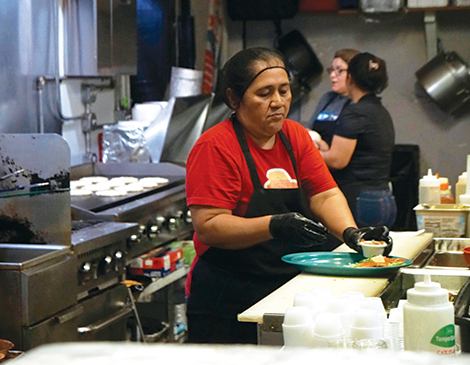 This is just a taste of a world of Latino culinary delights in this section of Clark-Fulton — except in the past four decades, a neighborhood rebrand has dubbed the area La Villa Hispana.
"I'm sure Clark and Fulton were great guys," says Jenice Contreras, the executive director of the Northeast Ohio Hispanic Center for Economic Development, "but it doesn't tell you anything about the vibrancy and the diversity of the neighborhood. That's why La Villa Hispana is so important."
The area, Ohio's most dense Latino neighborhood, is celebrated through the longtime branding effort — one that has placed La Villa Hispana in similar ranks to fellow Cleveland cultural neighborhoods such as AsiaTown, Little Italy and Slavic Village. Now, La Villa Hispana is furthering its efforts with CentroVilla25, a project Contreras and her team spearheaded. Sometime next year, expect this new, vibrant market and gathering space at 3140 W. 25th St. to open.
"CentroVilla25 will be the physical manifestation of rebranding the neighborhood," Contreras says.
An entry point to the neighborhood is, of course, through its range of restaurants — ones that showcase every flavor of Hispanic cuisine.
"I think the beauty of what's happening with the cuisine scene in Cleveland's Latino community is that for a long time, it was primarily Puerto Rican — because we are primarily a Puerto Rican community," Contreras says. "But now there's so much more diversity in the Latino cuisine in Cleveland, and I don't think these business owners get enough credit. We have Dominican. We have Mexican. We have Salvadoran. We have Guatemalan. We have a lot more than just the traditional Puerto Rican or Mexican, which I feel are mostly recognized by Main Street America."
Contreras recommends a handful of restaurants — a list which also includes Mexican restaurants Taqueria El Paraiso and Los Dos Fronteras, and Dominican restaurant Quisqueya La Bella — to visit in La Villa Hispana.
Cha'Firo
Taking over a former incubator space run by the Northeast Ohio Hispanic Center for Economic Development, Cha'Firo landed at the corner of Seymour and West 25th after NEOHCED focused on CentroVilla25. Here, chef Peggy Cruz crafts vegan and vegetarian-friendly Puerto Rican cuisine for catering and takeout — and, soon, will also offer cooking lessons. "It's almost like Puerto Rican soul food," Contreras says. "She specializes in making amazing beans that are vegan-friendly, and I'm like, 'How the heck did you not put any meat in these beans?'" 2886 W. 25th St., Cleveland, chafiro.square.site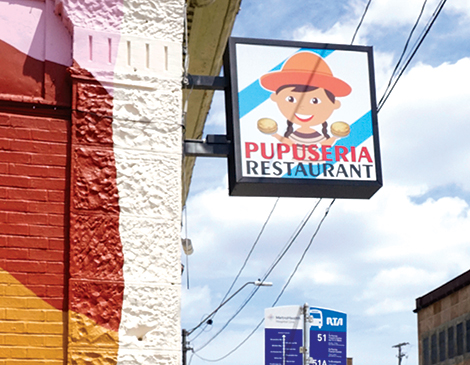 Pupuseria y Antojitos Guanaquitas
Just down the street is Salvadoran staple Guanaquitas, which slings pupusas during its lunch and dinner rushes. It's preparing to open a second location in Detroit-Shoreway. "It's another very ethnic and delicious place to eat," Contreras says. 2998 W. 25th St., Cleveland, pupuseriayantojitosguanaquitas.com
Bella Luna Bakery (formerly Half Moon Bakery)
This beloved institution centers on empanadas, especially its unique open-faced options — but don't skip its menu of sandwiches, pastries and salads. "The Argentinian empanadas are my favorite thing to have," Contreras says. "They have a little bit of everything." 3460 W. 25th St., Cleveland, facebook.com/thehalfmooncleveland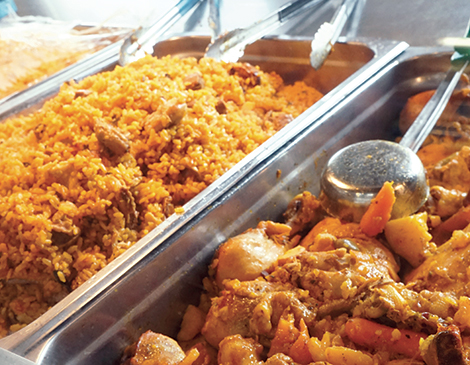 Caribe Bake Shop
A range of pastries, plus an a la carte menu of buffet-style food, are available to order from this Fulton highlight. "It's been a pillar in our community for at least 30 years, if not longer," Contreras says. 2906 Fulton Road, Cleveland, caribebakeshop.com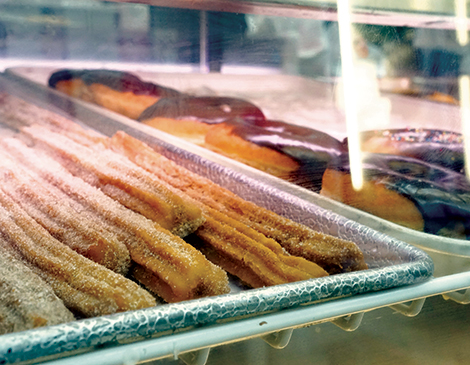 Las Villas Deli & Pastries
Contreras points out the range of options at this restaurant and bakery — everything from traditional Puerto Rican pastries to Puerto Rican-style shish kabobs and pork are available for order. "When I go to Las Villas, I truly feel like I'm in a bakery in Puerto Rico, just from the moment I get out of my car," Contreras says. "It just smells like a Puerto Rican bakery, and so the whole neighborhood smells like a Puerto Rican bakery." 3216 W. 41st St., Cleveland, facebook.com/people/Las-Villas-Deli-and-Pastries/100057349363885
Bite into the Cleveland dining scene by signing up for our free weekly CLE Food & Drink newsletter — your guide to food and drink throughout The Land. Arriving in your inbox every week, this coverage fills you in on everything from mocktails to shareable plates — and more. Click here to subscribe.