Few cities in the States take their beer as seriously as Clevelanders do, which is why Scottish-based BrewDog chose The Flats as the location of its ninth brew pub.
"We've been looking at the Cleveland area for four years now because we have a lot of really big beer fans out there," says project manager Jen Macfarlane.
Opening today, BrewDog brings some serious brews from across the pond and a casual gastropub menu. The 10,000-square-foot brew pub, which has an outpost with a larger production facility in Columbus, boasts a 10-barrel brewing system, 92 tables and capacity for more than 500 inside and outside on the patio.
"We think the site we have on the peninsula … there is going to be a great area with more development coming and the building itself, which has a real industrial feel but is somehow quite cozy, too," says Macfarlane.
Here are a few things to know about the brewery before you visit this weekend:
The Space
The huge brewpub is designed to create many different experiences and take advantage of the building's surroundings, says Macfarlane. Across an open space with indoor fire pits, communal tables and couches around coffee tables offer party spots, while dinner tables create space for family friendly dining on Sunday afternoons. In the summer, snag beers out of the shipping container bar on the patio that also overlooks the river. Outdoor bleacher seating, which typically faces inward in other BrewDog locations, overlooks the Cuyahoga River. But if beer and bites aren't enough for you, games like shuffleboard, a beer school that teaches about the brewing process and a dog-friendly atmosphere, which also caters to doggy birthday parties with pup-friendly cakes, should do the trick. "It's a pretty flexible space, but it's definitely more on the livelier side," says Macfarlane. "It's pretty cool to sit with a beer and look at the big boats going past."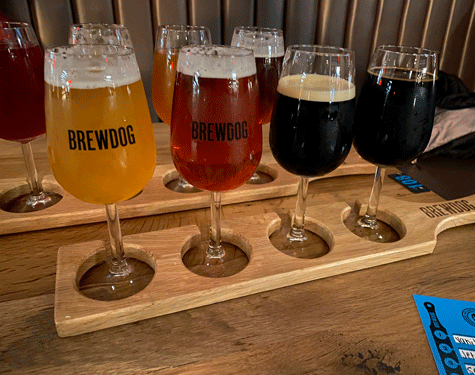 The Drinks
With 31 beers on tap, BrewDog's Hazy Jane, a 7.2% New England IPA, and Santa Paws, a malty Scotch ale, are hits. While the majority of beer is shipped from Columbus, the on-site microbrewery is designed to "get weird," Macfarlane says, by experimenting with funkier sips. Another exciting feature on tap are legacy beers from across the pond such as the Brussels brand La Trappe, which has a collaborative beer with BrewDog, and Weihenstephan Abbey, a German brewery that's considered the oldest in the world. Cleveland favorites such as Market Garden Brewery appear, too. If beer isn't for you, the company's Columbus-based BrewDog Distillery Co. ensures the cocktail menu is on-par with the beer. "We're aiming to do a mix of drinks so there's something for everyone," she says. "If you come in with your family or with a friend who doesn't love beer, there will be options."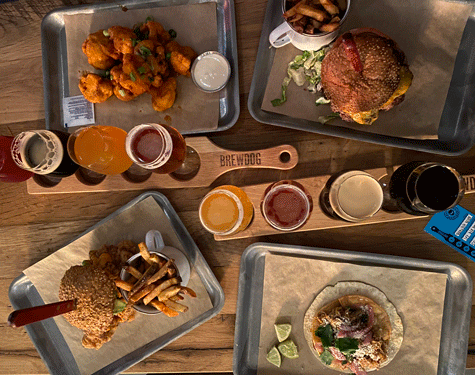 The Food
In terms of food, BrewDog keeps it pretty safe with burgers, wings, pizza and tacos. However, the burgers often get piled high, such as the identity crisis ($13), which puts pulled pork, tortilla chips and sour cream on a beef patty, while the pizzas get a bit unique, like the chili chorizo ($16). The kitchen does pride itself, however, on more than half the menu being vegetarian or having a vegetarian option. "We're bringing a menu that's proved really well in our Columbus brewery," MacFarlane says. "We have everything from a beer snacking thing to a full meal."