As Colossal Cupcakes owner Kelly Kandah opened her third location and second spot downtown this month, she felt triumphant.
But it's been a journey to get here, for the shop that's provided Downtowners with sweets for more than a decade on Euclid Avenue. In May 2020, about two months before opening her North Olmsted location, Kandah's flagship store was severely vandalized when protests over the killing of George Floyd turned violent. Kandah and her employees hid inside as a group attacked the store.
"I went from thinking I was going to have three stores to having zero stores," she says.
Luckily, the incident didn't sour the business owner's faith in the city center. In fact, it motivated her to double down on Downtown.
After two years of construction delays and insurance woes, Colossal Cupcakes quietly opened its new downtown cafe in the Aecom Building on the corner of East Ninth Street and St. Clair Avenue. In addition to its signature cupcakes, the new location is designed to be a daily go-to for coffee, breakfast and lunch. As if she wasn't busy enough with the new eatery, Kandah also welcomed a baby boy this month.
Despite the challenges, Kandah is excited to be Downtown once again.
"Having a business in the suburbs is a walk in the park compared to Downtown," she says. "But there's just a feeling about being Downtown. You're in the center of it all. It's just a different vibe when you succeed Downtown. It's the most rewarding experience."
Here's what you need to know about the new Downtown breakfast and lunch spot.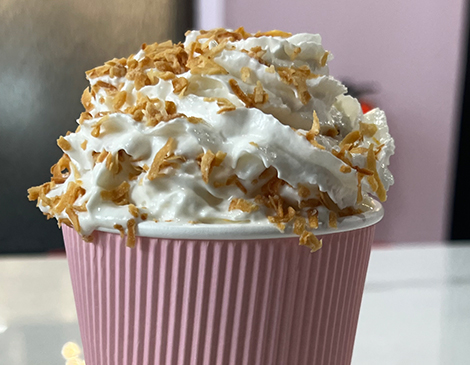 The Drinks
Colossal Cupcakes gives the neighborhood around the Aecom Building a much-needed caffeine fix. Cleveland Coffee Co. supplies the beans for drip coffee, espresso drinks and specialty beverages like the Birthday Cake Latte ($6), the Red Velvet Latte ($6) with real red velvet cake crumbs or the German Mocha Latte ($6) topped with toasted coconut.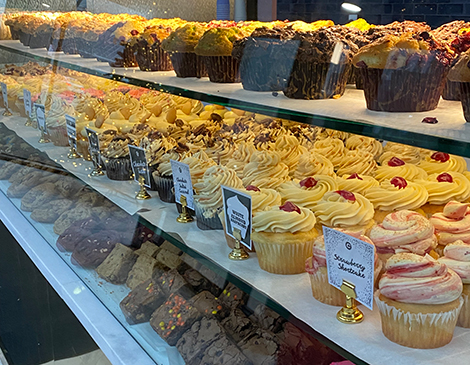 The Food
In addition to 50 flavors of the beloved cupcakes that Colossal Cupcakes is known for, the new cafe offers a variety of breakfast items with even more lunch items on the way. The offerings range from daily go-tos like bagels and cream cheese ($5) to the Colossal Breakfast Sandwich ($10), a treat-yourself helping of fried egg, bacon and cheese on a caramelized Belgian waffle. But even traditional breakfast sandwiches and grilled cheeses can get a Colossal twist thanks to rainbow-colored bagels and bread. The cafe also offers ice cream and its famous Cake Shakes.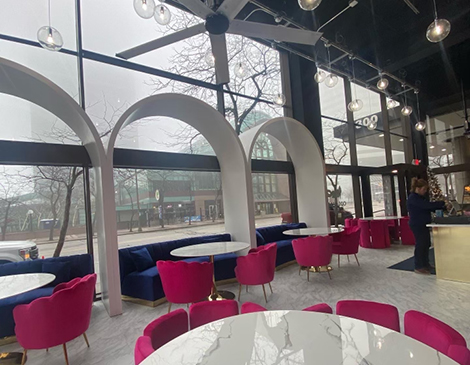 The Space
Kandah wasn't sure she wanted to open another Downtown location when she was approached by the city, but she was attracted to a few features of the space in the Aecom building. For one, the Aecom Building was willing to renovate the storefront to provide street access on East Ninth. Additionally, the area is a business district that serves a different clientele, professionals in and around the Aecom building, than her other Downtown location.
"There was nowhere around here to just grab a cup of coffee and something small," says Kandah. "The tenants [of the Aecom Building] are so thrilled to just have a place to get a bagel and coffee in the morning."
Finally, the space fills the business's many needs. Three-thousand square feet make this Colossal Cupcake's largest location. One-third of that footprint is dedicated to the company's corporate offices and an event space, where it plans to host meetings, children's birthdays and baby showers. The rest is a counter-service cafe with seats for about 30 people. Both the event space and the cafe feature the company's signature pink princess, fairytale aesthetic.
The Aecom Building has had some stops and starts in its goals to build its lobby into a food-centric destination. While Cleveland food vets Anna in the Raw and Winking Lizard have joined and will soon join Colossal Cupcakes, newbie Let's Talk CLE just closed its doors after only opening in February.
Kandah, however, is optimistic.
"I have a lot of faith in downtown," she says. "With our dedication and creativity, I think we have what it takes to make it."
Bite into the Cleveland dining scene by signing up for our free weekly CLE Food & Drink newsletter — your guide to food and drink throughout The Land. Arriving in your inbox every week, this coverage fills you in on everything from mocktails to shareable plates — and more. Click here to subscribe.