Sometimes going old school feels refreshing.

Nubeigel, which opened July 5 in Cleveland Heights, is one of just a few Cleveland-area bagel shops doing bagels the right way — traditionally hand-rolled, boiled and fresh-baked. But that doesn't mean their approach is stale. This new business ventures into uncharted territory with elevated flavors like Kalamata olives, capers and red onions, and more.
Chef and owner Josh Admon, who makes his debut in Cleveland's food scene with Nubeigel, believes his space can bridge social gaps by integrating European and Jewish culture into this beloved breakfast food. Prior to the bagels, Admon brought "American-style" buns — think cinnamon rolls on another level — to Israel in the form of Urbun Cafe.
After the COVID-19 pandemic caused Admon and his family to leave Israel after 15 years, he settled in Cleveland Heights, sensing it was the right place to raise his family and start a new business. Just off Lee Road, the area provides a warm, compact space for customers to sit inside or outside, reading a book or catching up with friends, or grab a delicious boiled and baked bagel to go. Aiming to be more than your typical bagel shop — Nubeigel provides a place where customers can feel welcome and comfortable.
Here's are three things to know about this vibrant new Cleveland Heights spot.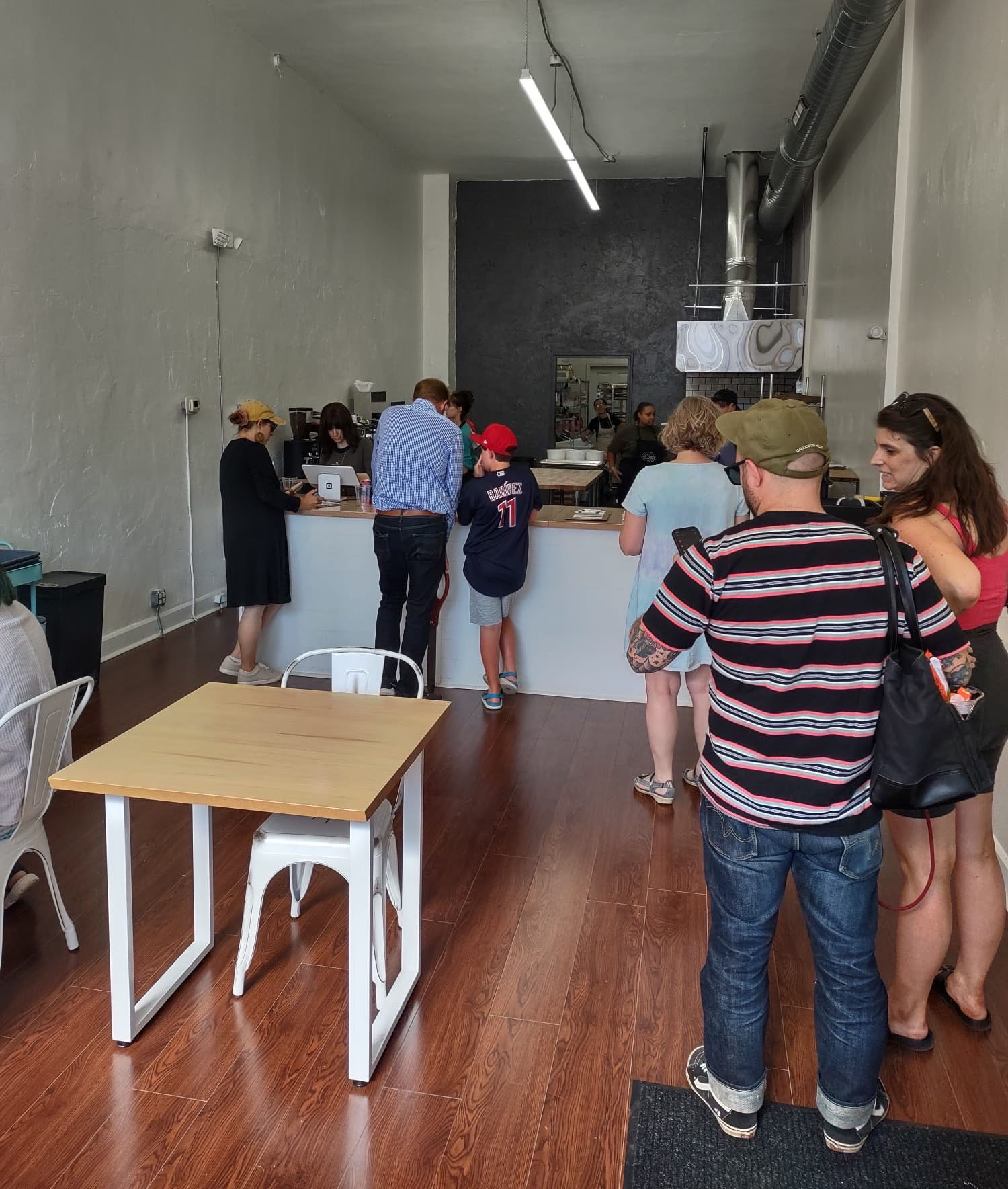 The Space
Admon wanted Nubeigel to be a place where customers could see the process, from baristas making coffee drinks to bakers crafting dough into a perfect bagel shape. Local art from Cleveland Heights' own Justin Michael Will is displayed across the soft white walls of the 1,100-square-foot space that seats 15. "Usually, you walk into a bagel shop, and it doesn't feel like a coffee shop," says Admon. "You're not going to get that warm, comfortable, inviting feeling with some good music and a place you would want to hang out. You're going to buy 24 bagels and go home, so I want people to walk in and look at the place in a very different approach. It's a different type of place."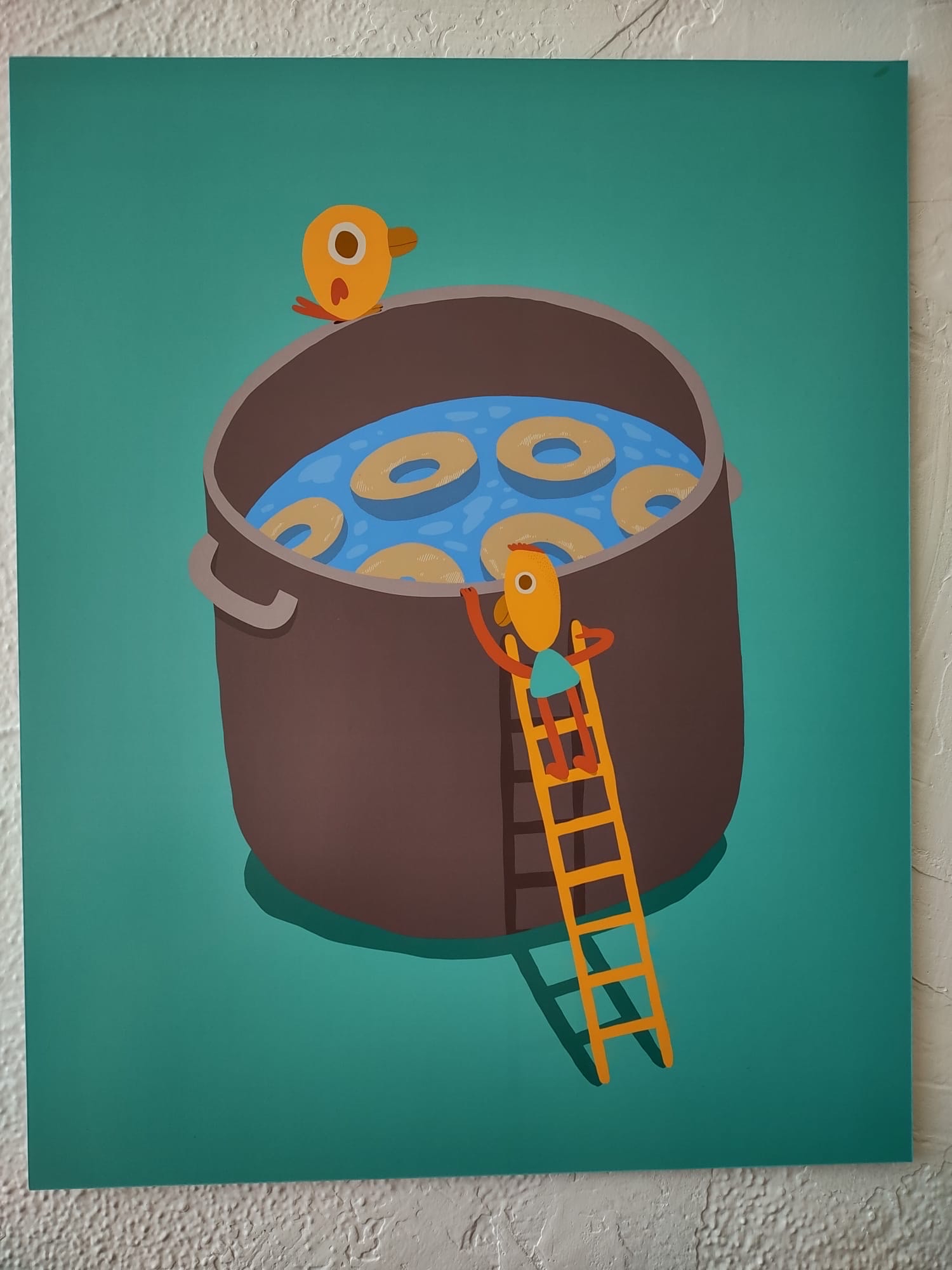 The Coffee
Nubeigel offers hot and iced coffee sourced from Edda Coffee Roasters, the newly launched third-wave coffee maker from Charlie Eisenstat at Intro Apartment Complex in Ohio City. Traditional drinks such as Cortado ($3.50) and caramel latte ($4.50) make up a modest lineup of drip coffee beverages. "I plan on having some great coffee, but it's going to be more traditional though, not necessarily like third-wave type," Admon says. "I'm not going to be sitting there making drip coffees. It's going to be espresso-based drinks."
The Food
The name Nubeigel nods to Admon's experience with European products as well as his Jewish background, so it's no surprise that he put a few spins on the traditional American bagel experience, such as the everything spicy ($2), which contains spices commonly found on an everything bagel such as sesame, poppy, onion, garlic, cumin, yet is topped with red pepper flakes. Bagel and schmear combinations ($4) such as Kalamata olive, sriracha and horseradish dill, as well as the option to add toppings such as smoked salmon ($6), kimchi ($2), capers (50¢), red onion (50¢), tomato (50¢) or cucumber (50¢) reflect Admon's wide cultural influences. Admon's vegan options include the plain ($4) and cinnamon raisin options ($4). "I'm not necessarily looking to have 40 different types of bagels," adds Admon, who takes a koser approach to the kitchen. "I do want to keep it simple and stay within the framework of a traditional bagel shop but also do things that people wouldn't normally expect."

Hours: Nubeigel is open Monday through Friday 7:30-1:30.
Get ahead of the weekend by signing up for our free weekly "In the CLE" newsletter — your guide to fun throughout The Land. Arriving in your inbox every Wednesday, this weekend to-do list fills you in on everything from concerts to museum exhibits — and more. Click here to subscribe.