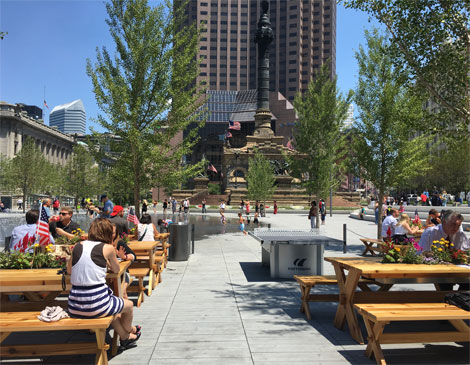 The vibe: If a group of 20-somethings thought up their ideal urban hang out with healthy food, beer, cocktails, coffee and a patio — Rebol would be the result. Guest are greeted with the words: "A big %#*$ off to GMOs — people are not a science experiment" slapped onto each glass door before they enter. The small space is casual and busy on either side of the kitchen. Young professionals on their lunch hour and families playing in the Public Square water park just steps away mostly make up the crowd. The brightly colored walls are lined with TVs, a hand-painted Abraham Lincoln in 3D shades and a cool looking Albert Einstein on another. Think hip, young and contemporary with tunes from the electronic artist, Santigold blaring through the speakers.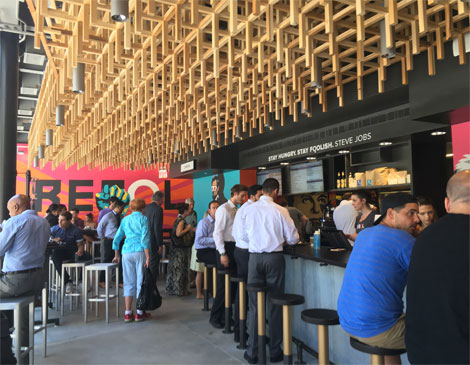 How ready they are: With at least a dozen workers behind the counter preparing food, making drinks, or cleaning up to get more tables ready for the flooding crowd, the staff seemed ready and excited. Our food came out quickly, after just a short five-minute wait at the coffee bar.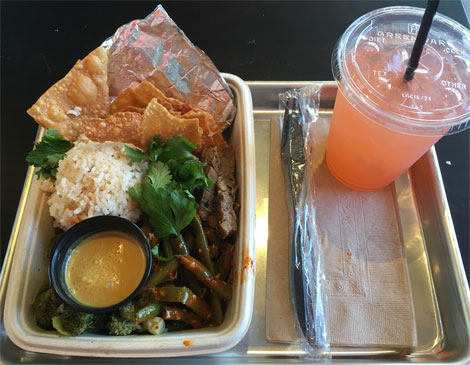 We tried it: The clearly Asian and Indian inspired menu is made up of different "bols," where guests can choose chef made combinations, ($6.50– $9) or build their own ($7-$8.50). We built our own with bulgogi grass-fed steak, sticky jasmine rice, spicy green beans, steamed bok choy, broccoli, a coconut curry sauce and topped it all with a herb salad of parsley and cilantro. The dish also came with fried wonton chips for scooping. Though the steak was tender and thick, it didn't resemble a sweet bulgogi taste one usually expects when eating this Korean marinated meat.
What we'd like to see: If you're a picky eater, this probably isn't the best spot for your lunch hour. Though that could change if they were to add a few staple Asian-inspired street foods such as bao buns or a banh mi sandwich option.