There may be no better feeling than soaking up the sun on the waterfront with live music playing and a drink in hand.
That's exactly what Sly Restaurant Group has in mind as it soft launches Rum Runners, a new live-music and cocktail venue that tips its hat to the '80s bar of the same name, this weekend. Taking over the space that formerly belonged to Thirsty Dog East Bank, which opened in 2017 and closed in late 2021, the more than 9,000-square-foot indoor and outdoor space offers a patio and three distinct rooms. It also joins Welcome to the Farm, Collision Bend Brewing Co., The Big Bang and FWD in bringing live music to the neighborhood.
"I feel like that's how the Flats used to be," says Sly's event marketing manager Rebecca Riemer. "It used to be more of a destination and people could bop around to each place. We want to bring that back, and we thought it was a cool tribute to the throwback Flats."
Here are four things to know about the new space coming into the Flats.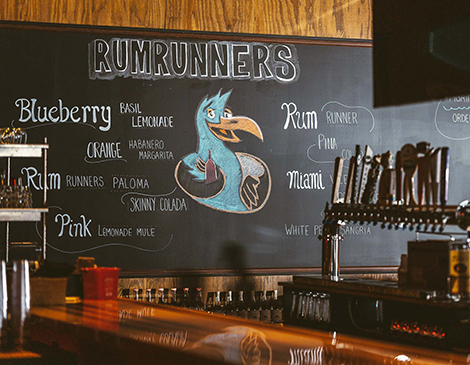 The Food
Matching the beachy vibe is a casual menu of seafood and more. Menu highlights include a grouper sandwich, a Cuban sandwich, hush puppies, coconut shrimp and more. You'll likely see us drinking around a plate of Hush Puppies ($8), a Southern delicacy we don't see enough of around here, before moving on to the Caribbean Burger ($14) with Jamaican relish.
The Drinks
The bar program is going all in on the Polynesian theme, as well. The main bars, inside and outside on the patio, feature casual offerings such as fish bowls, themed cocktails, frozen drinks and hard seltzers. As lovers of tiki and literature, however, we're most excited for the Hemingway Room, which focuses on the type of high-end Polynesian cocktails and daiquiris the thirsty author famously consumed.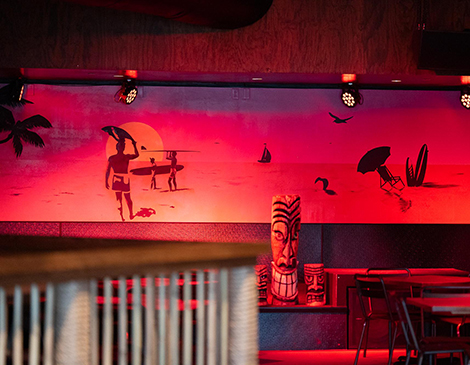 The Music
If FWD is your place for EDM and Welcome to the Farm is your place for country music, expect the soundtrack of your favorite vacation to permeate the patio and indoor stage at Rum Runners. Opening weekend kicks off with local reggae act Carlos Jones and the Plus Band on Thursday, while the Killer Flamingos and Pete Lazard highlight a jam-packed weekend of tunes.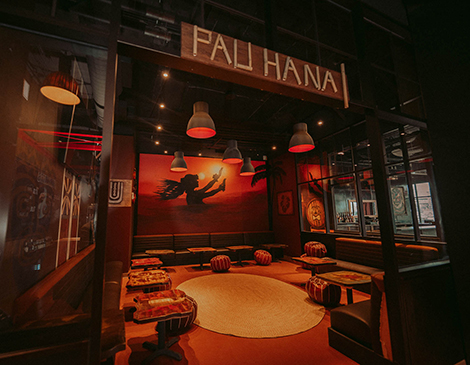 The Space
With a beach theme, Rum Runners underwent a drastic transformation from predecessor Thirsty Dog. The main room features a stage for live music. Where the brewery equipment was is now the Hemingway Room, which focuses on high-end Polynesian cocktails and daiquiris that are unique from the offerings at the other two bars. An outdoor patio, which will also feature live music and is dog friendly, offers a waterfront view with swings and cabanas around a bar. "It's very colorful, beachy vibes and just really fun," Riemer says.