Chinese Black Bean and Pork Chili
This thick chili is a twist on a traditional Chinese dish called Zha Jiang Mian, or "black bean noodles." "I've toned down the salt level by reducing the amount of black bean paste and deleting the soy sauce, so it can be eaten in isolation or with toasted bread dipped in," says Bac Nguyen, chef and owner of Ninja City. "It's like a super thick sauce because the beans are in a paste instead of whole like in traditional chili. The cornstarch is a bit of a thickener that brings everything together and helps bind it."
Saute 3 teaspoons minced ginger and 1 cup chopped green onion in 1/4 cup canola oil until slightly soft. Add 2 tablespoons minced garlic, continue sauteing until brown. Add 1 pound ground pork and 1 teaspoon black pepper, continue sauteing until pork is half-cooked. Add 2 cups Chinese black bean paste and 2 tablespoons sugar, continue sauteing until it begins to simmer. Add 4 cups water and turn heat to high until the mixture boils. Reduce heat to low and simmer for 20 minutes. Add 1 cup of diced zucchini, 2 tablespoons cornstarch and continue simmering for 3-5 minutes. Remove and garnish with 1 cup pickled daikon or carrot and 4 tablespoons chopped scallions. Serve over ramen or rice noodles or with toasted bread.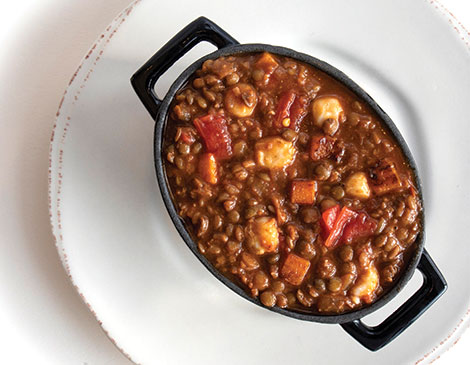 Vegetarian Lentil and Butternut Squash Chili
Not a meat eater? No problem. Combining a red wine with thick lentils and hominy builds a strong, flavorful vegetarian base in this chili. "The cinnamon and clove essence of the Laurentia Estate pinot noir adds the perfect flavors to go with the butternut squash," says Donna Chriszt, culinary director of Laurentia Vineyard & Winery. "The hominy, which is corn kernels with the husk and germ removed, is a great alternative to a bean."

Heat a large stock pot over medium heat. Add 2 tablespoons oil, 1 cup diced yellow onion, 1 cup diced carrot and 1 cup diced celery and cook for 3 minutes. Add 1 tablespoon ground cumin and 1 tablespoon chili powder and stir. Cook for 2 minutes to enhance the spice flavor. Add 1 cup Laurentia Estate pinot noir and reduce by half. Add 2 cups lentils, 2 cups San Marzano crushed tomatoes, 3 cups vegetable stock and 3 cups water. Bring to a boil, then reduce heat to a simmer. Cover and allow to cook until the lentils are soft. While the lentil chili is cooking, preheat the oven to 400 degrees. Toss 2 cups butternut squash, peeled, seeded and cut into 1/2-inch cubes, in 1 tablespoon oil. Season lightly with salt and pepper to taste. Cook until the squash is roasted brown and toasty, about 20-25 minutes. When the lentils are soft, add the squash to the chili and one 15-ounce can of drained hominy. Mix together gently. Season with salt and pepper.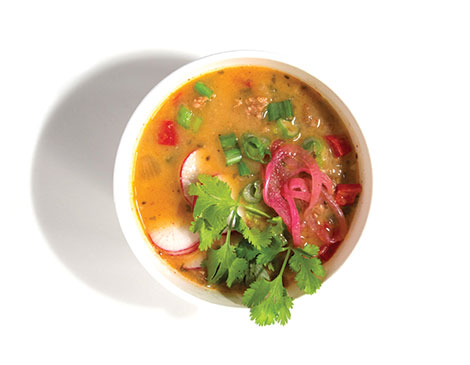 Creamy White Bean and Chorizo Chili
Not far removed from a traditional recipe, this version carries a lot of color, heat and texture thanks to ingredients that easily complement one another. "Most of the heat comes from the jalapenos," says Brendan Messina, chef and owner of Herb'n Twine. "The other peppers are there for flavor and color. This recipe has a nice consistency because when you puree the beans, it thickens the broth and makes it creamy. The creaminess tames the heat of the chorizo a bit and the cilantro helps brighten it up."

In a large stock pot, brown 1 1/4 pounds chorizo until fully cooked on medium high heat. Strain and set aside. Add 3 tablespoons olive oil, 1 cup diced onion, 4 cloves minced garlic, 1/2 cup diced jalapeno, 1 teaspoon salt and 1 teaspoon black pepper and saute at high heat until caramelized. Add 1 can of your favorite domestic beer and reduce liquid at high heat for 7-8 minutes. Add 7 cups chicken stock and four 15-ounce cans of white beans. Bring to a simmer. Ladle 3 cups of that mixture into a blender. Blend on high for 30 seconds until you get a smooth consistency. Add blended bean stock back into pot. Add 1 teaspoon parsley, 1 teaspoon oregano, 1 teaspoon smoked paprika, 1 tablespoon ground cumin, 1 tablespoon chili powder, 1 cup diced red pepper, 1 cup diced Anaheim pepper and 1/2 cup chopped cilantro. Simmer on low heat for 45 minutes. Add chorizo 15 minutes before serving. Garnish with all your favorite chili toppings.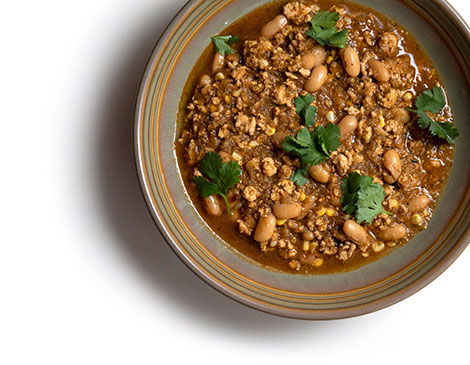 Pollo Picante Chili
Replace the kidney bean and beef version you know and love with this white bean and chicken chili. "This white bean recipe will be lighter and fresher than traditional beef and bean chili, and it has a bit of tanginess from the tomatillos," says Eric Williams, chef and owner of Momocho and El Carnicero. "Plus, the fresh jalapeno and dried Mexican chiles add a new, different type of heat. The salsa verde is actually easier to make than the chili and good to have for leftovers for a dip with chips."

To make salsa verde, reserve the liquid from a 28-ounce can of tomatillos. Combine the tomatillos, 1 bunch fresh cilantro, 1⁄2 jalapeno pepper, 1 teaspoon minced garlic, 1 teaspoon kosher salt and the juice of 1 lime in a blender. For less heat, remove the stem of the jalapeno pepper and deseed before putting in the blender. Puree all ingredients together until smooth and combine with the reserved tomatillos liquid. Set salsa verde aside. In a 6-quart Dutch oven, heat 1 teaspoon olive oil on medium-high heat to cook 2 pounds ground chicken in two separate batches. Season the chicken with 2 teaspoons kosher salt and saute half for 6 minutes or until cooked. Remove using slotted spoon, then cook the remainder of the seasoned chicken and remove. Add 2 teaspoons olive oil to Dutch oven and saute 1 medium-sized Spanish onion, minced and 2 tablespoons minced garlic until browned. Stir in 1 teaspoon kosher salt, 1 cup frozen corn kernels, 1 tablespoon ground cumin, 1/2 tablespoon chili powder, 1/2 teaspoon dried oregano, 1/4 teaspoon ground cinnamon and 1/4 teaspoon guajillo chili powder. Cook 2-3 minutes. Add 2 cups salsa verde, one 15 1/2 ounce can cannellini beans, 2 cups chicken stock and browned chicken. Reduce heat to medium, cover and continue to cook for 15 minutes. To serve, garnish with fresh cilantro leaves.