Paola Valbuena Stuyvesant watched the first Pulpo Brewing Co. beer flow off the tap in disbelief. "We're really making beer," the operational vice president and brewer remembers saying. "And it was a good one!" The Blonde Mamacita — a simple, refreshing blonde ale — was indeed good enough to serve as one of Pulpo's flagship beers, along with the hazy Medusa pale ale and the Colombian coffee-and-Mexican vanilla-infused El Capoccino, when the brewery opened in Willoughby's Hola Tacos/Barroco complex in 2020. Now with a little more confidence and the continued support of her sisters-in-law and general managers Jennifer Stuyvesant-Ortiz and Joane Stuyvesant, Valbuena Stuyvesant is ready to launch a standalone taproom in the former B Spot space in Crocker Park this month.
"Every time someone calls me a brewmaster, I get a little bit of a heartbeat," she says. "I feel like I don't have the seniority to be called that."
Indeed, Valbuena Stuyvesant had never brewed a single beer before — not at home as a hobbyist nor in another brewery as an employee.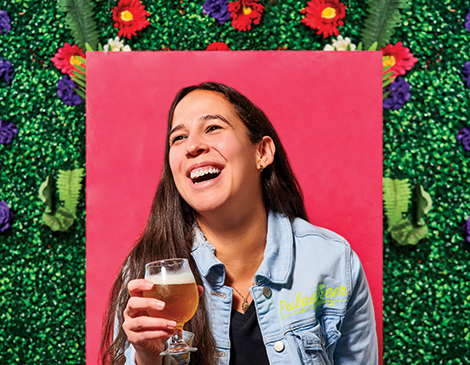 Prior to Pulpo, Valbuena Stuyvesant earned a degree in chemical engineering and went to work for Pepsi. Working her way up through the lab and eventually to supervisor of the canning and bottling lines for sodas and water, she learned the chemistry behind a drink and the importance of sanitation, keeping everything perfectly pristine. When she'd get home, however, she'd dream with her sisters-in-law of starting a family business, though they never thought of opening a brewery.
When Valbuena Stuyvesant's brother-in-law Juan Vergara, owner of Hola Tacos, Barroco and now Pulpo found the former Brim Kitchen and Brewery building on Erie Street, a 10,000-square-foot space with a 10-barrel brewing system, it hit them: Paola basically knows how to brew.
"Well technically I don't, but I can try," she told them. To get up to speed, the Houston-based SpindleTap Brewery served as consultants on the project and local experts offered a helping hand. This year, John Hill came on from Ohio City's Market Garden Brewery to advise Valbuena Stuyvesant as head brewer. "The idea of having something so unique caught my attention," Valbuena Stuyvesant says.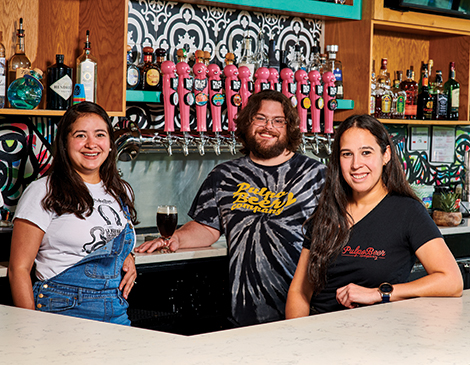 Today, the brewery's fruit-forward lineup of 14 ales, stouts, lagers and pilsners — many of which are inspired by house cocktails — is available in 20 different restaurants, mostly in Lake County. Hill says the company's Willoughby production facility will run at full capacity upon the opening of the 4,000-square-foot brewpub in Westlake. The beers, including Tropic Thunder pina colada IPA, which earned a Best of Cleveland nod, are designed to withstand and complement Hola and Barroco's spicy Latin flavors. The forthcoming Pulpo brewpub is also set to be a clash of cultures with a menu of Latin-American bar grub influenced by the type of cuisine the sisters enjoyed in their native Venezuela — just one of the ways the group hopes to honor its position as the state's first
female- and Latin-owned brewery.
"When people see pictures of Paola, they say, 'She doesn't look like a brewer,' but we call her brewmaster because she is a master!" says Stuyvesant, who focuses on the hospitality and restaurant side of the business with her sister, Stuyvesant-
Ortiz. "We're proud to have a family business here in Willoughby and bring out the positive aspects of our culture."
For those who failed Spanish, pulpo means octopus, an apt reference to the many tentacles of Vergara's expanding empire of Latin hospitality. But for the sisters, the word really represents family — the bond at the heart of Pulpo Brewing Co. pulpobeerco.com
5 Pulpo Beers to Try
Here's what to try first when you visit the brewery's Willoughby or Crocker Park locations.

1. Blonde Mamacita (4.7% ABV)
The brewery's first-ever beer is a blonde ale with a sweet aroma and a dry finish.

2. El Capoccino (6.3% ABV)
Infused with Cleveland's Rising Star Coffee Roasters, this smooth, robust coffee and vanilla blonde ale offers subtle nutty and sweet notes.

3. Funky Wit (5.4% ABV)
A great summer sip, orange peel and coriander offer a bright, citrus nose with chamomile and wheat adding citrusy, oaty complexities in this Belgian witbier.

4. Mango-cita (6% ABV)
This saison is made by fermenting a Blonde Mamacita with French saison yeast and finishing it with real mango to taste like a fruity cocktail.

5. Tropical Thunder IPA (6.5% ABV)
This 2021 Best of Cleveland winner uses all fresh ingredients, including coconut flakes and pineapple, for pure beach vibes.