Joe Schlott has an ambitious goal: make Lakewood the go-to spot for all types of pie.
The plan to become Cleveland's unofficial pie man is already in full swing. In February, Schlott opened Gray House Pizza, a takeout Detroit-style pizza pie shop. Then on March 1, he debuted U.K. Pies and Fries, the attached sister shop offering British pub pies. Now, he's set to open Gray House Pies and Coffee in early April.
"It's no secret Lakewood is a trendy area," Schlott says. "All the newer food purveyors and creative folk are here, and we've got some adventurous eaters."
But that's not where his culinary adventures begin or end. Here's what you need to know about the three new Lakewood shops.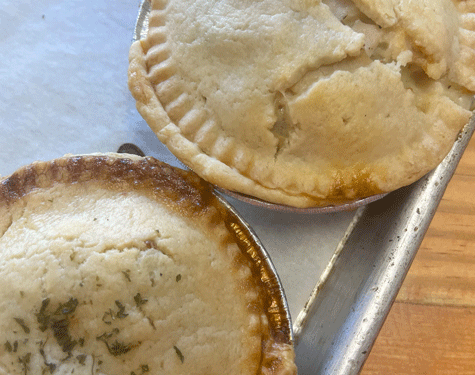 Gray House Coffee & Pies
Schlott's pie-making bug runs deep. An aspiring chef in high school, Schlott was accepted to the Culinary Institute in Hyde Park, New York, in the late '70s, but ended up working in the mortgage business. He took up baking as a hobby and honed his technique through the years. Schlott took on the role as the family baker who gifted pies and breads to friends and family during the holidays.
The new coffee and pie shop is set to open in the same location where Gray House Pies really took off. Schlott started Gray House as a home business before moving into a space owned by Breadsmith, where he was able to bake his pies and quiches on a larger scale.
What began as selling homemade pies off his front porch eventually became a brick and mortar in Fairview Park and then Westlake (Gray House Pies, 26075 Detroit Road, Westlake, 440-360-7870, grayhousepies.com). But Schlott always wanted to make it back to Lakewood. Some menu items from both new shops have been available for a few years at the former locations, along with its traditional pies, cookies, quiches and other organic baked goods.
When You Go: Gray House Pies & Coffee, 18103 Detroit Road, Lakewood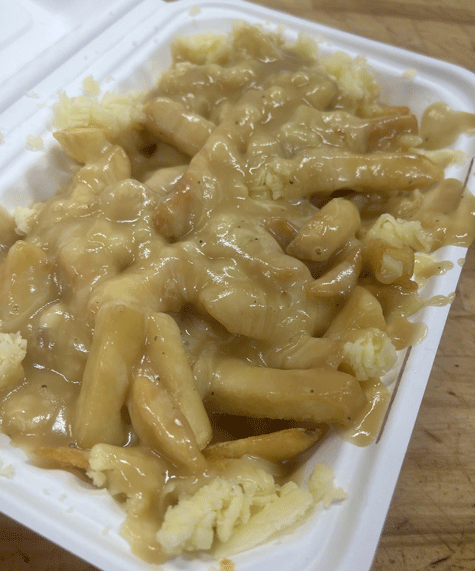 U.K. Pies and Fries
U.K. Pies and Fries, located just around the corner from the pizza shop, is a unique addition to Lakewood's fierce culinary scene. The grab-and-go concept opens to Brown Avenue, perfect for walk-ups during Cleveland summers, and turns into a coffee shop during the day.
The shop focuses on savory British-inspired meat pies, with fillings like steak and ale, BBQ chicken, turkey and Swiss, cheesy potato and more. The other star of the show is twice fried fries (for extra crispiness), available plain, as poutine (cheese curds and gravy) or with just gravy, available in beef or chicken and vegan options.
"I've been wanting to do a pub pie shop for a long time," Schlott says. "They seem like a nice blank slate. You can do anything with them."
Traditionally a British favorite, the pub pies can range in flavors from spam and goat cheese, curry, or lentils and rice (daal), to spaghetti. The owner even consulted with a trained British chef for the recipes, he says. Schlott plans to add "bangers and mash" (sausages and mashed potatoes) crafted with locally produced meat to the menu of U.K. Pies and Fries in the near future.
"In my business, I've always been exploring different foods," Schlott says. "That's my passion. And I somehow stumbled onto meat pies, so we whipped up a batch."
Gray House Pizza
In the front of the pies and fries concept, patrons can find Schlott's pizza shop. He got the idea to create Detroit style pizzas after a trip to Detroit to see a Cleveland baseball game with his son. Unfamiliar with the style then, a five-year journey began.
"We stumbled into Buddy's," he says. "It's the Mecca for Detroit pizza."
The takeout pizza shop took over the former location of Primoz Pizza on Madison Avenue. It showcases a simple menu with large and medium sizes of traditional build-your-own topping choices and a few specialty options like Veggie Deluxe (mushrooms, black olives, onions and roasted red peppers), along with a meatball sub and garlic bread. Patrons can also pick up savory mini hand pies.
What makes Gray House pizza unique is the three-day cold proofing process for the dough made with locally sourced organic flour milled in Middlefield, Ohio, along with brick and white cheddar made in the same city. Pizzas are crafted with premium ingredients like Grana Padano cheese, along with premium extra virgin olive oil. The cheese extends all the way to the crust to give a crunch and sweet sauce ladled on top at the end brings out a bright flavor.
After experimenting with various ingredients and techniques, he landed on the perfect recipe.
"It's a bit cliché, but we use really good stuff," he says. "When I made the first pizza, I almost passed out because it was so good."