They say time flies, but that's not quite true in the restaurant industry.
"It feels like it's been 30 years," says Hospitality Restaurants co-owner George Schindler. "The last two years feel like dog years."
Since opening the Cabin Club in Westlake in 1992, Hospitality Restaurants has slowly built an empire of nine restaurants, including Salmon Dave's Pacific Grille in Rocky River, downtown's Blue Point Grille and the Thirsty Parrot, Delmonico's Steakhouse in Independence, Kingfish in Akron, and Rosewood Grills in Westlake, Strongsville and Hudson.
The company was founded on friendship. Schindler and co-owner Kay Amen dreamt up the scheme over beers in 1991. Today, the lifelong best friends still share an office.
But that bond extends to the customer base — Schindler describes the Cabin Club as having a bit of the "Cheers factor" — and staff. Sheri Wilber, who started as a bartender when the Cabin Club opened and now serves as the restaurant's general manager, is one of a handful of the company's 300 employees who have stayed on staff for decades. The business has also been named a Top Workplace, an employee-voted award, for the past seven years.
"Our company has always put our employees on a pedestal and treated them right because they represent you at the table, at the front door and behind the bar, and when they believe in what they're doing, every plate of food comes out looking as good as it possibly can because they care," says Schindler. "For 30 years, we've stuck with the same training modules and stuck to the same principles we've held since day one. Treating your people right trickles down."
The service industry has changed immensely over the group's 30 years, but the past two years have been the toughest to navigate. Even coming off of COVID-19 shutdowns, the ongoing labor shortage is "without a doubt" the biggest challenge the business has faced, Schindler says.
Yet despite the changes, Hospitality Restaurant's restaurants have found staying power.
"There are so many more restaurants in Cleveland now than there were 30 years ago," Schindler says. "We have quality, but we don't have a lot of trendy food on the plate. Cleveland Magazine's Best New Restaurant is an award that we have never won, but all of our restaurants are still extremely popular and extremely busy. And over those 30 years, the list is pretty long of hot new restaurants that came and went."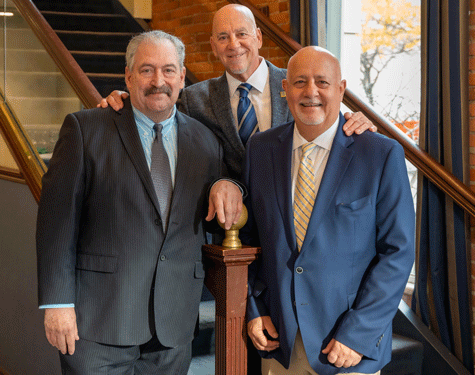 In fact, despite the challenges this year brought, Hospitality Restaurant had one of its most successful years to date in 2021. Instead of opening a new restaurant (though the group is kicking the tires on a few ideas) or going on a cruise to celebrate a year in the black, the company is giving away $30,000 to 30 small, local charities throughout the month of January. During January's 30 Years, 30 Charities, 30 Days initiative, one charity will receive a $1,000 donation from the restaurant group each day. The group reached out to local mayors to find the local organizations making the biggest impact in their communities, such as Strongsville's Rotary Club.
"$1,000 isn't going to be a game changer for United Way or Velasano, but for so many of these small groups that take care of food insecurity, putting clothes on people's backs and putting smiles on their faces, it really makes a big difference," says Schindler. "All these great plates of food go on the table and to think that there's someone in your community that doesn't have enough money to put macaroni and cheese on the table, it's pretty heartbreaking. With all the good fortune that we've enjoyed, the least we can do is try to help some other folks out."