Chef Ryan Endrian hadn't been to Cleveland — let alone Lake County — before agreeing to become executive chef at Issho Ni Ramen and Sushi in Willoughby.
But in April, the Indonesian immigrant by way of Los Angeles doubled down on the East Side by helping to open Issho Ni Poke Bar on Mentor Avenue in Mentor. The fast-casual spot offers build-your-own bowls with 30 possible ingredients, such as fresh ahi tuna, tamago and vegan calamari, on a bed of rice or zucchini squash. It also specializes in spam musubi, the classic grilled Spam nigiri roll.
"Poke is simple, clean and healthy — that's what makes it the best," says Endrian.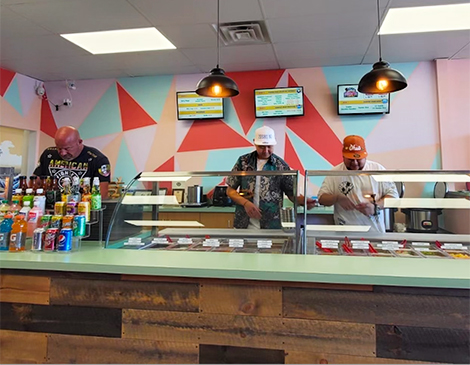 After growing frustrated with his marketing job, Endrian moved from Indonesia to Los Angeles without much of a plan when he was 24 years old. When he started working as a sushi apprentice at Octopus Restaurant to make ends meet, he didn't even like sushi.
"After about a year, I started liking sushi because I like to see my customers smile," he says.
But it wasn't until Endrian had his first experience with omakase, typically a multi-course, curated sushi experience where you eat in front of an experienced chef who tailors it to your taste. The style was much more traditional than the crunchy mayo of Endrian's restaurant. The experience shoved him down a raw fish rabbit hole.
"All of my friends and co-workers thought I was crazy," he says. "I ate at two or three sushi restaurants a week. I was spending all of my money on sushi and making sushi. They didn't understand, but I did that to learn more and build up some connections."
After a few more years with Octopus, including opening a branch in Las Vegas, Endrian worked at a Japanese fine dining spot before landing at the Los Angeles outpost of Sushi Sasabune, the Glendale-based restaurant where he "started his omakase journey." That journey has since included stops at Matsuhisa and Nobu, two iconic sushi restaurants in Beverly Hills owned by Michelin-starred celebrity chef Nobu Matushisa, and Sake Dojo.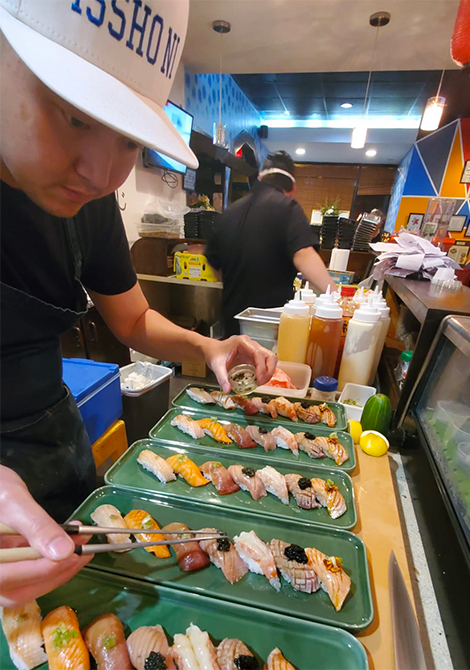 "[Sushi Sasabune is] where I learned the basics of making sushi," he says. "Their sushi is very simple: It's paying a lot of attention to the rice, seaweed and fish."
Meanwhile, Endrian hosted omakase parties at his home to develop his own style. He still offers these private omakase experiences, where the chef comes to your house and prepares the sushi in front of you, here in Cleveland.
"I don't want to make it too serious," says Endrian. "I do little twists here and there, but not too much to overpower the fish."
Burnt out on L.A., Endrian began following what his friend Jonathon Johanes and his wife, Linda, were doing in Cleveland. Also an immigrant from Indonesia, Johanes had just come to Cleveland from Beverly Hills to open a Japanese restaurant, Issho Ni Ramen, Sushi & Hibachi, which presents authentic and fusion takes on sushi, sashimi, ramen and more. Knowing his passion, Johanes was happy to have him travel east to become executive chef.
For many, the restaurant in the Willoughby strip mall is hidden gem for ramen dishes, such as the spicy tonkotsu ramen ($13.51) with a marinated pork belly, and Japanese appetizers like gyoza ($5.72), fried pork dumplings, and yakisoba ($11.43).
While the flagship restaurant is perfect for dinner or a long lunch, Endrian and Johanes wanted to offer the East Side suburbs a quicker option, which is how they settled on poke. Also co-owned by partner John Josza, a Painesville businessman who's lived across the country, the space features a Hawaiian theme ripe for foodie Insta pics, and while the cuisine might be new to some, the assembly line-style ordering is familiar. (When in doubt, do what Endrian does and get all the toppings.)
"The focus is basically fast food," says Endrian. "You start from the base (rice or zucchini noodles), get unlimited toppings, pick from premium protein and choose a housemade sauce. Basically like Chipotle."
But don't let the phrase "fast food" fool you. Endrian is still working with sushi-grade fish, such as yellowtail, ahi tuna and salmon. Vegan protein is also available. Meanwhile, the rice is pandan rice, which is infused in-house with fragrance from a pendant leaf, giving it a bright green color and a hint of vanilla. The protein and base then gets loaded with your choice of 17 toppings, such as masago (fish eggs), pickled daikon, fruit, veggies, crispy garlic and much more. Finished with house-made sauces like the spicy kimchi sauce, aioli made from wasabi root or spicy mayo, most bowls come out around $15.
Going forward, the Issho Ni team plans to continue to expand, so West Siders can look forward to the day that they won't have to cross the Cuyahoga River for fresh poke, sushi and ramen.
"We're not going to stop," he says. "We're just going to keep opening up concept after concept."
Why Cleveland? In Mentor, Endrian saw a "high-traffic, up-and-coming" area. But in general, Northeast Ohio has plenty of room for new players in the food scene, he says. By offering things like omakase, sushi done right and dishes you can't get anywhere else like the pandan-leaf rice and sushi handrolls (almost like a taco), Endrian thinks Issho Ni can carve out its own niche.
"I see a lot of people who will like our food, but they just don't know it yet," he says. "Cleveland has a lot of potential."
When You Go:
Issho Ni Poke Bar, 9570 Mentor Ave., Unit L, Mentor, 440-754-8204, isshonipokebar.com
Issho Ni Ramen, Sushi & Hibachi, 34302 Euclid Ave., Willoughby, 440-306-8020, isshoniramen.com