Michael Killik had just returned from a late shift on the line at Lakewood's El Carnicero when a bolt of pain shot through his right arm.
It was 2015, and Killik was working as a prep cook under James Beard-nominated chef Eric Williams. After four years of Air Force service and 15 years teaching high school science, Killik had catapulted himself into the West Side's culinary scene, hoping to carve out an eventual career.
But then, that night, his chest tightened and his face was awash with sweat. Blaming chef stress, Killik numbed himself to sleep with half a bottle of tequila. The next day Killik saw a doctor at the local Veterans Affairs hospital. He anticipated the typical finger wag: stop drinking, stop smoking and eat healthier. Instead, he told Killik he'd had a heart attack.
"I'm like, 'Hold the f----in' phone,'" he says.
Not even 12 hours later, Killik took a call from his stepmom, urging him to visit his father in the hospital, where he'd just survived his own heart attack. A week later, while making a cup of coffee, Killik's father suffered a second heart attack.
"He died that night," Killik says, wiping away tears. "He was 74."
That hellish week was Killik's come-to-Jesus moment. He quit cigarettes and eighty-sixed his party lifestyle. Then, he began slashing salt from his diet, but he just couldn't quit hot sauce. Looking for a solution, he read a Food and Wine article that glamorized a healthy hot sauce recipe made from firetruck-red Fresno chilis in vinegar.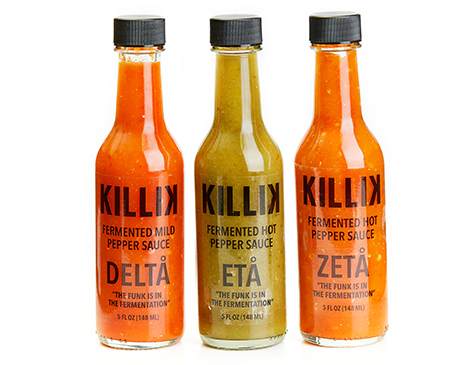 Lighbulb! That recipe became the basis for Killik Hot Sauce, his Cleveland-based company making healthy hot sauce. "An oxymoron, I know," he says. "But it really is."
Since launching his flagship sauce, the mild Delta, in September 2019, Killik has kept his health-conscious promise. Each of the three flavors, including funky green and spicy habanero, contain just 1% sodium. A competitor like Frank's Red Hot sits around 8%. Salt isn't all that's left out. The short ingredients list is simply fermented vinegar, white onion, garlic, kosher salt and chilis of choice (Fresnos, poblanos, habaneros). Borrowing a line from Shuxin Liu, owner of Ohio City's Xinji, and referencing his beloved Parliament-Funkadelic, Killik crafted his slogan, containing, one could say, his second favorite F-word — "The Funk Is in the Fermentation."
At the Cleveland Food Hub, where Killik has been growing his operation since completing its Central Kitchen craft course in 2019, the maestro de salsa labors religiously, mixing the vegan concoction in lid-tight, 55-gallon drums. After fermenting for six weeks, the mixture's whisked with an immersion blender, heated to 185 degrees Fahrenheit to shelf stabilize and bottled on a shared conveyor.
"Very quickly, it stood out during sampling," says Food Hub instructor David Miller. "You could tell the fermentation was legit; you knew it was actual vegetables at some point."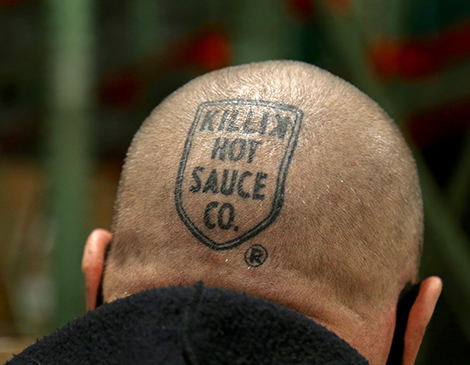 Since 2019, Killik Hot Sauce ($7.99) has expanded to more than 50 specialty stores nationwide, including Giant Eagle Marketplace, which plans to place it in more than 150 stores by the end of 2022.
More importantly, the owner has stayed healthy and clear of heart disease. Still, sometimes he reverts back to his old ways — no matter how good his hot sauce is.
"If I eat clam chowder, I have to use original Tabasco," Killik says. "It's just made for it."