Annie Wilkins, front of house manager at Landmark Restaurant, says the traffic at the increasingly populous intersection of West 117th Street and Clifton Boulevard can be a little bit wild. But she never expected this.

On July 27, a car slammed into the restaurant's front entrance at 11637 Clifton Blvd., on the Lakewood-Cleveland border. The beige Buick LeSabre smashed and mangled Landmark's glass door. Glass shards showered the sidewalk and the car's front hood. The sedan's strung-out headlight hung like a lone springy eye. People gathered, as they tend to after an accident.

No one was injured, but for a restaurant still trying to build a following since opening in April, overcoming this would hurt.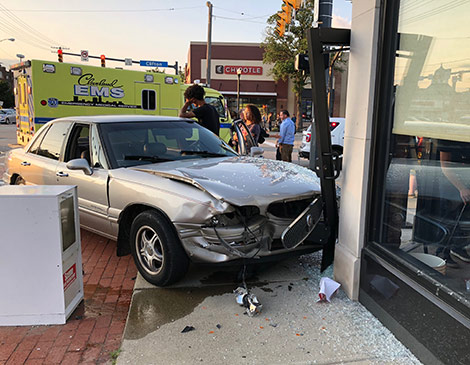 While management quickly boarded the exposed doorway with a piece of plywood, the business noticed a dip in customer volume the first weekend after the crash. People called to find out if the restaurant, which serves elevated takes on breakfast, lunch and dinner classics, was still open.

Then Wilkins, co-owner Jack Messer and Alex Tharnish, an artist and team lead in the restaurant's front of house, came up with an imaginative solution to bring customers back.

Tharnish covered the plywood door with chalkboard paint and wrote "Open" with an arrow pointing to the side entrance. A few days later, he added the sign's centerpiece: a mural of Landmark's signature fried chicken sandwich, complete with mayo-covered breaded chicken, juicy tomato and lettuce on a Brioche bun.

"He did a really awesome [job]," Wilkins says. "It's a chalk chicken sandwich that you actually want to eat because it just looks really great."

On the door's inward-facing side, the artist drew the Montreal smoked sandwich, mac n' cheese, cocktails and a stack of syrupy buttermilk pancakes surrounding Landmark's art deco "LM" logo.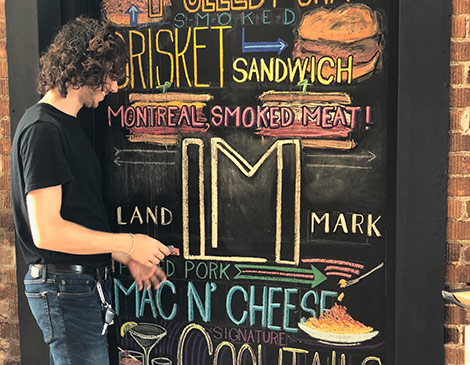 Since the mural went up, business has returned to normal with a steady flow of customers, Wilkins says. Management plans to eventually install a new front door, but for the time being, it will continue advertising the staff's favorite menu items on the busy street corner, swapping the chalk drawings out every few days or every week.

"We had a lot of people commenting that they liked that we are turning that into something and not just letting it be a sad, little plywood door," Wilkins says.