On Tremont's sleepy Literary Road, you can almost forget that restaurant-lined Professor Avenue is just about a block away. Perhaps that's why Ross Valenti, proprietor of Literary Tavern, chose to open his cozy purple outpost tucked away from heavy hitters such as Dante, Ushabu and Fahrenheit.
"I live in Tremont, and there's not a lot of places I'll go to on a regular basis, not because I don't like the place, but because of price point," says Valenti, who's lived in Tremont for 15 years and also owns D'Agnese's and Cantine, both in Broadview Heights. "I want a place I can go and get a midday drink, and just relax."
Before Valenti purchased the building in 2016, the former Literary Cafe was a bohemian bar where artists gathered for open mic nights and commiserated over a single beer on tap.
In the three years since, Valenti extensively renovated the building to include a new commercial kitchen and set out to create a tavern quiet and comfortable enough for Tremont locals to drop in for a beer or weeknight meal. Yet, he wanted it to have enough character to stand out from the Tremont institutions.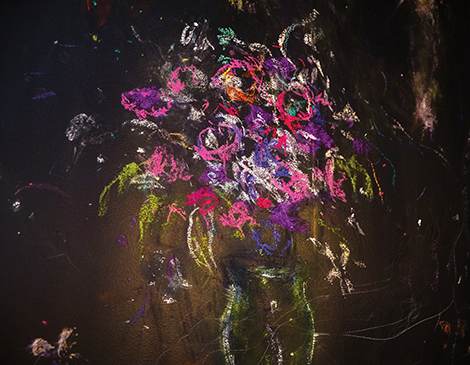 "I wanted to do a reinterpretation of a Midwest-style bar," says Valenti. "They said that Robert De Niro used to drink here when they were filming The Deer Hunter across the street at Lemko Hall. I always had that idea in my head — the '70s, neon."
Indeed, if it weren't for a small neon sign inscribed with "The Lit" that's hung in the restaurant's front window since the spot's opening in June 2019, you could walk right past it.
But once you step inside, the tavern takes on a gothic aesthetic. In the main dining room, banquettes and bar stools are upholstered in midnight blue, and the walls are decorated with photographs and illustrations of tormented figures. In the rear dining room, an impressionistic mural of spectral hummingbirds and wilting bouquets spans an entire wall, keeping with its past as an artistic hangout.
Valenti has brought in Rob Broka as chef, a Rocky River-raised pro who spent the majority of his career at now-closed D'Vine Wine Bar, where he developed experience creating familiar yet upscale tavern meals.
"We didn't want to do anything too extravagant and scare people away, but we didn't want to do just bar food," says Broka. "We wanted to be pubby, but still a little upper-scale. We didn't want to do fried everything. We want people to be intrigued, but not intimidated."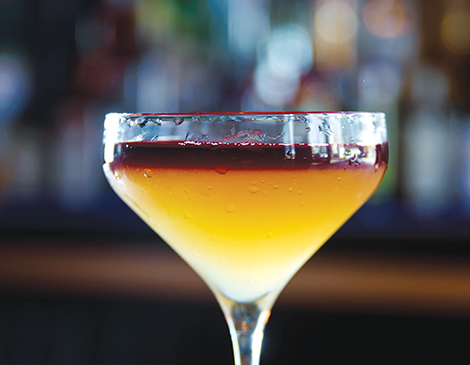 That meant Broka spent the first few months experimenting, creating more than 50 dishes before settling on the menu's current iteration focusing heavily on shareable plates, wonderfully presented foods and simple cuisine.
First-time visitors should start by ordering a board of up to a dozen fine cheeses and cured meats ($5 each; minimum three selections) — served in sizable portions alongside sea-salt-flecked flatbread crackers, pungent roasted cloves of garlic, pickled onions and a bracing whole grain mustard.
The half dozen cured meats include classics such as Italian porchetta and Spanish jamon serrano, but you won't want to skip out on the Fior D'Arancio. A favorite of Broka's, it's a rich blue cheese from Veneto, Italy, aged in sparkling wine and beautifully elevated by bittersweet fermented orange peel.
"I did 15 years at D'Vine Wine Bar, and meat and cheese boards were one of our big things down there, so I've got a lot of experience," says Broka. "I like to make sure we've got a nice variety."
And variety is key with a two-page menu that splits lighter share plates, vegetables and salads on one side and sandwiches, pastas and mains on the other.
One of the strongest dishes is the veal meatballs starter ($10), three little boulders that ooze with buffalo mozzarella when split. Served with toast, they're dressed in San Marzano tomato sauce, bechamel and dollops of pesto inside a small cast-iron pan. Even the snappy, crispy rings of calamari frites ($10) are delicately presented atop a green salad, underneath which hides a delightfully pungent house-made charred tomato salsa.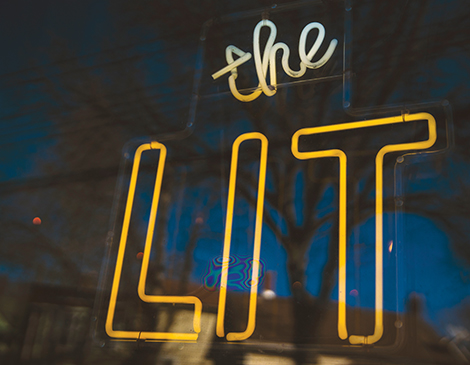 But beyond appetizers, a neighborhood tavern is judged by its burgers, and the Literary Tavern doesn't disappoint. We ordered our Lit Burger ($10) topped with a fried egg ($1) — per our server's recommendation — and were pleasantly stuffed by the gooey interplay of pickles, sharp American cheddar, egg, dijonnaise and two smashed beef patties. Even the Hipster Burger ($8), which Broka pulls directly from a former D'Vine menu, is full of flavor with a patty made of edamame, zucchini, carrots, tomato paste, garlic, herbs and breadcrumbs.
"I wanted to make a veggie burger that somebody would eat and say, 'I eat meat and I like that,' " says Broka.
But when experimenting with ingredients and trying to find a niche in Tremont's dining scene, not everything pays off. The buffalo mozzarella, for example, is barely present on the grilled cheese ($8), woefully overmatched by slabs of pugliese bread and wilted lettuce.
The pasta here is a substantial alternative to the meat-forward mainstays. The veal meatballs we loved in the appetizer reappeared alongside pappardelle and tomato sauce ($14), but the pasta was undercooked, resulting in doughy noodles. A similar problem arises with the charred corn carbonara ($12), a twist on the traditional dish with charred corn, pork belly, leek ash and house-made spaghetti that quickly loses its appeal when left to sit for too long. Even the risotto nero ($12), an eye-catching and imaginative dish thanks to the squid ink risotto and calamari stuffed with caramelized fennel, was served fishy and undercooked.
"That's definitely not what we're trying to do," says Broka, who intends to take the risotto nero off the menu. "We wanted to try to mix it up a little bit and try a few different things because I like to keep things current."
Although Literary Tavern's short list of mains is conventional, Broka covers a wide variety of cuisine you wouldn't expect to find in one small place, such as a bone-in rib-eye ($34), chicken breast with risotto ($14) and a seafood hot pot ($23) with shrimp, mussels and crab meat in a saffron-tomato broth.
In another upgrade, Valenti has made a real effort to expand the drink menu, with seven drafts, a robust wine list and a cocktail program that boasts colorful and inventive drinks such as the Paper Plane ($10) with bourbon, Amaro Nonino, Aperol and lemon.
It remains unclear how Literary Tavern will keep up with the rest of Tremont's dining pillars, but it's evident that Valenti and Broka have the originality and dedication to revive this hot spot off the beaten path.
"At the end of the day, I do things the way I want them myself," says Valenti. "I just want to have a nice, middle-of-the-road type bar."


Try this: Salads here are hearty and shareable. A savory take on the Caesar ($8) features sturdy romaine leaves dressed with croutons, Kalamata olives and Piave Vecchio cheese from Veneto, Italy.
Happy Times: Don't miss an impressive happy hour 3-7 p.m. on weekdays, which takes $2 off of wine, cocktails and share plates and $1 off draft beer, salads, vegetables and sandwiches.
When You Go
Literary Tavern, 1031 Literary Road, Cleveland, 216-862-1916, literarytavern.com
Mon-Sat 11 a.m.- 1 a.m.