Kandice Marchant, medical director of hemostasis and thrombosis for the Cleveland Clinic, is an unlikely cheese company founder. As the owner of Marchant Manor Cheese explains, it makes perfect sense. "As a scientist, I am fascinated by the chemistry and biology of the cheese-making process," she says.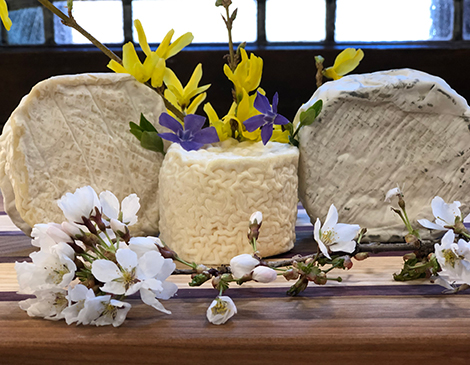 With a love of cheese inspired by trips to Europe with her late-husband, Roger, Marchant Manor cheeses are named after his favorite places in England. Marchant spent years experimenting with cheese-making in her kitchen before Ohio City Provisions became her first retailer. Today, she crafts wheels of cheese using vegetarian rennet to form the curds. Then, she presses them into molds and allows them to naturally form a rind as it dries out and ages in a production space at Paint Valley Farms in Stark County.

Using milk from Guernsey cows and goats, Marchant whips up varieties such as Elmstead Ash ($12.89), a rich, spreadable, French Normandy-style triple cream cheese and Lapworth Peppercorn ($10.79), a Camembert-style cheese with a zesty layer of peppercorns in the center. Although her cheeses are currently available online and in several local spots such as North Union Farmers Market at Shaker Square, Marchant is on track to open a Cleveland Heights brick-and-mortar shop in early 2021, depending on the pandemic.

In that space, she hopes to host cheese-making classes. "I want to make the best cheese, sell it, teach people how to make it and really highlight a lot of other artisanal cheeses that have unique stories, not just mine," she says.