Matt Fish had no idea that Melt Bar & Grilled would grow into a local and national obsession when he set out to open his new Lakewood restaurant in 2006. "I was going to focus on the craft beer end of it," he says. "I thought grilled cheese sandwiches would just be a fun little addition." But when people went mad for monstrous melted cheese sandwiches, a new foodie cult hangout was born. Today, more than 30 gourmet grilled cheese sandwiches rock the menu in seven locations throughout Northeast Ohio and Columbus. "Grilled cheese sandwiches themselves are really nostalgic and cool," says Fish. "People can really wrap their arms around them and embrace them."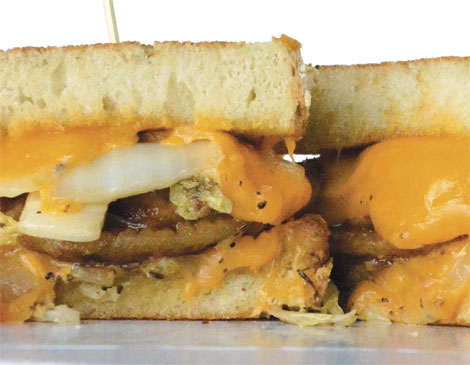 Dish Deconstructed: The Parmageddon
Inspired by his Parma hometown, Fish created the Parmageddon ($11.50, whole; $8.50 half) in 2006 as one of the original sandwiches on his menu. This year, the sandwich with two potato and onion pierogies slathered in Napa cabbage vodka kraut, sauteed onions and sharp cheddar was awarded best ballpark food by USA Today. "It's one of the sandwiches that has not been modified to make it better," says Fish. "To me it's one of the most perfect sandwiches I've ever created." He breaks down what makes it a grand slam.
Bread: Fish worked with Mediterra Bakehouse to develop a hybrid loaf that has the crusty, chewy exterior of a French bread with a fluffy, flavorful inside of an Italian loaf. "Our sandwiches are big and bold," he says. "We had to develop a recipe for our bread that could handle the weight."
Sharp cheddar: This tart cheese is the glue that holds everything together. "It's a younger sharp cheddar so it still has a lot of moisture left in it," says Fish. "It stays deftly solid but it's also very creamy."
Napa cabbage vodka kraut: This sauerkraut is a savory blend of Napa cabbage and aromatic spice mix made from coriander, cumin, brown sugar, caraway seeds, salt and pepper. Cooked to order, it is sauteed and braised with cider vinegar and 40-proof vodka alongside the pierogies. "Napa cabbage is very similar to bok choy," says Fish. "It's drastically different than your typical sauerkraut, and it's a lot more flavorful and more aromatic."
Onion and potato pierogies: Two potato and sweet white onion pierogies are boiled, then flash-fried for a golden, crisp texture. Chefs then saute them with olive oil, grilled onions and Napa cabbage vodka kraut made in-house. "My goal was to create a very Cleveland-centric sandwich, and there are so many diverse European cultures that live in Cleveland," says Fish. "Pierogies are very warming and central to that."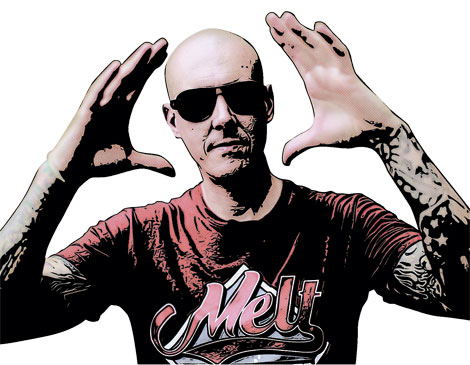 Fish shares a behind-the-bar look at the foodie obsession with Melt Bar & Grilled.
In my former life, I was playing in bands and playing music all around the country and the world. All I had ever promoted was a rock band, so when I started Melt, I was promoting Melt as a band. We were making monthly posters for our sandwiches and the ads had a real rock 'n' roll tattoo, punk rock vibe to it. We're close to 800 members now for our tattoo club. It's an incredible honor to have someone love what you do so much that they're willing to embrace it and tattoo our logo on their bodies for the rest of their lives.
Between the slices: A look at the numbers behind the sandwich
9/22/2006: Opening date of Melt's Lakewood location
155: People who have won the Melt Challenge*
92: Percentage of people who have failed the Melt Challenge

734: Melt tattoo club members as of Aug. 1
210,000: Pounds of cheese used in 2015
91,600: Pierogies used for the Parmageddon in 2015
*A huge grilled cheese made with 13 different cheeses, three slices of bread and served with hand-cut fries and coleslaw